The Silent Sea Season 2 - Will It Ever Happen?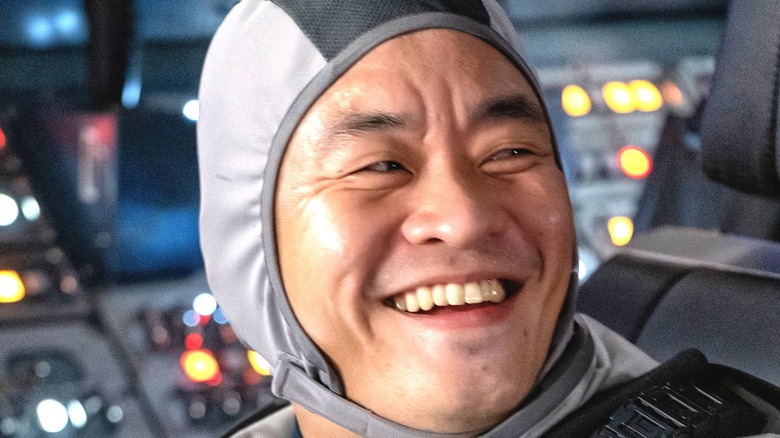 Han Sejun/ Netflix
Netflix continues to build its impressive collection of South Korean content with "The Silent Sea." The late addition to its 2021 lineup caps off a year that saw "Squid Game" become one of Netflix's most-watched series of all time. That sort of dominance made projects like "Hellbound" and "The Silent Sea" a must-watch for subscribers. Both have made their way into daily top 10 lists on the service (via Yahoo).
Released on Christmas Eve 2021, "The Silent Sea" follows a unique team on a mission to retrieve important samples from a lunar science lab that have ties to classified information. The futuristic drama sees its characters not only face the dangers of space but confront a devastating environmental disaster on Earth. Its conclusion tied up most of the story by the final episode — in no small part thanks to director Choi Hang-Yong. The filmmaker adapted the project from his own short film "The Sea of Tranquility" (via Forbes). The series also features a list of top-tier talent, including "Train to Busan" alum Gong Yoo and "Jupiter Ascending" actor Bae Doona. 
With the end of Season 1 leaving more than a few plot threads open and in need of answers, fans of "The Silent Sea" may be wondering if the Korean Netflix newcomer will be back for Season 2. Here's what we know about the possible return of "The Silent Sea."
Netflix has yet to renew The Silent Sea for a second season
As of late January 2022, there is currently no information about "The Silent Sea" receiving a Season 2 renewal or a possible release date. Netflix has not revealed details about any discussions concerning a return. Recent interviews with series director Choi Hang-Yong, like his December 2021 NME chat, have failed to disclose anything about possible talks or Netflix's current stance on a return.
Season 1 featured an eminently watchable cast working within the framework of a gripping sci-fi story. One of the most surprising aspects of the series is its unflinching ability to get rid of the main characters in an effort to keep the narrative momentum. While viewers may not have been prepared to part ways with the people they had come to know, the plot device created a feeling that no one was safe. Chief among those losses was that of Captain Han (Gong Yoo). His final heroic act saves Luna (Si-ah Kim) and the two remaining crew members, but his last moments are a testament to Gong Yoo's strengths as a performer.
Should "The Silent Sea" continue for Season 2, fans might see the show turn its focus to Luna. The lone survivor of secret experiments, this clone can survive the otherwise lethal lunar water. It's also her bite that saves Dr. Song (Bae Doona) from the deadly element. However, Luna's very existence could become a lightning rod for those who want to use her for sinister purposes. It could fall on Dr. Song to step in and help the girl find a place in this unforgiving world.