Who Is The Actress In Amazon's New Medusa Commercial?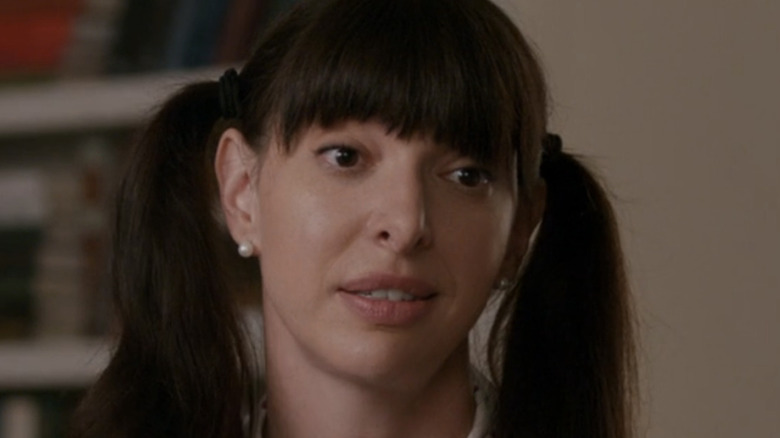 ABC
As the online cyber-colossus bestriding the world where basically anything on planet Earth can be found, assessed, clicked, and delivered to your front door in one day (two at the most), Amazon needs no introduction — but hey, this article needed a lead-in. So, in the company's latest commercials, apparently produced for that one guy somewhere who's unaware of what Amazon is or does, the company seems to have commanded its marketing minions to tap into the timeless appeal of the past as a sure-fire advertising hook.
To date in Amazon's historically-minded ad campaign, viewers have been treated to Cleopatra ordering stuff from Amazon to make her subjects' desert life more delightful, Emperor Napoleon Bonaparte regaling his troops with stand-up comedy via an Amazon-sourced mic, and more. The most recent entry in the company's throwback commercial outings features the all-time favorite, reptile-coiffed Medusa. After ordering eye-shielding dark glasses from Amazon Prime, she makes new friends by not turning them to stone and is revealed to be a hoot at parties. And while anyone who paid attention in their Classical Greek Mythology 101 course is familiar with the unpleasant consequences of meeting this Greek femme fatale's gaze, at parties or elsewhere, viewers may be less familiar with the actress who plays Medusa's new friend in the spot. 
The actress portraying Medusa's friend is Lindsey Pearlman
While she may be tough to recognize under the Greek-inspired makeover, viewers may know Lindsey Pearlman from her appearances in a number of high-profile TV shows. After acting in Chicago theatrical productions for a number of years (per IMDb), Pearlman broke into TV back in 2015 with a small part in "Empire." She then landed a recurring role as Joy Fletcher in producer Dick Wolf's short-lived "One Chicago" legal procedural "Chicago Justice." Pearlman's next small-screen roles included a flurry of one-off appearances in 2019 portraying a hotel clerk in "Sneaky Pete," the character Beth in "Signal to Noise," Eve in "American Housewife," and Linda in "The Purge."
More substantial roles started coming the actress' way in 2021. That year saw Pearlman landing parts in numerous TV series including the character of Maggie McMorris in the iconic soap opera "General Hospital," Diane Warren in "Selena: The Series," Martha in "The Ms. Pat Show," and the recurring role of Karen in "Vicious." Aside from her many acting accomplishments, Pearlman's online bio on IMDb points out that she's also an activist for animal welfare causes, and clearly the ideal pick to play the snake-haired Medusa's friend in Amazon's new commercial.