The Real Reason Ice-T Was Arrested On His Way To Film Law And Order: SVU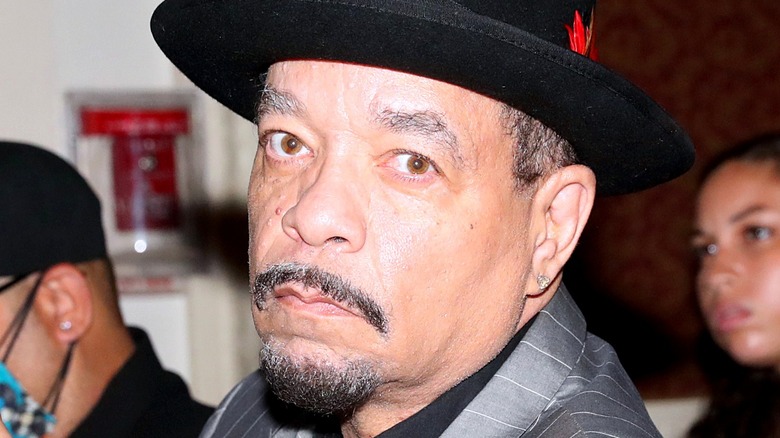 Johnny Nunez/Getty
In 2000, Ice-T joined the set of "Law and Order: Special Victims Unit" for a four-episode guest spot as the no-nonsense Detective Odafin "Fin" Tutuola — and he never left. 22 seasons later, Fin is just as much a fan-favorite institution on the police procedural as its original dynamic duo, Detectives Olivia Benson (Mariska Hargitay) and Elliot Stabler (Christopher Meloni). His signature catchphrase — "That's messed up!" — even inspired a drinking game, which became so rampant among deep-dyed "SVU" fans that writers ultimately banished it from the show.
Before becoming a crime drama TV fixture, Ice-T was known for being an underground gangsta rap scion who made a name out of criticizing police violence. He made the transition to acting in 1984 with a role in the 1984 dance movie "Breakin'," and since then, he has also appeared on "Younger," "30 Rock," and "Unbreakable Kimmy Schmidt," among dozens of other credits. Though his role on "Law and Order: Special Victims Unit" was far from his first television rodeo, it was the one that cemented Ice-T as a serious actor, garnering him an NAACP Image Award for Outstanding Supporting Actor in a Drama Series (via IMDb). 
Unfortunately, the role did not come to Ice-T's aid in 2018, when he was arrested en route to the set of "Law and Order: Special Victims Unit" for a traffic violation. For Ice-T, the incident highlighted the complex realities of being an ex-rapper who plays a police officer on television. 
Ice-T was arrested for a traffic violation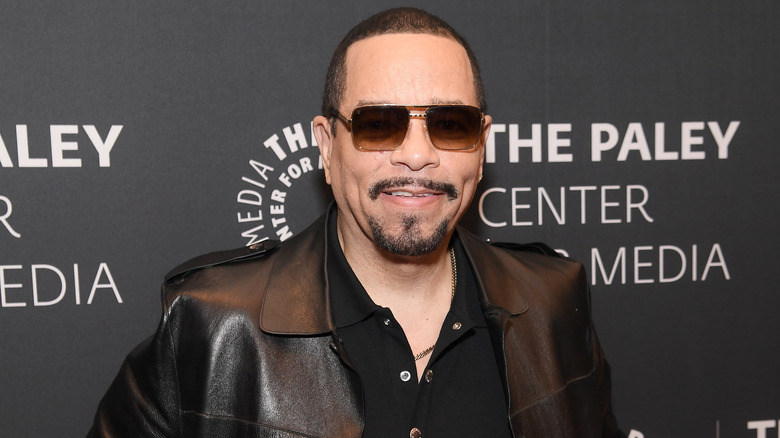 Dimitrios Kambouris/Getty Images
The actor described the arrest in a 2019 interview with TV Insider, stating that, "I was on the George Washington Bridge on the way to work and went through a toll without my EZ Pass card." 
He later tweeted about the irony of the experience: "Cops went a little Extra. Coulda just wrote a ticket. In and out.. Moovin." He later added, also via Twitter, "I love how people think just because I ACT like a cop on SVU I get special treatment from real cops... lol."
It's safe to say that despite playing a detective on TV, Ice-T has complicated feelings about the police. In 1992, his heavy metal band, Body Count, released the polarizing track "Cop Killer" (which was ultimately scrubbed from the band's self-titled album following public backlash, per Billboard). He has continued to be outspoken about both racism and police brutality in America, releasing the song "No Lives Matter" in 2017 and producing a film about cop-on-cop violence called "Equal Standard" in 2020 (via The Washington Post). 
As he told TV Insider in the aforementioned interview, "If you're a celebrity, some cops will be cool. Others are going to try to prove you're not special. Again, it's a roll of the dice. This time it escalated. I think it was a chance for them to put a little extra on somebody." When questioned about the apparent contradictions between his public image and his TV persona, Ice-T explained that "Law and Order: Special Victims Unit" doesn't so much glorify the police as hold a mirror up to them. "'SVU' shows that too, because it's as honest as it can be about judges, police, everybody," he said.