The Internet May Have Figured Out What Actor Will Be Ghost Rider In The MCU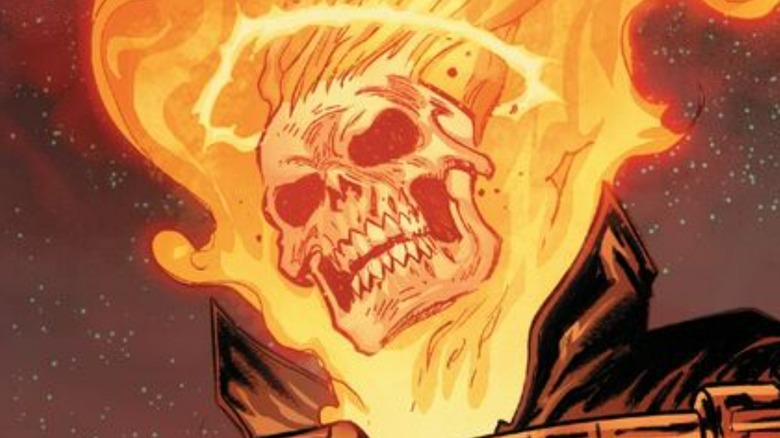 Stefano Caselli/Marvel Comics
Now over a decade beyond its creation, the Marvel Cinematic Universe has expanded in all directions and featured some of Marvel Comics' most famous creations. However, with heavy-hitters like Iron Man (Robert Downey Jr.) and Captain America (Chris Evans) out of the picture, the franchise has begun to make some deeper cuts. Names like Moon Knight (Oscar Isaac) and Echo (Alaqua Cox) are due for Disney+ shows, as the likes of Shang-Chi (Simu Liu) and the Eternals dominate the movies. While this is great for longtime comic book readers, for casual fans, the wait still continues for a bevy of famous names.
Thanks to the purchase of 20th Century Fox by the Walt Disney Company, it's no secret that both the X-Men and the Fantastic Four are on their way to the MCU in due time. Not to mention, fan-favorites like Blade (Mahershala Ali) and She-Hulk (Tatiana Maslany) will follow suit in the coming years. Still, not every comic icon has their path set in stone just yet, with arguably the most glaring being Johnny Blaze, better known as Ghost Rider. Created by Gary Friedrich and Mike Ploog in the early 1970s, the ol' bonehead has more than cemented his place as a Marvel legend, making his exclusion from the MCU up to this point even more baffling.
Fans have clamored for Ghost Rider to join the sprawling cinematic dynasty for years now, but nothing substantial has come to light. Although, fans may have recently discovered who will take on the role in the MCU sooner rather than later.
Is Norman Reedus the MCU's Ghost Rider?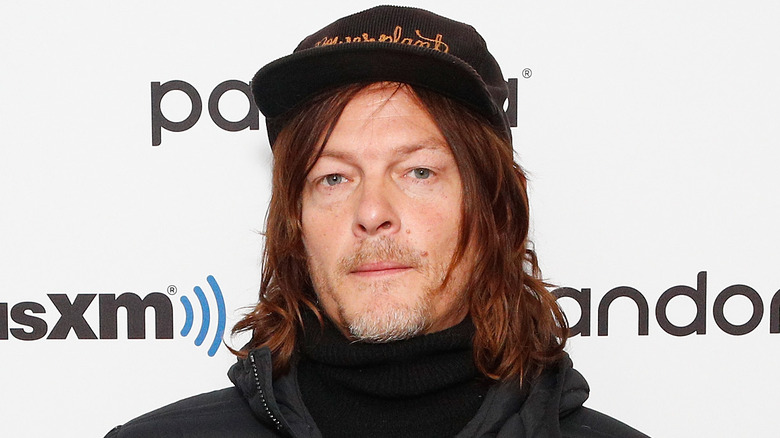 Astrid Stawiarz/Getty Images
To put it mildly, Ghost Rider has a complex history in live-action. Nicolas Cage first took on the character in two feature films, released in 2007 and 2011, respectively, though neither quite gave fans the adaptation of his adventures they had hoped for. A few years later, a new Ghost Rider — this time with Gabriel Luna portraying the Robbie Reyes version — emerged on the "Agents of S.H.I.E.L.D." TV series, but this one didn't stick either. Hopefully, the third time will be the charm, potentially with Norman Reedus as the new Johnny Blaze.
On December 26, 2021, Twitter lit up with speculation that Reedus could be in line to sign on for the role or that he's entirely on-board to do so should the opportunity come his way (via IGN on Twitter). This wave of wishful thinking is largely attributed to several tweets that the "Walking Dead" star liked, indicating that there may be more to this long-standing fan-casting than meets the eye.
"The only name I want to hear for #GhostRider is Norman Reedus!" read one of the tweets in question from @ColleenMarie315, who also tagged Norman Reedus as well as Marvel Studios. @dorxten appeared to agree with this sentiment, posting, "NORMAN REEDUS, NORMAN REEDUS, NORMAN REEDUS," with several prayer hand emojis in response to a tweet discussing hypothetical Ghost Rider casting. 
Twitter user @charlie_etwd ran a poll that put Norman Reedus up against a few other candidates for the Ghost Rider gig, and the "Boondock Saints" actor won by a landslide. They posted a screenshot of the final tally and wrote, "The votes are in and here's the results Norman Reedus should be Ghost Rider. Make his Christmas wish come true Marvel." Reedus went on to like the post, so it stands to reason that he feels the same way.
Assuming that he got the role already, @bbhnorman commented, "it's going to be awesome to see Norman Reedus as Ghost Rider whipping people around." If Reedus' decision to like this tweet and several others is of any indication, then it's safe to say that there may be a lot to get excited about when it comes to Ghost Rider's MCU future.