This Is Where Mamma Mia Was Really Filmed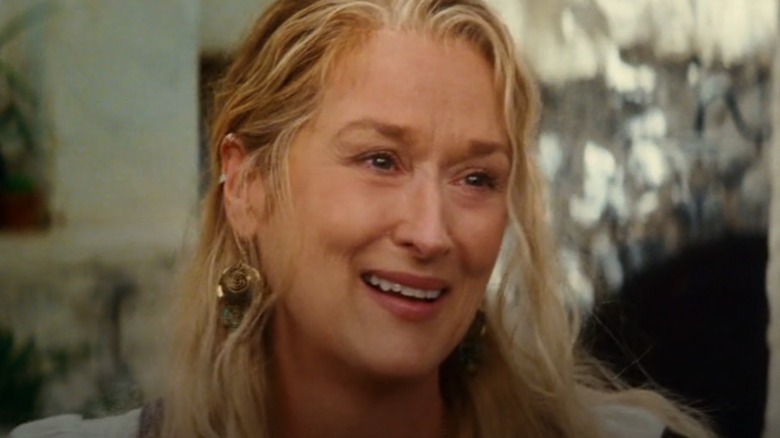 Universal Pictures/Hulu
Even with its great cast, "Mamma Mia!" wouldn't be the same beloved musical without the catchy beats of ABBA punctuating the experience with its emotional highs and foot-tapping tunes. Neither can "Mamma Mia!" exist without its gorgeous and quaint setting: the fictional Greek island of Kalokairi.
With brilliant turquoise waters and idyllic, old white stone buildings as the backdrop, young lover Sophie (Amanda Seyfried) is intent on having her father come to her wedding to Sky (Dominic Cooper). The only problem? Her mother, Donna (Meryl Streep), slept with three different men right around when she first came to Kalokairi and doesn't know which is the father. Sophie invites all three men (Stellan Skarsgård, Colin Firth, and Pierce Brosnan) to the island, and so a riot of song and dance ensues that's certain to make audiences want to visit such a lush locale.
It's definitely no green screen. Complete with the church atop a rocky cliff, the island is off the coast of mainland Greece in the Mediterranean Sea, and you can visit it in real life.
The first Mamma Mia! filmed on the island of Skopelos
BLESKY/Shutterstock
Most of "Mamma Mia!" was filmed on the Greek island Skopelos, in the Aegean Sea. Like Kalokairi, Skopelos is a small island with no way to get there outside of a ferry ride to its shores. Before the movie, the island didn't see much tourism. In an article for The Telegraph shortly before the "Mamma Mia!" release, Paul Mansfield wrote, "Most of the island's income derives from agriculture, and it doesn't fall over itself to attract tourists." Foods like plums, pears, almonds, figs, and olives grow around the verdant island, which is also dotted with old churches.
In September of 2007, the cast and crew of "Mamma Mia!" shot on the island for six weeks at locations like the little bay of Kastani beach — picture Sky and Sophie laying all their love on each other — and the steep staircase leading up a cliff to the church of Agios Ioannis Kastri. The church, it turns out, is rather small, so only the outside was filmed for the wedding scene, while the inside was shot at a studio in the UK, according to Mirror.
While Skopelos wasn't much of a tourist spot before the movie, it's since become a destination for "Mamma Mia!" fans. Local hotel owner Mary Diamantis told Mirror that they've had over 150 weddings per year since the movie came out. Despite that, the island hasn't changed too much; she said visitors don't really want "Mamma Mia!" themed attractions, but the beautiful version of the island they see in the movie.
However, for the 2018 sequel, "Mamma Mia! Here We Go Again," they did not return to Skopelos but instead filmed on Vis in Croatia.