The Character Fans Think Will Return For Better Call Saul Season 6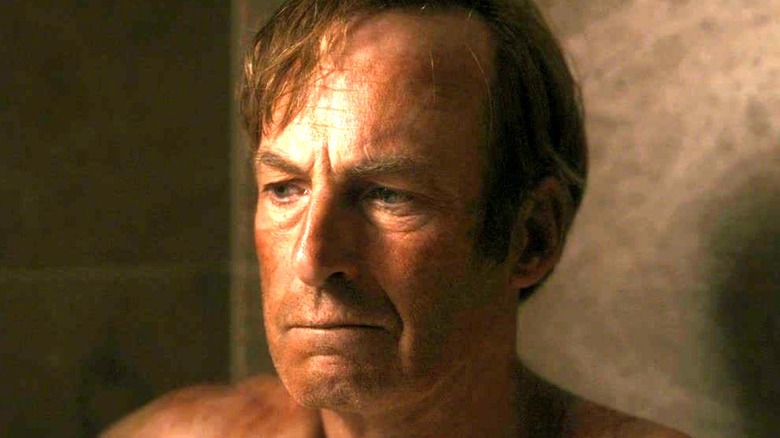 AMC
After more than half a decade, AMC's "Better Call Saul" will be airing its sixth and final season early next year, and fans can't stop speculating on who might show up from Saul Goodman (Bob Odenkirk) aka Jimmy McGill's tumultuous past — or future, perhaps. "I think we will see Heisenberg," says Redditor u/OnlyTheBLars89 in a series discussion thread. "I think in breaking bad Jesse mentions Saul got skinny pete off when he was dead to rights. So I think we'll prob [sic] see skinny pete," adds u/GoodnightGertie. 
Since its debut in 2015, "Better Call Saul" has provided a treasure trove of wacky and interesting characters, several of whom are expected to come back or be referenced at some point during the 13-episode sixth season. Then there's also the possibility that we see people from the show's parent series, "Breaking Bad," which features Odenkirk's iconic lawyer as a prominent part of Seasons 2-5. With McGill finally going full-blown Saul and things wrapping up around mid-2004 on "Better Call Saul" Season 5, it's not out of the question for someone from "Breaking Bad" — which begins in 2008 — to make an appearance next year. 
Maybe a future client will show up? Or a business partner? If you ask social media users, there's at least one name that continues to come up constantly in conversations about "Better Call Saul," Season 6 and some may not like it. 
Most Better Call Saul fans want to see Chuck return
If anyone is to come back or make a surprise cameo during the final season of "Better Call Saul," fans believe it will likely be Michael McKean's Chuck McGill, who is killed off at the very end of Season 3. The character already appears in flashbacks during Season 4, which landed McKean an Emmy nomination for outstanding guest actor (via IMDb). So it only makes sense to have him return one last time. 
"I have a feeling Chuck will be back for one last flashback, I'm not sure what the nature of it will be, but I'm sure it'll add more to the tragedy," said Redditor u/AlmostColossus in the earlier discussion thread, garnering hundreds of upvotes. "I hope so, the Chuck/Jimmy relationship feels so central to the series, I've been a little frustrated by the lack of it these last couple season," replied u/cidvard. "I just want a complete cover of The Winner Takes it All by Michael McKean," added u/pazur13, in reference to the karaoke flashback scene between Chuck and Jimmy in the finale of Season 4. 
Despite the overall belief that Chuck will make an appearance of some sort, some people are hoping "Better Call Saul" looks more to the future. "I really hope you're wrong," said Redditor u/Faded35 in response to the support for Chuck's return, "I'm sick of the trend of bring back old titular characters... How about you make a good show, and have its own characters become iconic?" Getting straight to the point, Redditor u/bringmethevino bluntly replied, "F***. Chuck." 
Fans will have to wait and see what happens when Season 6 of "Better Call Saul" airs sometime in early 2022.