Things Only Adults Noticed In The Proud Family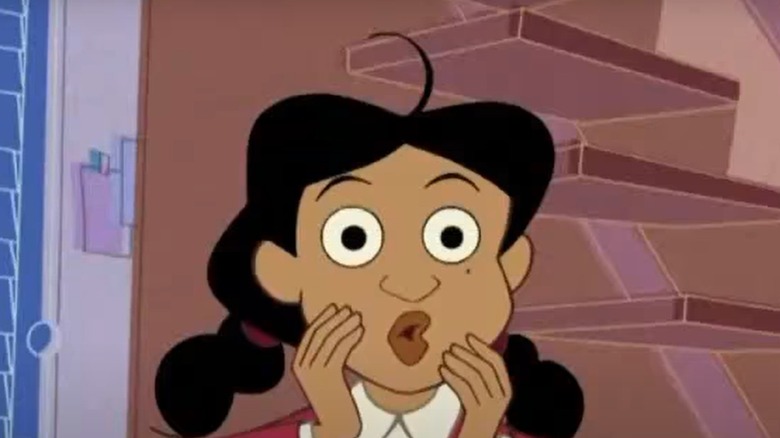 Disney Channel/YouTube
"The Proud Family" is a Disney Channel cartoon that revolves around the life of Penny Proud and her eccentric family. Penny is normally the center of most episodes, but there are times when the show zeroes in on her eccentric and overprotective father Oscar, her veterinarian mother Trudy, her young-at-heart grandmother Suga Mama, or several of Penny's friends and classmates.
"The Proud Family" dealt with many of the same plotlines that other children's shows have, such as popularity and friendship. There were also several instances where the series shifted away from comedy and dealt with more serious issues than most shows aimed at younger kids. There were also moments where the series made pop culture references that most kids wouldn't understand until they get older.
Here are some of the things that younger viewers probably didn't notice on "The Proud Family" back in the day.
The importance of striking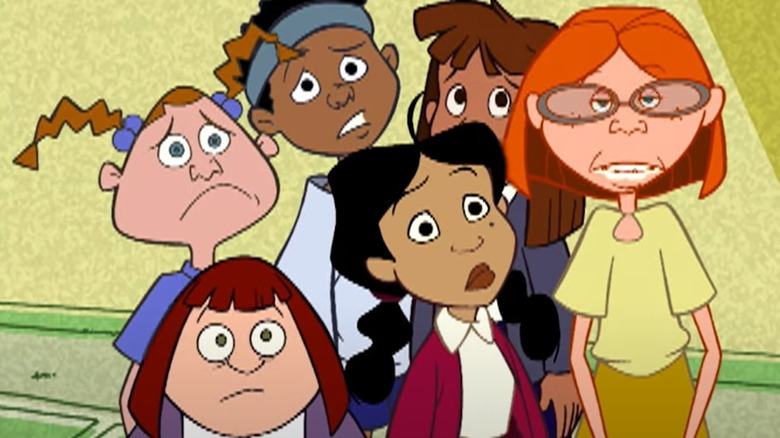 Disney Channel/YouTube
One of the earliest episodes in "The Proud Family" has a very important message about fighting for what you want and what you believe in. In the episode "Strike," Penny and her friends are fed up with the low allowances that their parents are giving them. In order to get more money, the neighborhood kids go on strike and refuse to come home until their demands are met. The kids even go as far as to create their own society to prove that they don't need their parents. By the end of the episode, Penny is the only one left fighting for what she believes in when the others get homesick.
Going on strike and protesting are common ways to fight oppressive forces and get the justice you feel is earned. Penny's determination to fight for her rights, even when her family and friends all abandon her, offers a great lesson to younger viewers who might go through similar hardships in the future — even if only older viewers fully grasp the significance.
Entering the matrix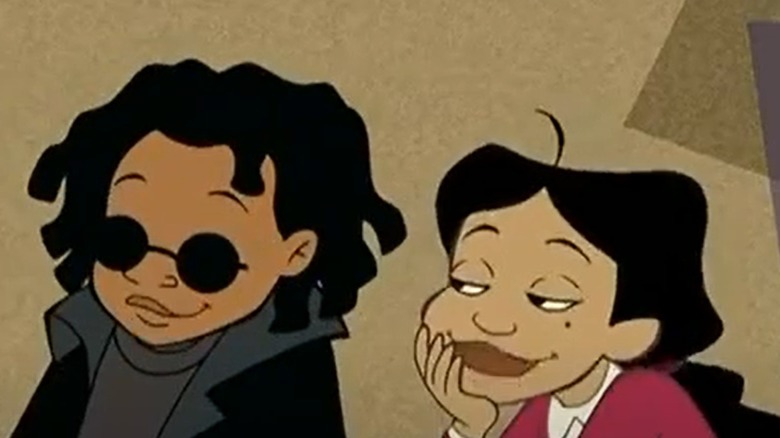 Disney Channel/YouTube
"The Matrix" is one of the most influential science fiction films ever made. It follows Neo (Keanu Reeves) as he escapes from a simulated reality and fights against the machines that enslaved him in the virtual world. The episode "EZ Jackster" contains many references to the famous action film. When Penny meets a mysterious boy named Mega (a stand-in for Morpheus), he introduces her to a website where she can download and listen to music for free.
When Penny is first introduced to the website, she is transported to a white room where thousands of CDs appear before her. This is a reference to the "construct" in "The Matrix" where anything can be created for Neo and his allies to use. There are several other references to the film, such as the "red and blue" imagery and references to "being free."
Since "The Matrix" is an R-rated movie, it's easy to see how some of these references might have gone over some kids' heads.
The only girl on a boy's team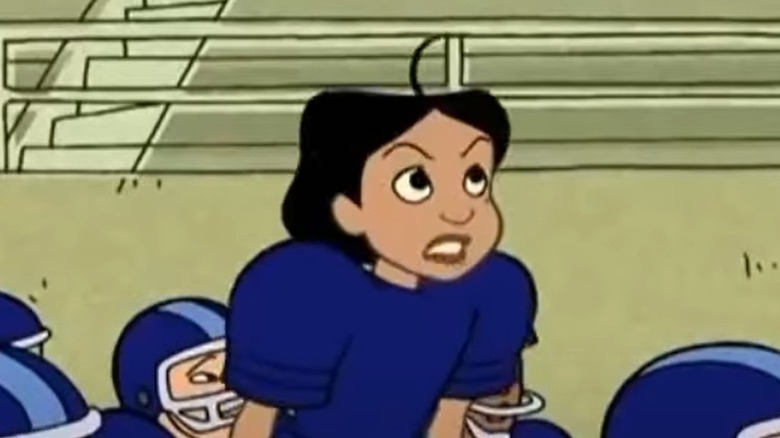 Disney Channel/YouTube
Penny never lets anybody get in her way, especially boys who disrespect her. In order to prove a point, Penny decides to try out for the boy's football team in the episode "She's Got Game." This decision is met with swift condemnation from both the head coach and Penny's father. What follows is Penny fighting for her right to play and be treated with the same amount of respect as her male teammates, a battle that she must fight even after she makes the team and proves to be a great player.
This episode does a good job of handling sexist views on women and how they are perceived as weaker than their male counterparts and less skilled at sports. It also shows how men sometimes talk down to women, with characters using phrases like "baby doll" and "baby girl" constantly to belittle Penny. Kids get how unfair this is, but adults have a much deeper understanding of the dynamics at play. 
Celebrating Kwanzaa with several guests
Many people believe that the holiday season is about getting as much as you want. In reality, it's about spending time with family and appreciating what you have. The Prouds learn this lesson in "Seven Days of Kwanzaa" when they welcome a homeless family into their lives and help them celebrate Kwanzaa. 
The homeless family is brought to life by some incredible guest stars that adults appreciated. Father Joseph is voiced by Samuel L. Jackson, while the mother Margaret is voiced by Vivica A. Fox. Finally, their daughter Stephanie is voiced by Raven-Symoné, who became one of the biggest stars ever on the Disney Channel after she got her own show "That's So Raven" a few years later. While it may have only been for this one episode, having two massive stars like Jackson and Fox and a future Disney Channel superstar in your holiday episode is a very big deal.
Penny had a dream
Nowadays, it can be controversial to talk about topics like racism and prejudice to younger audiences. But "The Proud Family" was definitely ahead of its time with "I Had A Dream," an episode that tackles the issues of segregation head-on when Penny accidentally gets transported to the year 1955 during Black History Month. With alternate history versions of her friends and family, Penny fights back against her school's segregation problem when it stops her from hanging out with her friend Zoey. The episode even ends with Penny reciting Martin Luther King's "I Have A Dream" speech to a group of angry protestors.
It can't be said enough how important an episode like this is to younger audiences. In addition to being funny, this episode can really open some kids' eyes about how much different things were back then, and that prejudice and discrimination are still major problems today. But it's likely that only adults pick up on all the historical references. 
LPDZ's outfits
"Hip-Hop Helicopter" follows Penny and her friends Dijonay, LaCienega, and Zoey as they form a girl group called LPDZ to perform in a dance competition. While the girls achieve popularity, the revealing outfits that the girls wear draw the ire of Penny's parents. The focus on clothing might not seem like much at first glance, but it comes full circle when LPDZ attends a high school party under the condition that they wear those same outfits again, after Penny promised her parents that she wouldn't wear her outfit until she is older.
The girls attract the attention of several boys, most of whom don't listen to what they have to say and are only focused on their looks. It's a subtle reminder that no matter what age and whether you are a singer or an average girl, women are faced with the struggle of being hypersexualized for other people's amusement.
Famous family reunion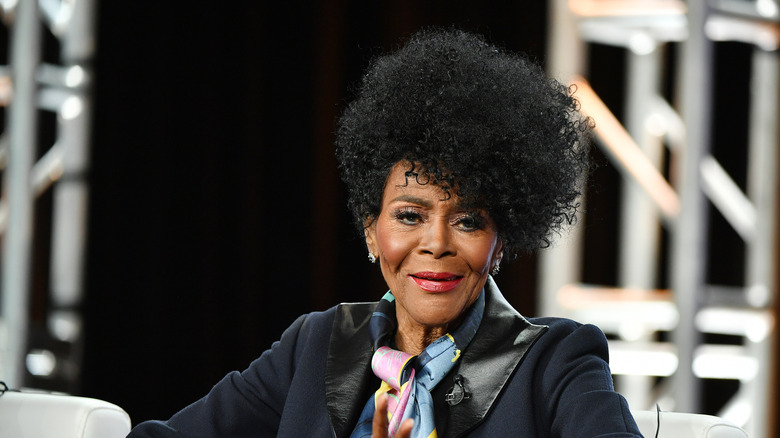 Amy Sussman/Getty Images
Another episode about the importance of family, "Behind Family Lines," unites two sides of the Proud family for the baptism of Penny's twin siblings, Bebe and Cece. After Trudy invites her disapproving parents, Oscar decides to get even by inviting his rowdy country cousins to the baptism, causing massive conflict between the two groups. Pretty much every member of this extended family is voiced by a well-known actor or actress.
Trudy's parents, Maureen and Vincent, were voiced by Emmy Award-winning actress Cicely Tyson and revered actor Robert Guillaume, respectively. Her siblings, Reuben and Diana, were voiced by comedian David Alan Grier and Tony Award-nominated actress Sheryl Lee Ralph, respectively. On Oscar's side, "Black-ish" star Anthony Anderson and Academy Award winner Mo'Nique voiced his cousins, Ray Ray and Boonnetta, respectively.
Comedian Wendy Raquel Robinson voiced Reuben's wife, Leslie, and singer Solange Knowles voiced Reuben and Leslie's daughter, Chanel. Another impressive collection of guest stars for this little Disney Channel show that adults appreciated, but kids probably didn't notice.
Suga Mama and The Wiz
Oscar and Suga Mama have a very tense relationship, but she still cares for Oscar as his mother and wants to do right by him. In the episode "Hmmm...Tastes Like," Suga Mama makes a snack food that everyone falls in love with. When Oscar and Suga Mama team up to sell the snacks, she rejects a partnership offer from business mogul Wizard Kelly. When Oscar begins to have cold feet about rejecting the deal, Suga Mama sings him an inspirational song to boost his confidence.
The song that Suga Mama sings is "Believe In Yourself" from the Broadway musical "The Wiz," a re-imagining of "The Wizard of Oz" for an African-American audience. The show won several Tony Awards during its original run in the 1970s, and has had several different productions over the years. It was adapted to film in 1978, with Diana Ross and Michael Jackson in the cast, and a live performance was produced for NBC in 2015. This episode served as a very subtle way to introduce kids to "The Wiz" when they might not have heard of it before.
Thelma & Louise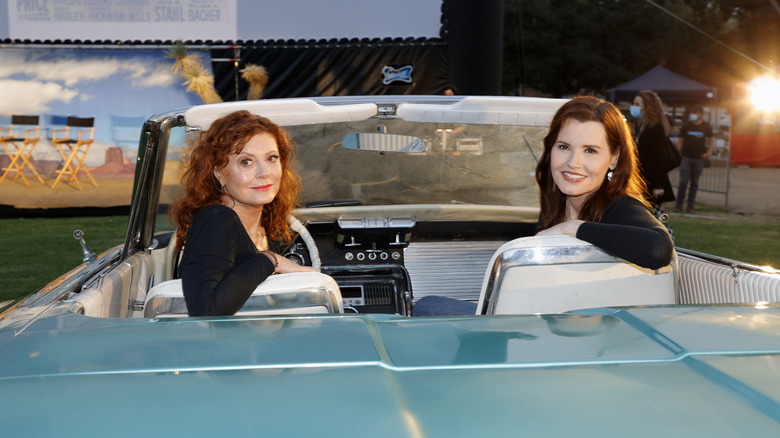 Amy Sussman/Getty Images
Suga Mama's primary love interest is Papi, the grandfather of LaCienega. He has no feelings for her at all and insults her constantly in Spanish, but her lack of fluency in the language means that she thinks he's sweet-talking her. Despite this, Papi relies on her in the episode "Thelma and Luis" when he gets stuck in a hostile retirement home and Suga Mama goes to save him. Near the end of the episode, the authorities catch up with the elderly pair and the two accidentally drive their car over the Grand Canyon, but the two end up surviving and sharing a kiss.
This is a direct reference to "Thelma & Louise," the Ridley Scott movie starring Susan Sarandon and Geena Davis about two best friends on a road trip while also on the run from the law. However, adults know that the duo intentionally drives off the cliff at the end of the movie, and neither survives like in "The Proud Family."
Learning about different cultures
Much like "I Had A Dream," "Culture Shock" is another episode of "The Proud Family" that emphasizes the importance of people coming together and realizing that they aren't that different from each other. This time, Penny and her friends participate in an exchange program where each lives with a different family and learns more about their customs and traditions. She moves in with the Zamin family and learns how different things are when living in a Muslim household, including fasting during Ramadan.
The episode ends with both the Prouds and the Zamins witnessing a xenophobic attack against the latter, being told to "Go Back to Your Country." Though it's only on the screen for a minute, it's a very dark message to send in a children's show. However, it's followed by a powerful speech by Penny about inclusivity, and how all of us are the same despite how different our cultures may be.
Being called a sissy
Many minor characters in "The Proud Family" get their time in the spotlight. One of those is Michael, a friend of Penny who's constantly picked on by others for being physically weak and effeminate. In "Who You Callin' A Sissy," the bullying of Michael takes center stage when Michael is called a sissy by several people. Though Michal states that he isn't offended by anything people tell him, it's later revealed that Michael has been retaliating by transforming into a giant monster to terrorize his enemies.
The anti-bullying message is right on the nose, but an under-discussed aspect of the show is the use of the word "sissy." It could be easy to substitute this word for something far more explicit that a more mature group would use, further emphasizing the dangers of toxic masculinity and how it can drive people to do things completely out of character.