Riverdale Spin-Off Series In The Works At The CW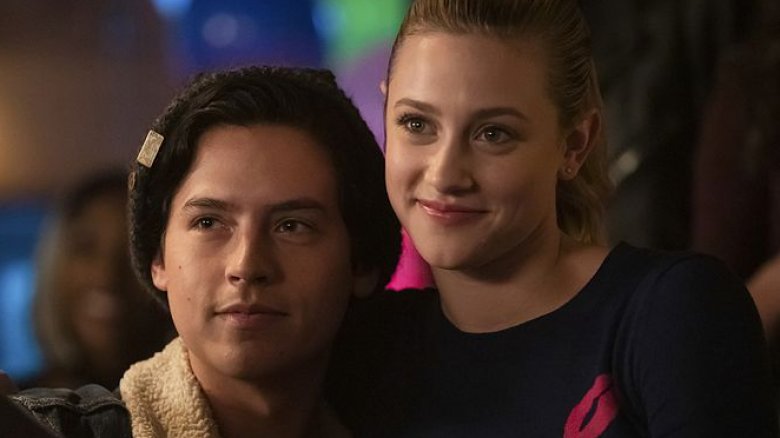 The CW
Riverdale is breaking out of, well, Riverdale. 
The CW announced on Wednesday — the same day Riverdale debuted its shocking season 3 episode that finally revealed the identity of the current Big Bad, the Gargoyle King — that a spin-off to the Archie Comics-based series is officially in the works. It marks the second show to spin off from Riverdale, the first being the critically adored horror-lite series Chilling Adventures of Sabrina, top-lined by Kiernan Shipka has half-witch, half-mortal Sabrina Spellman. 
Deadline had the inside scoop on the upcoming Riverdale spin-off. 
Titled Katy Keene, the in-development series will center around the "fashion legend-to-be Katy Keene" for which the show is named, as well as "the lives and loves" of three other "iconic Archie Comics characters." Where Riverdale focuses on high school students Archie Andrews (KJ Apa), Betty Cooper (Lili Reinhart), Jughead Jones (Cole Sprouse), Veronica Lodge (Camila Mendes), Cheryl Blossom (Madelaine Petsch), Josie McCoy (Ashleigh Murray), and more, Katy Keene bumps the age demographic up a bit, following the characters as they "chase their twentysomething dreams in New York City." 
The action will take place in the Big Apple, and the story is said to "chronicle the origins and struggles of four aspiring artists trying to make it on Broadway, on the runway, and in the recording studio." Billed as a "musical dramedy," Katy Keene has Riverdale and Chilling Adventures of Sabrina team creator Roberto Aguirre-Sacasa and Riverdale and Supergirl producer Michael Grassi attached as writers. The pair will executive-produce the series with Greg Berlanti, Sarah Schechter, and Jon Goldwater — three important members of the Riverdale and Chilling Adventures of Sabrina teams. 
For those uninitiated in the more niche corners of the Archie Comics world, Katy Keene made her print debut way, way back in 1945. Created by Bill Woggins, she's known as "American's Queen of Pin-Ups and Fashions" for her model good looks and her talents in singing and acting. Katy first appeared in Wilbur Comics before hopping over to anthology comics like Archie, Ginger, Jughead, and Betty and Veronica, and in specials like Katy Keene Spectacular, Glamour, and Charm. Four years after her introduction, she scored her own comic series, which ran until 1961. Katy Keene experienced a resurgence in the 1980s, dipped into obscurity in the early 1990s (only showing up in 1994's Archie Meets the Punisher), then came back as in Archie Comics' Free Comic Book Day issue in 2005 and appeared in ten issues of Archie & Friends Comics. 
In addition to ordering a pilot for Katy Keene, the CW also picked up a Jane the Virgin spin-off, a reboot of The Lost Boys, and a Nancy Drew drama series. 
A telenovela-inspired series much like its predecessor, Jane the Novela will play out as an anthology, with each new season based on "a different fictional novel 'written by' Jane Villanueva and narrated by the author herself." This indicates that Gina Rodriguez, who portrays Jane Villanueva on Jane the Virgin, will be a huge part of Jane the Novela. The first season of Jane the Novela is set in a vineyard in Napa Valley, where "family secrets (and family members) don't stay buried for long." 
As for the Lost Boys refresh, its logline should sound familiar to fans of the 1987 horror-comedy film: "Welcome to sunny seaside Santa Carla, home to a beautiful boardwalk, all the cotton candy you can eat... and a secret underworld of vampires. After the sudden death of their father, two brothers move to Santa Carla with their mother, who hopes to start anew in the town where she grew up. But the brothers find themselves drawn deeper and deeper into the seductive world of Santa Carla's eternally beautiful and youthful undead."
Currently untitled, the Nancy Drew drama follows the young investigator in the summer after she graduates high school. The 18-year-old "thought she'd be leaving her hometown for college, but when a family tragedy holds her back another year, she finds herself embroiled in a ghostly murder investigation — and along the way, uncovers secrets that run deeper than she ever imagined."
Apart from the information provided here, we know basically nothing about Katy Keene. The CW president Mark Pedowitz revealed in August 2018 that there was a second Riverdale spin-off cooking up behind the scenes (this being Katy Keene, as we now know) and teased that "it will be very different from Riverdale." Those thinking that Katy Keene might involve some Riverdale characters at some point, we hate to break it to you, but it doesn't seem likely. Pedowitz said of Riverdale and Chilling Adventures of Sabrina potentially crossing over, "Right now, we're trying to make sure that the shows have their own identity and their own set of rules." The same should apply to Katy Keene. 
Fans of pop singer Katy Perry have drawn comparisons between her and Katy Keene – though Perry herself has shot down the theories that she based her pin-up-inspired, bubblegum-sweet aesthetic on the comic character — so those keen to see Katy Keene should expect loads of bright colors and interesting costumes from the spin-off series.