Cobra Kai Season 4 Episode 1 Confirms What We Suspected All Along About Terry Silver's Fate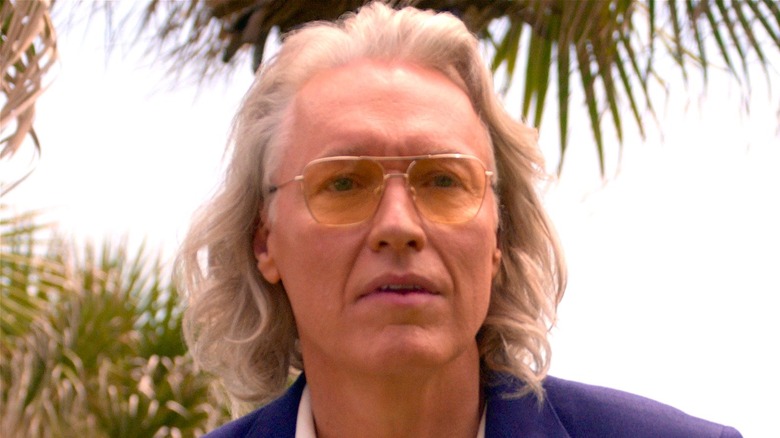 Netflix
Contains spoilers for "Cobra Kai" Season 4
"Karate Kid" sequel series "Cobra Kai" is currently four seasons deep, and a fifth season Johnny Lawrence actor William Zabka described as "a lot of fun" is coming soon. One significant way the series has changed over the course of its run is in its relationship to its source material. Whereas references to past events in the first three seasons of "Cobra Kai" were limited almost exclusively to the first two "Karate Kid" movies, the climax of Season 3 revealed that Terry Silver (Thomas Ian Griffith), the villain of "The Karate Kid Part III," would be returning for the series' next outing.
In an interview published in the lead-up to "Cobra Kai" Season 4, Daniel LaRusso actor Ralph Macchio revealed that, in spite of the series leaning far more heavily on nods to the first two "Karate Kid" films at first, Terry's return was planned from the start. That said, in another interview published shortly before the release of Season 4, Griffith described Terry as a changed man in "Cobra Kai," albeit retaining hints of his former self.
Now that the entirety of Season 4 is available on Netflix, fans finally know what happened to Terry between "The Karate Kid Part III" and "Cobra Kai," and why, at the start of the season, he carries himself with an all-new attitude.
Terry Silver took back control of his life prior to Cobra Kai
Near the end of the first episode of "Cobra Kai" Season 4, Cobra Kai sensei John Kreese (Martin Kove) visits Terry Silver at his home. There, he attempts to convince his former comrade to rejoin Cobra Kai, using their shared imprisonment during the Vietnam War as leverage. However, during their conversation, Terry admits to living life with a renewed vigor, distanced from his bad behavior in the third "Karate Kid" movie.
In "The Karate Kid Part III," Terry manipulates and injures Daniel LaRusso as part of a maniacal plot enact revenge on Mr. Miyagi (Pat Morita) for defeating Cobra Kai in the first "Karate Kid." During his conversation with Kreese in "Cobra Kai" Season 4 Episode 1, Terry reveals that his behavior at that time was fueled by a cocaine addiction. Furthermore, he got in some trouble in the wake of the film's events, and was only able to regain a foothold on his life through therapy. Arguably the sole constant between the Terry Silver of "The Karate Kid" and that of the "Cobra Kai" Season 4 premiere is his bank account — in both the film and the new season, Terry is extremely wealthy.
Changed though he may be, Terry's still holding onto some semblance of his past self, which is revealed when he acrobatically kicks an expensive wine bottle at the episode's conclusion. This tension becomes all the more important as the season continues.