Did Yellowstone Just Spoil This Major Character's Death In 1883?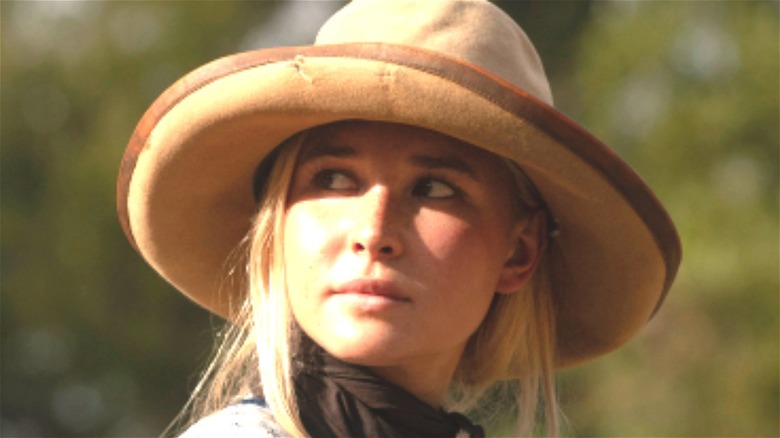 Emerson Miller/Paramount+
This article contains spoilers for "1883." 
For legions of "Yellowstone" diehards, Sunday night was arguably the biggest night of the television season, with a fresh new episode hitting Paramount Network along with the long-awaited debut of the hit series' first spinoff project. Titled "1883," that spinoff tells the tale of the not-too-distant ancestors of John Dutton (Kevin Costner), and how they came to be prominent landowners in the wilds of Montana. If the first two episodes of "1883" are any indication, that story will be wilder, and possibly even bloodier than the series which spawned it. That should more than delight the "Yellowstone" fandom, who've come to love the modern Western's frequent outbursts of violence as much as the simmering family drama that typically drives it.
As it happens, many "Yellowstone" viewers actually got their first glimpse of the Old West-styled "1883" violence in a series of extended flashback scenes intercut into Sunday night's episode. And it's safe to say they were absolutely stunned when one of those scenes depicted what may well be the death of one of the key players in the "1883" landscape.  
We may already know how James Dutton meets his end
Paramount Network
The potentially deadly "1883" flashback was actually the opening scene for this week's episode of "Yellowstone," which found John and the rest of the Dutton crew making further moves to secure the coveted ranching lands left to them by their "1883" ancestors. Those moves all came after the opening flashback scene, however, which depicted James Dutton (Tim McGraw) doling out some brutal frontier justice to a band of "no good horse thieves." Those words were spoken by James' oldest son John (Jack Michael Doke) to his brother Spencer (Charlie Stover) and his mother Margaret (Faith Hill) in the comfort of their family's cabin. It's there they presumably sat when James walked through the door and was promptly shot, collapsing to the floor.
To be clear, that scene does not confirm that James died from the shot. Nor does it touch on the why's and who's of the fateful moment. In any case, if "Yellowstone" has taught us anything, it's that the Dutton's are hard to kill.
Gray areas aside, it would certainly be a brash choice to depict on "Yellowstone" the likely death of a central character from its just-debuted spinoff. This is the "Yellowstone" realm we're talking about, however, and brash is typically the order of the day. Likewise, the creator of both series, Taylor Sheridan, was undoubtedly very specific about depicting Jame's probable death scene when and where he did. But even if that death is still a ways off, a spoiler warning might've been nice.