30% Of American Horror Story Fans Agree This Was The Best Coven Character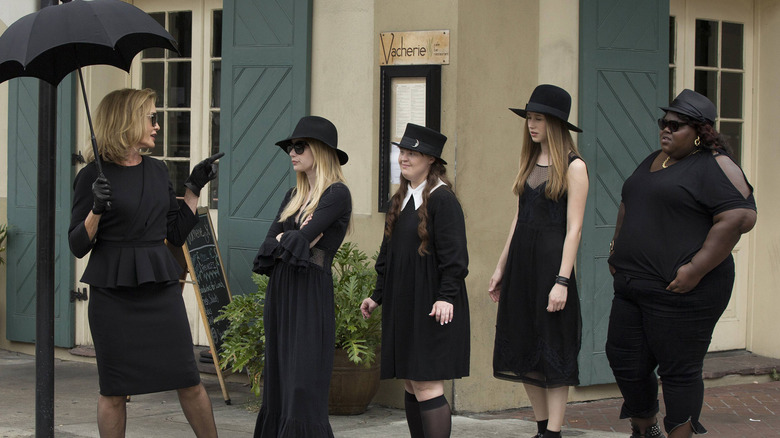 FX
"American Horror Story" may have made a name for itself based on creating some of television's scariest moments across a variety of spooky settings, but many fans will agree that the anthology horror show's biggest strength is its ever-growing cast of creepy and colorful characters. Though the show has a main ensemble of returning actors like Sarah Paulson and Evan Peters, each season usually features them playing a completely new character in a new time period or location.
The show's third season, "American Horror Story: Coven," often stands out as a fan-favorite chapter of the series, with its compelling focus on the exploits of a group of witches as they try to learn how to survive in the 21st century. The season introduced viewers to an abundance of new characters, ranging from the devilish killer Madame LaLaurie (Kathy Bates) to the kindhearted witch teacher Cordelia Foxx (Sarah Paulson). But out of every member of the main cast for "Coven," there is one particular character who stands above all the rest in terms of fan popularity.
Fans are spellbound by Fiona Goode
In a Reddit poll on the r/AmericanHorrorStory subreddit that asked fans to vote for their favorite character from the "Coven" season, witty witch Fiona Goode, played by Jessica Lange, won out with roughly 30% of the vote. The Supreme witch of the season's titular coven, Goode quickly won fans over with her tough-as-nails attitude as she embarked on a plight to achieve eternal youth by any means necessary.
"You can't have the magnificence of Coven without Fiona," Reddit user u/lucy_harlow28 commented on the thread.
Despite Goode's decisive victory in the poll, some of the other characters managed to come away with their own considerable portion of votes. Young movie star turned witch Madison Montgomery (Emma Roberts) placed second on the poll with 19% of the vote, while voodoo queen Marie Laveau (Angela Bassett) didn't land too far behind at 18%. Though the trio of Goode, Montgomery, and Laveau received the lion's share of votes, some commenters also made compelling cases for other characters being the best of the bunch.
"i said cordelia bc pretty much everything she did was to help the coven/someone else," Reddit user u/winny_2001 commented. "imo, she's the personification of goodness and i love that, in apocalypse, we see her use her supremacy for good."