Why Shola From The King's Man Looks So Familiar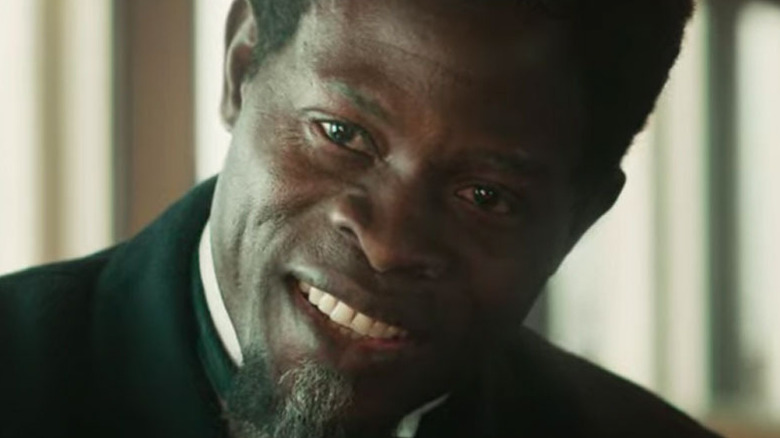 20th Century Fox
While there may have been fear audiences might have outgrown the tailored-to-fit "Kingsman" franchise, director Matthew Vaughn has returned to the world of spies, assassins, and Oxfords (not Brogues), in a brand new, action-packed installment. Turning the clock right back to the beginning, "The King's Man" is a prequel to the films adapted from Mark Millar's beloved comic book series, exploring the beginning of the top-secret organization during the first World War. Starring an incredible cast comprised of Ralph Fiennes, Gemma Arterton, Rhys Ifans, and Tom Hollander in a triple-threat performance, there's one particular talent among the ranks that has become a go-to addition for comic book movies.
Among the many allies, Orlando Oxford (Fiennes) has to fight against some of the deadliest foes in history — one stand-out war buddy is Shola. Incredibly charming and good with just about any tool he gets his hands on, he's easily one of the greatest weapons in Oxford's arsenal and is played by the eternally enigmatic Djimon Hounsou. Unlike his co-stars, though, Hounsou has plenty of experience bringing comic book stories to life. In fact, he's had a hand in some of the most favored adaptations in the last decade, and he's also earned two well-deserved Oscar nominations for works outside the genre.
A breakout role with a master director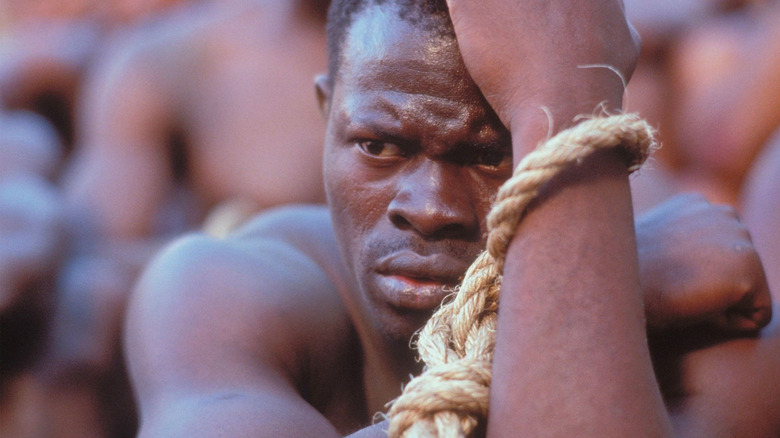 DreamWorks
At the start of his career, following his appearance in music videos for both Tina Turner and Whitney Houston, Djimon Hounsou caught the attention of Steven Spielberg for his intense period drama, "Amistad." Based on a real-life event from 1839, The Amistad was a slave ship that was, during its voyage from Africa to Cuba, overthrown by its captives before docking in America. The 'ownership' of its new crew was then fought over in a legal trial. Hounsou played Cinque, the leader of this rebellion for freedom.
Starring alongside already prolific acting talent like Morgan Freeman, Anthony Hopkins, and a notably early serious role for Matthew McConaughey, Hounsou held his own as his director always knew he would. Speaking to the New York Times in 1997, Spielberg said, "Djimon just has an enduring quality, a real sense of destiny." He continued, "He's extremely powerful and charismatic and charming. I saw him, and he was just like how I imagined Cinque to look and sound. Having seen 150 candidates for Cinque, he was Cinque at first sight."
He fought alongside a Gladiator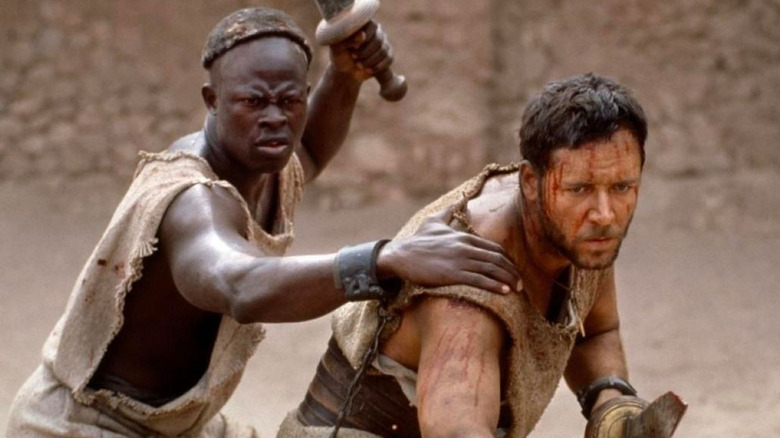 Universal
Having already drawn attention for his performance in "Amistad," Djimon Hounsou then almost stole the show from a general-turned-warrior in Ridley Scott's epic masterpiece, "Gladiator." Taken against his will and forced to fight for his life alongside the vengeance-obsessed hero, Maximus (Russell Crowe), Juba (Hounsou) was the voice of clarity and dependable ally in the sands of the Coliseum. Not only that, but Hounsou's character also ended up having one of the film's most emotional final scenes due to unforeseen circumstances.
Amidst the incredible talent littered among Scott's sword and sandal, spectacular was Oliver Reed in what became his final performance. The legendary actor died during filming, leading to significant alterations in the film. One such tweak was applied to the final moments that would have seen Proximo burying Maximus' family totems in the Coliseum grounds. Instead, the task was appointed to Hounsou's Juba, which adds an equal if not more impactful, emotional endnote.
Djimon Hounsou got two Oscar nominations for incredible performances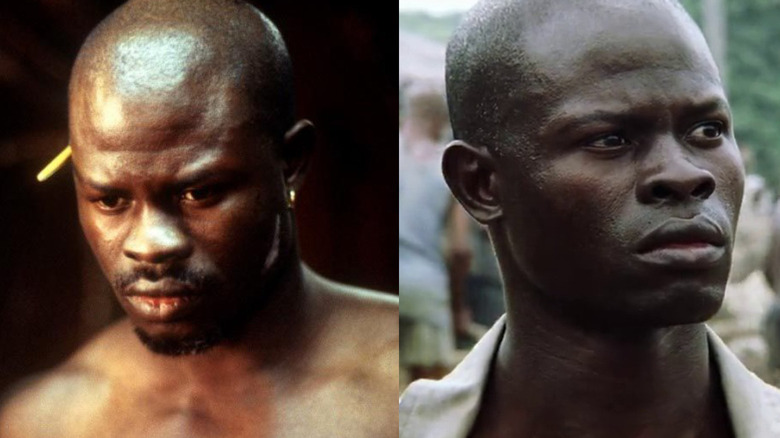 Fox Searchlight/Warner Bros.
One of his most easily forgotten performances that absolutely shouldn't be was as the solemn neighbor to an immigrant family in New York in the 2002 film, "In America." Starring opposite "The Walking Dead" star Samantha Morton and "Hot Fuzz" actor Paddy Considine, Djimon Hounsou's performance as Mateo earned him an Academy Award nomination.
Four years later, Hounsou would walk the Academy's red carpet again, alongside Leonardo DiCaprio for their word in the 2006 drama, "Blood Diamond." Hounsou played Solomon Vandy, a determined father separated from his family during the Sierra Leone Civil War, who is forced to team up with DiCaprio's mercenary and smuggler. Hounsou said to the LA Times about the role, "It was the most significant story for me. It was absolutely an honor to go on that journey with [Leonardo] DiCaprio, who felt passionate about the state of better affairs back then and supported it by being in the film."
Hounsou's impressive comic-book character run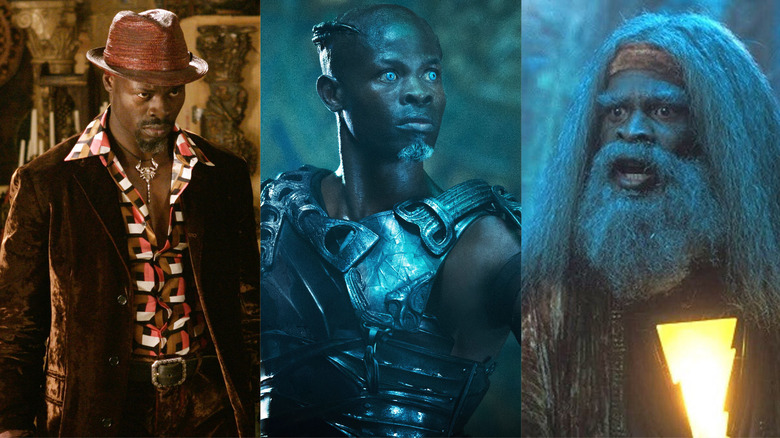 Warner Bros/Marvel
Besides a two-time nod from the Oscars, Djimon Hounsou has become a star spotted in what seems like as many comic book movies as the great Stan Lee. Chewing up the scenes alongside angels and demons in "Constantine," as holy middle man Midnite, it marked the start of Hounsou's dabbling in comic book realms that he'd appear in for years to come.
Besides that DC title, Hounsou also appeared as the stoic Wizard in "Shazam!" (set to reprise the role in "Fury of the Gods") as well as a brief appearance in Jason Momoa's wave-splashing blockbuster "Aquaman." Not content appearing under one comic book enterprise, though, he's also made several appearances as Korvac, who debuted in the MCU's "Guardians of the Galaxy," followed by "Captain Marvel." 
Comic book role or not, given a list of eclectic credits, Hounsou always promises excellent performances. You can see his latest in "The King's Man" when it arrives in cinemas on December 22.