What Is Noah Jupe From A Quiet Place Doing Now?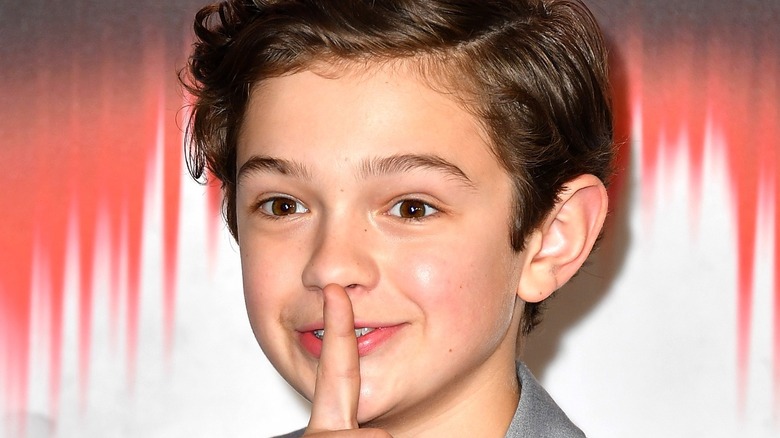 Gareth Cattermole/Getty
Prior to its 2018 release, not much was expected of "A Quiet Place." The film was, after all, a mid-budget horror flick that, even with the star power of Emily Blunt and John Krasinski (who also directed) and a not unsubstantial marketing push, seemed ticketed for mid-level box office returns. Once it hit theaters, however, "A Quiet Place" shattered any and every expectation, scoring a 96% Certified Fresh critical rating on Rotten Tomatoes, and bringing in more than $340 million at the worldwide box office on a $17 million budget (per Box Office Mojo).
As it was, "A Quiet Place" promptly landed Krasinski a spot on the directors A-list in Hollywood and cemented Emily Blunt's status as a legit leading lady whose range knows no bounds. Of course, the whole project likely would've fallen to pieces without the stalwart contributions of the film's young stars, Millicent Simmonds and Noah Jupe, who each steal scenes as the beleaguered Abbott kids. As it is, Simmonds has kept relatively quiet since her "A Quiet Place" breakout, save for another standout turn as Regan Abbott in "A Quiet Place Part II." She was, naturally, joined in that film by Jupe, who's actually been very busy since "A Quiet Place" dropped. Here's what Jupe has been up to the last few years.
Noah Jupe is becoming one of Hollywood's go-to young actors
If you've been keeping even a casual eye on the film and television business of late, you likely know that Noah Jupe has been hard at work since "A Quiet Place." That's hardly a surprise, as he was a working actor long before his breakout, delivering memorable performances in "Penny Dreadful," "Houdini and Doyle," "The Night Manager," and George Clooney's "Suburbicon." But Jupe has been booking even more high-profile gigs left and right since the major success of the "A Quiet Place" franchise, working with some of the biggest names in showbiz.
Among these names are Will Ferrell and John C. Reilly, who Jupe appeared with in the 2018 comedy "Holmes and Watson." The actor followed that with a lead role in Amazon Studios' star-studded 2019 critical hit "Honey Boy" (Rotten Tomatoes), and promptly found himself working with Christian Bale, Matt Damon, and more in the Oscar-nominated car racing drama "Ford v Ferrari." After reprising his role as the anxiety-ridden Marcus Abbott in "A Quiet Place Part II," Jupe turned up alongside heavy hitters Nicole Kidman and Hugh Jackman in HBO's miniseries "The Undoing," and most recently, he landed a key role in the absurdly stacked cast of Steven Soderbergh's HBO Max crime drama "No Sudden Move" (via IMDb).
Jupe is hardly slowing his roll moving forward either, with a handful of genuinely intriguing films currently in the works. If the young actor's career continues on the current track, we'll undoubtedly be seeing his face on screens big and small for many years to come.