The Spider-Man: No Way Home Scene That Had Fans In Tears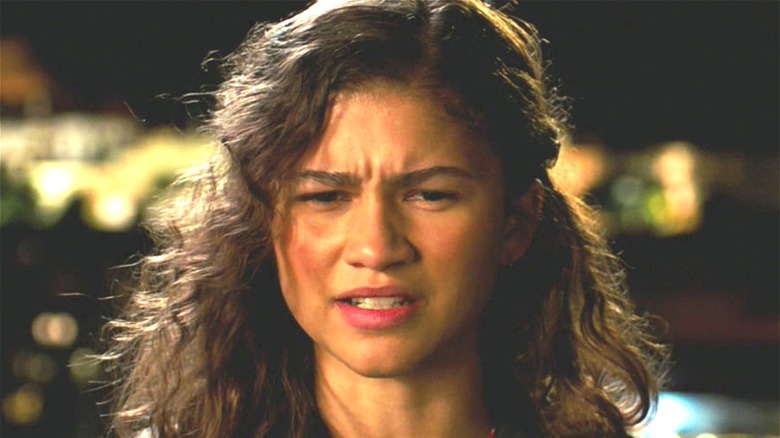 Marvel Studios/Sony Pictures
The following article contains major spoilers for "Spider-Man: No Way Home."
For most Marvel fans, "Spider-Man: No Way Home" had them on an emotional roller-coaster. Between the death of Aunt May (Marisa Tomei), the arrival of Tobey Maguire and Andrew Garfield, and those revealing post-credits scenes, it's safe to say that things got pretty serious in there for theatergoers. In fact, one sequence, in particular, had many reaching for the Kleenex. 
"Dude I started sobbing," wrote one viewer in a recent "No Way Home" Reddit thread. 
There have been a lot of tissue-grabbing moments in MCU history, but this scene, in particular, was no ordinary one. It involved Andrew Garfield's Peter Parker and came toward the end of the "No Way Home," while he and Maguire and Tom Holland's version of the comic book character were taking on the movie's pack of old villains. For viewers, the sequence was glorified fan service. For Garfield's Spider-Man, it was something much, much more.
Andrew Garfield's Peter Parker gets his redemption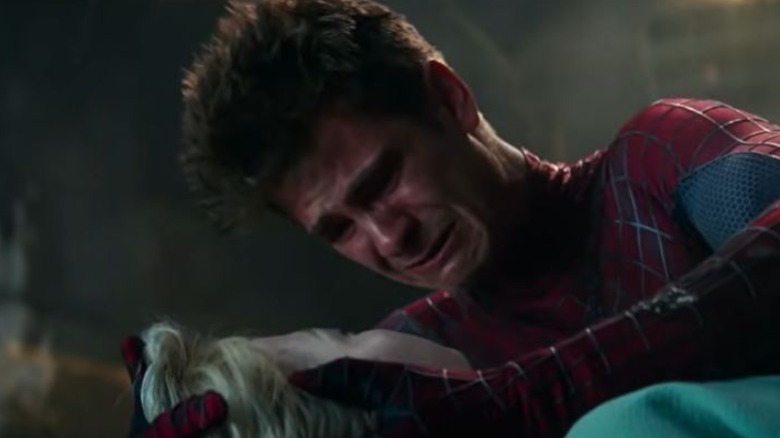 Sony Pictures Releasing/YouTube
In 2014's "The Amazing Spider-Man 2," Andrew Garfield's version of the web-slinger suffered a tragic loss when he was unable to save Gwen Stacy (Emma Stone) from a deadly fall in the film's final moments. In "No Way Home," however, his Peter Parker manages to get his redemption. 
During the movie's closing battle, Garfield's Spider-Man snatches Zendaya's Michelle Jones aka MJ out of the air following a similar fall off some scaffolding. "When Andrew's Spidey caught MJ, I was a WRECK," admitted Redditor u/returnofthemoth in the "No Way Home" discussion thread, garnering hundreds of upvotes. 
"Absolutely the same," said u/braiide. Several people pointed out how the moment also resonated for Garfield's Spider-Man character. "He was [a wreck] too," said u/chadorable. While there were several big moments of fan service like this throughout "No Way Home," Garfield's save of MJ was easily one of the most emotional. Some moviegoers who hadn't even seen his Spider-Man films were torn up about it. "I never watched the Garfield Spider-Man movies, but so was I," wrote u/Ryto.