The Best Movie Moments Of 2021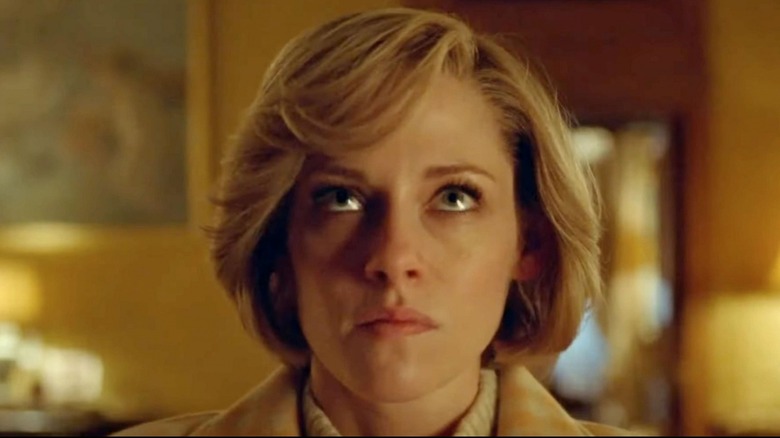 Topic Studios
There's something undeniably reassuring about movies. Despite whatever is going on in the world, you can always count on movies to be there. Whether at the cinema, the drive-in, or at home on your laptop or television, their warm, welcoming glow possesses the amazing ability to make you feel better about your troubles.
There's no denying 2021 has been a tricky year, as a certain nagging pandemic from 2020 has held over and continues to wreak havoc and complicate things for people worldwide. Still, cinema has persevered, and theaters are open and chock-full of excellent offerings. In many ways, it feels like 2021 was determined to make up for the lack of new releases of the previous year, and there are a ridiculous amount of movies to choose from.
In order to celebrate the very best in cinema this year, we've compiled a list of the best movie moments of 2021. The films encompass a wide variety of genres, including big-time blockbusters as well as small indie films you may have missed. So sit back, relax, and enjoy our list of the best movie moments of 2021.
Warning: Major spoilers ahead!
An unforgettable dinner in Pig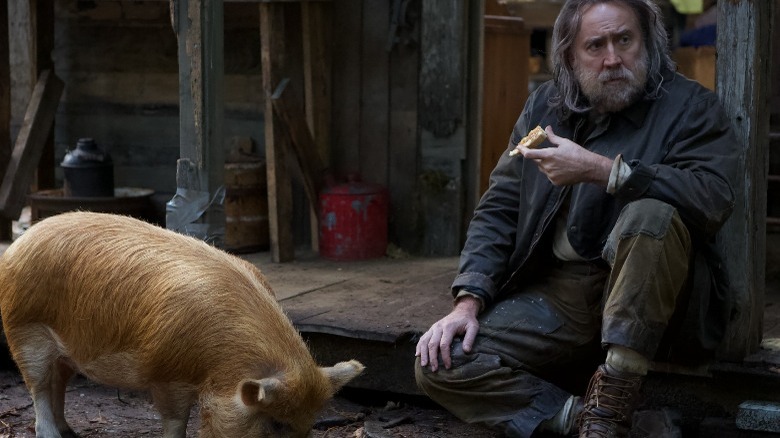 Neon
We really can't stress this enough: If you haven't seen "Pig," one of 2021's greatest surprises yet, stop right now, go watch it, and come back. There's probably no better film that benefits more from knowing absolutely nothing about it. The terrific directorial debut from Michael Sarnoski (who also wrote the film) features a near-perfect Nicolas Cage performance as a man on a mission to find whoever stole his pig and bring it home.
A staggering scene at a restaurant provides the centerpiece for the film and provides an answer to the burning question — just who is this man? We are at a restaurant that's a send-up of haute cuisine, and Cage's character asks to see the chef. While we already know that Cage plays a man named Robin Feld, the restaurant scene reveals that he was the most important chef in the entire city of Portland. It turns out that the chef recognizes Feld and used to work for him before getting his own restaurant. In a fascinating moment, Feld dresses down Chef Derek (David Knell), completely unravels him with words, and almost instantly gets to the core of his psyche. It turns out Derek always wanted to own a pub, and the food he makes now is completely unsatisfying to him. "Pig" turns a simple conversation into a deep psychological study, and Cage showcases Feld (who has been nearly silent the whole film) and his ability to understand people on a level deeper than anyone else.
Jamie Dornan steals the show in Barb and Star Go to Vista Del Mar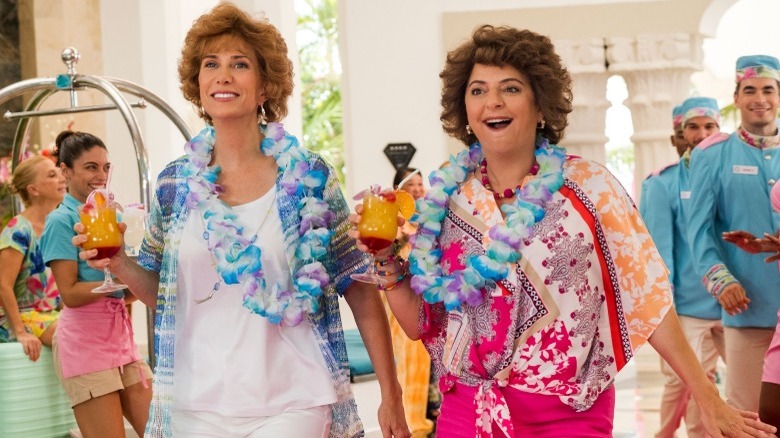 Lionsgate
When it gets to the end of the year, it's hard to avoid conversations about heavy, prestige films that often feel made specifically to try and win Oscars. Then, every once in a while, a miraculous, hysterical film comes out that stays with you for the entire year. In 2021, that film is Josh Greenbaum's "Barb and Star Go to Vista Del Mar." Writers Kristen Wiig and Annie Mumolo (who wrote "Bridesmaids" together) also star in the film as the titular Barb (Mumolo) and Star (Wiig). Barb and Star are best friends who live together and work together at a home store in Soft Rock, Nebraska. When they both lose their jobs, they decide to take things into their own hands and finally go on holiday – to the glorious Floridian paradise, Vista Del Mar.
While there, they meet Edgar (Jamie Dornan), a henchman who is sent to execute a sinister plan but is overwhelmed by love. It's Edgar who steals the show in a film stuffed with hilarious scenes like "Edgar's Prayer," a glorious musical number in which he sings of his passionate love. It's simultaneously a send-up of the musical genre while being a genuinely excellent performance in its own right. Dornan shows off some truly impressive moves, including twirling so intensely that his entire body goes underneath the sandy beach. It's a hilarious scene that has all the benchmarks of "Barb and Star" — hilarious, clever, silly, and completely unexpected.
Titane redefines the very concept of vehicular manslaughter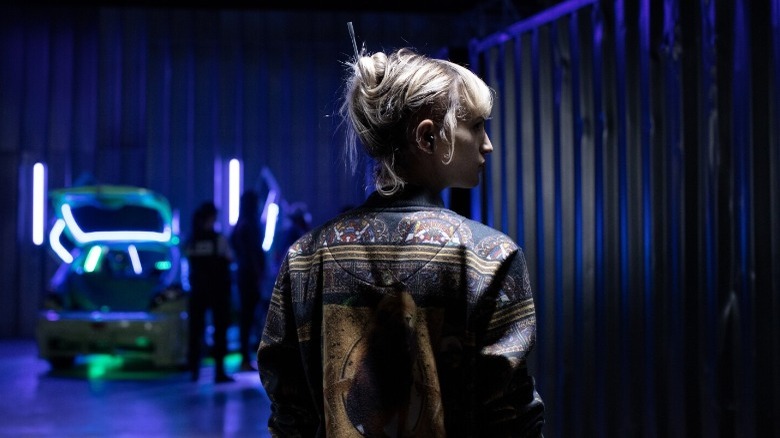 Neon
Frightening, engaging, and completely unpredictable, Julia Ducournau's "Titane" was a huge hit at the Cannes Film Festival, where it was something of a surprise success, winning the festival's biggest prize, the Palme d'Or. It more than deserves the award, as the film is undoubtedly one of the year's best, and a scene near the film's beginning is emblematic of everything that makes it so special.
Alexia (Agathe Rousselle) is a showgirl at a motor show. She dances erotically on a vehicle to promote it and has a decent following of male fans who want her to sign autographs. At the end of her shift, she attempts to head home but is accosted by a fan in the parking lot. He declares his love to her and forces himself upon her. This causes Alexia to react quickly by taking her enormous metal hairpin out from her head and jamming it directly into the man's ear, brutally killing him. It's a shocking moment rooted in a sudden turn to violence, but "Titane" is only getting started. Alexia returns back to the motor show to take a shower and wash any trace of the man off of her. She discovers that the car she previously modeled with is turned on — she enters the car naked and ... proceeds to have sex with the vehicle. It's a stunning, creepy, and unforgettable moment, which is aided by a haunting score from Jim Williams.
It's time to start in Annette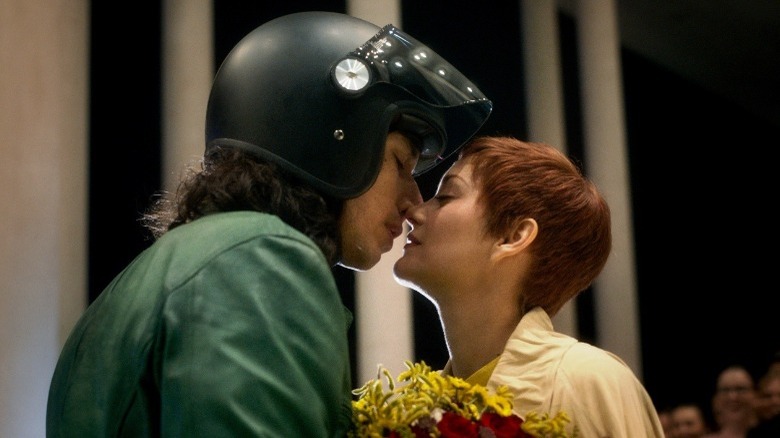 UGC Distribution
Sparks has been an important part of the music industry for decades, and 2021 was a banner year for the duo. Indeed, they recently got their very own documentary courtesy of "Last Night in Soho" director Edgar Wright, and their dreams of finally making their own film musical came true with Leos Carax's "Annette" (they wrote with Carax and also wrote all the songs).
The film's energetic, spontaneous, and electric opening sets viewers up for a thrilling experience. While the opening credits roll, an announcer states, "Ladies and gentlemen, we now ask for your complete attention. If you want to sing, laugh, clap, cry, yawn, boo, or fart, please, do it in your head. Only in your head." The film then comes alive with music feedback before turning into a recording studio as we see instruments get set up.
Director Carax appears in the film, asking, "So ... may we start?" This turns into the film's first glorious musical number, shot primarily in an excellent long take. The Sparks brothers and their band are seen as they begin the song "So May We Start" before walking through city streets where the rest of the cast joins them, including leads Adam Driver, Marion Cotillard, and Simon Helberg. The number begins "Annette" with a glorious punch that helps sustain this glorious musical. You've never seen anything quite like it.
Harley Quinn's great escape in The Suicide Squad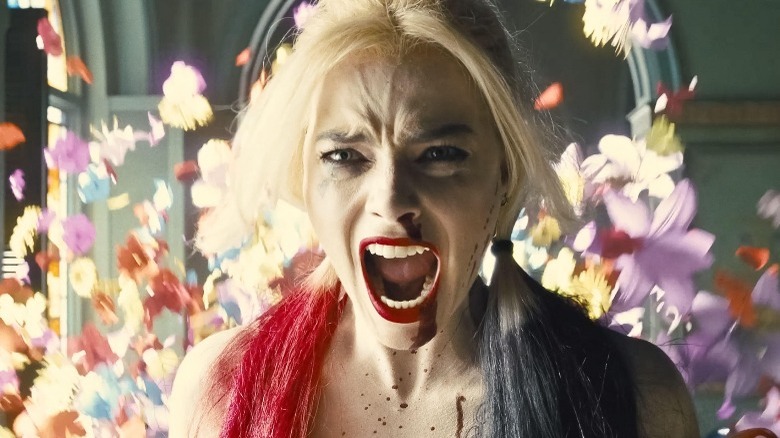 Warner Bros. Pictures
"Suicide Squad" had a rough go of it — the 2016 film was berated by critics, earning a 26% approval rating on Rotten Tomatoes. Rather than carry on with the adventures of that particular gang, the DCEU decided to do it all over again, hiring James Gunn ("Guardians of the Galaxy") to breathe new life into the world of the Suicide Squad. His film, "The Suicide Squad," is a pretty major upgrade in every sense, changing almost everything from the 2016 version. But there's one special exception: Margot Robbie reprised her role as Harley Quinn, and it should be no surprise that she is the focus of the film's best scene.
Harley Quinn got herself into a lot of trouble — she's imprisoned, tied up by the wrists, and suspended in the air. (These guys really need to learn that they need to do a lot more if they want to stop an icon like Quinn.) Of course, with Louis Prima's jaunty "Just a Gigolo/I Ain't Got Nobody" playing, Quinn unleashes brutal violence and kills just about everyone in the prison to gain her freedom. Her arsenal is impressive, using everything from guns, knives, and even the fabric on her very dress. In a beautiful image, Quinn unleashes carnage with two machine guns in slow motion as an explosion of colorful flowers happens behind her.
Benedetta receives the gift of the Virgin Mary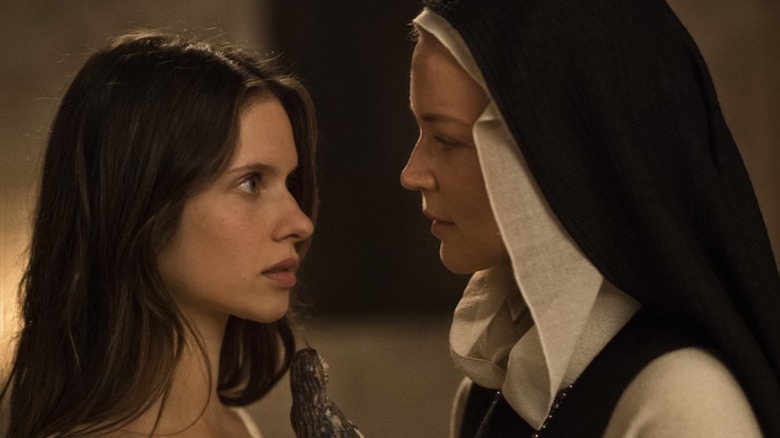 SBS Productions
Director Paul Verhoeven is no stranger to a bit of controversy. This is, after all, the man who directed films like "Robocop," "Elle," and "Showgirls." It should be no surprise, then, that Verhoeven's latest, "Benedetta," aims its sights at the Catholic Church, delivering an epic feat in nunsploitation. The film is full of dramatics, theatrics, laughs, and a whole lot of eroticism, including a healthy dose of lesbian nun sex — a balance that only wildcards like Verhoeven can pull off.
The film's most memorable scene comes in a heated moment between Benedetta (Virginie Efira) and Bartolomea (Daphné Patakia), a peasant girl. The two share an undeniable chemistry, and despite going directly against the teachings of the Catholic Church, find themselves romantically entwined with one another. In peak exploitation fashion, Verhoeven engineers a scene where Bartolomea gives Benedetta a gift — a statue of the Virgin Mary that has been carved into a precise shape of a dildo. That's not all, of course — the pair use it for sexual gratification. Nobody seems to be having more fun here than Verhoeven himself, who chooses a specific shot to make it very clear how the special "gift" is being used. The scene is emblematic of the film itself: bonkers, offensive, glorious, and unforgettable.
A fight on a bus in Shang-Chi is one of Marvel's best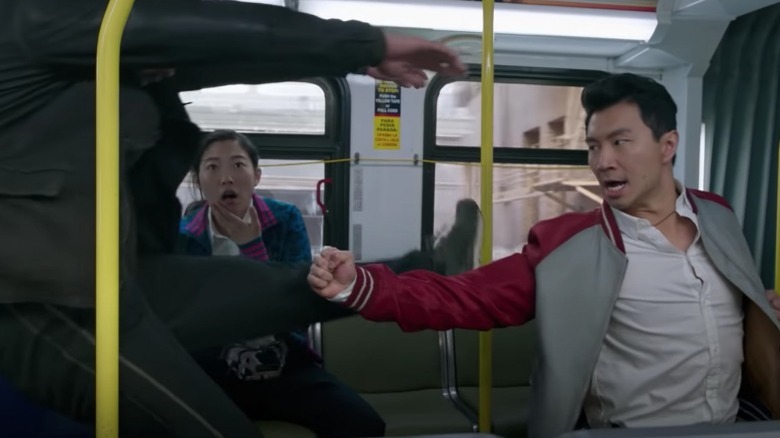 Disney
Some things in life are inevitable — death, taxes, and Marvel ultimately dominating the box office. Despite the difficulties faced in the pandemic, the theory holds up with "Shang-Chi and the Legend of the Ten Rings." The film, directed by Destin Daniel Cretton (behind the brilliant "Just Mercy" and "Short Term 12"), earned an incredible $224 million at the US box office alone, which is an incredible achievement, especially given the ongoing pandemic. While Marvel has a bit of a patchy history with well-executed action sequences, a scene in "Shang-Chi" certainly bucks the trend.
It all takes place in the limited scope of a bus, and what begins as a fairly low-key battle quickly erupts into an all-out brawl, with hints of Jackie Chan martial-arts epics (which is no surprise, given the connection of amazing stuntman Brad Allan, who was involved in the scene). The scene isn't just beautifully choreographed — it's also really funny and provides important character development, as Katy (Awkwafina) discovers that Shaun (Simu Liu) isn't just a valet.
Everything gets to be too much for Danielle in Shiva Baby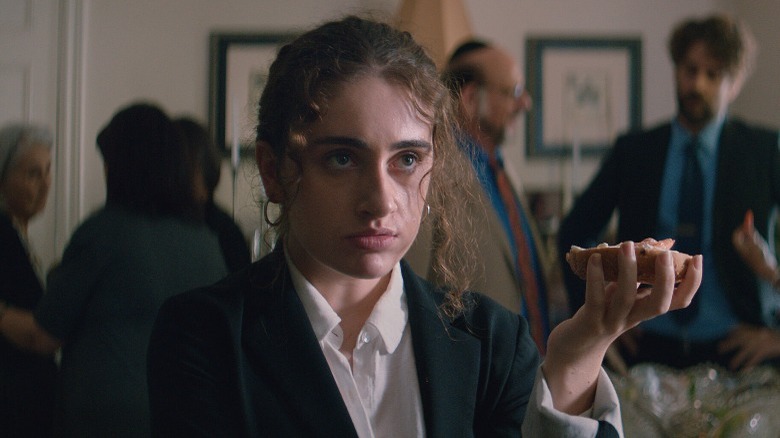 Utopia
Things are not going well for Danielle (Rachel Sennott), but who could be having a good time when you run into your sugar daddy at a local shiva? Shiva is an extended period of mourning for Jewish families, and it's the location for virtually all of Emma Seligman's astonishing debut "Shiva Baby." The film is a brief 77 minutes, and there isn't a moment that isn't laced with tension.
As if seeing your parents lovingly interact with your sugar baby couldn't be any more agonizing, Danielle has also misplaced her phone, which is filled with evidence of her secret. Things come to a head when she realizes that her ex, Maya (Molly Gordon), finds her phone and discovers the truth. The scene turns into a nightmare for Danielle, and everything gets darker and sweatier. Shooting everything in intense closeups, Seligman creates a particularly intense sequence that is elevated by the klezmer score of Ariel Marx, brutally inclining the drama until it all gets to be too much for Danielle. Everything weighing on her — the discomfort, the fear of being found out, the overwhelming expectations of family, the touching — comes to a fever pitch, and her explosive shout of "Stop, stop, stop, let go!" shocks everyone around her. It's a fantastic moment in one of the year's best and most underappreciated films.
In Dune, Arrakis is under fire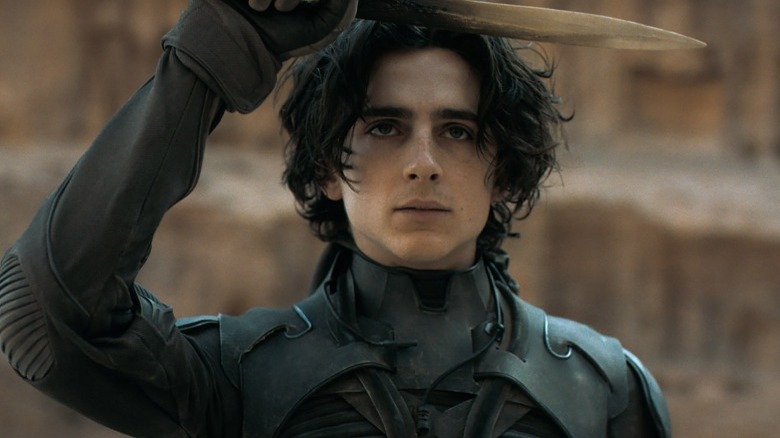 Warner Bros. Pictures
With the seemingly neverending COVID-19 pandemic, it feels almost impossible for a movie to break through financially with big box office numbers. But a select few blockbusters have given film fans hope that movies can still rake in the big bucks, and Denis Villeneuve's "Dune" is certainly one of them. The film earned just under $400 million at the global box office and got the green light for the continuation of the epic story. The film is overflowing with visual beauty, endless details, and an electric score from Hans Zimmer, but one scene stands out above the rest: the Harkonnen invasion of Arrakis.
After the defenses are secretly lowered, Harkonnen's army wastes no time when it comes to laying down an enormous, full-scale, fiery attack on the unsuspecting Arrakis. The scene is a thing of beauty, as bright orange fire and explosions punctuate the darkness and menacing aircraft fill the sky. Zimmer's haunting, booming score accentuates the intense sequence, which really sets things in motion for the Atreides family. We can't wait to see if the second installment will answer our many burning questions.
A haunting dinner with pearls in Spencer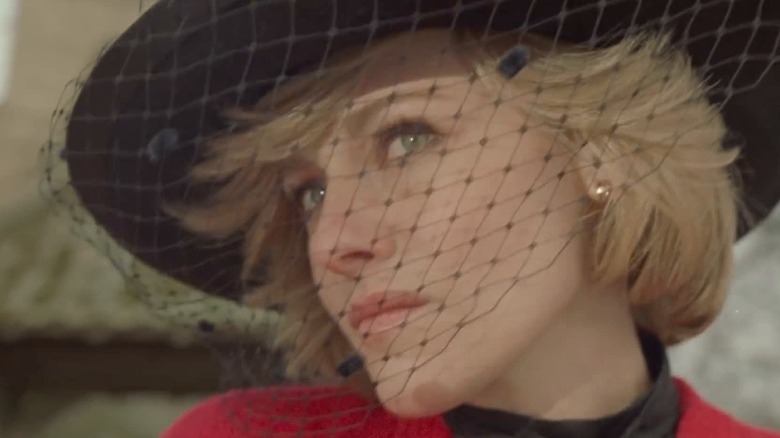 Neon
Far from a traditional biopic, Pablo Larrain's "Spencer" is more of a slow-burning nightmare, or, as the film itself puts it, a "fable from a true tragedy." Most of the film takes place around Christmas at the Sandringham family estate, and it's very clear from the outset that Princess Diana (Kristen Stewart) would rather be anywhere but there. The strict rules of royal living clearly take a negative toll on Diana, and being in Sandringham only seems to escalate all of her anxieties.
At dinner on the first night, tensions are extremely high. Everyone waits for the queen to start eating, and once she does, everyone else can begin. With the haunting Johnny Greenwood score's dissonant chords in full swing, we see Diana — clad in a beautiful green dress and elegant pearls — visibly uncomfortable in her surroundings. She grabs at her neck and, in a shocking move, tears off her pearl necklace, with many of the pearls falling into the soup. Then, she proceeds to eat the soup, struggling to consume the enormous pearls. It's a shocking, deeply upsetting moment that showcases a tremendous performance by Stewart. Moments later, however, Diana is seen with a full necklace of pearls, making audiences wonder whether everything going on is in her head.
An epic final battle with the Druun in Raya and the Last Dragon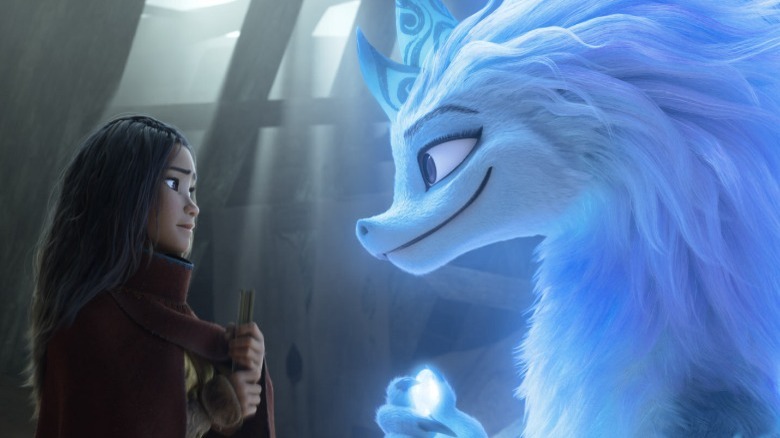 Disney
It's been a big year for Disney animation. For the first time since 2016's "Moana" and "Zootopia," the animation studio released two films in the same year. While "Encanto" is the more recent release, the best Disney film of the year goes to "Raya and the Last Dragon," an epic adventure set in the world of Kumandra. With the world overrun by mysterious Druun that turn people into stone, Raya (Kelly Marie Tran) sets out to restore hope in the land by finding Sisu (Awkwafina), the last dragon, in the hopes that they can defeat the Druun once and for all.
The film's conclusion is absolutely epic. Raya faces off in an intense battle with Namaari (Gemma Chan), and the Druun around them feel unstoppable. But in a testament to the human spirit, just when all hope is lost, the power of teamwork comes through, and the Druun are eliminated by a stunning cascade of dragons that save the day and restore humanity. Sure, Disney has been pulling the same stunt for quite some time now (making us think everything will end badly when a magical twist ensures safety for our beloved protagonists). Still, it's all executed so beautifully in "Raya and the Last Dragon" that we simply adore seeing it play out again.
Traveling back to the '60s in Last Night in Soho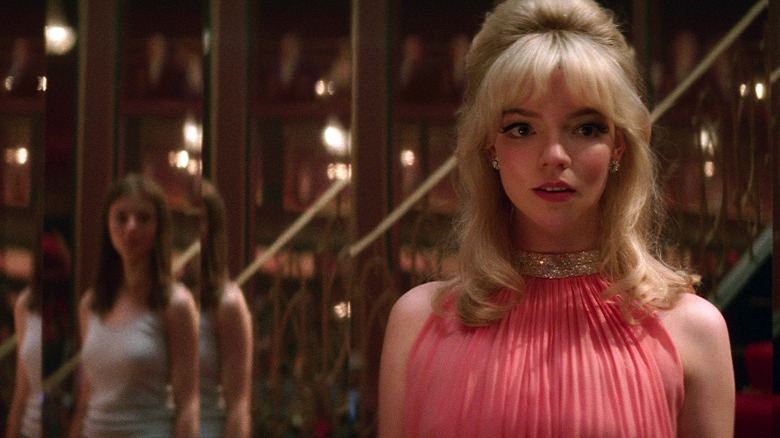 Universal Pictures
Edgar Wright's twisty thriller "Last Night in Soho" is full of great music and remarkable attention to detail, and it simply oozes style. That's no surprise, as the film takes place on the streets of central London and focuses on the life of a fashion student. In the standout scene, Eloise (Thomasin Mackenzie) is struggling to fit in. She leaves her student residence for a room in Soho, and when she goes to sleep, her dreams transport her back to London in the 1960s.
Awaking into a black void, Eloise walks through a dark alley, stepping out into the light to find that the '60s she is so obsessed with are right in front of her. But that's not at all — when Eloise enters the Cafe de Paris, she discovers in the mirror that she's taken on the identity of a mysterious and beautiful girl named Sandy (Anya-Taylor Joy), who has dreams of being a bigtime star and wants to carve out a career as a singer. It's a glorious sequence filled with stunning costuming, beautiful music, brilliant camerawork, and rich period details.
In the Heights' extraordinary musical number in a swimming pool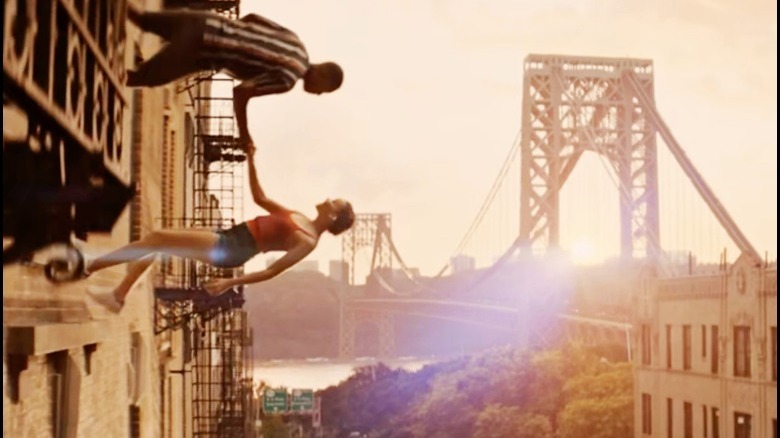 Warner Bros. Pictures
Lin-Manuel Miranda is having something of a moment this year. He's been a huge part of four major releases in 2021, including "Vivo," "tick, tick ... BOOM!," and "Encanto." But his biggest impact is likely the big-time musical "In the Heights," based on the broadway play that made Miranda a star. Directed by Jon M. Chu ("Crazy Rich Asians"), the film is a glorious music-filled celebration of the Latin communities of Washington Heights in New York City.
The film's standout number, "96,000," was a tricky feat to pull off. It involved hundreds of extras, only a few days to pull it off, and a forecast of thunder threatening to ruin the whole thing. The song is the catchiest of the entire film (and there's a lot of songs to choose from), and the choreography is nothing short of jaw-dropping. The gravity-defying camerawork is simply magical, and you've never seen a community pool look more exciting. The song is also a great opportunity for a lot of the cast to show off their amazing vocals and dance moves, and it's a moment you'll find yourself thinking of for months after you've seen "In the Heights."
Nina Simone brings down the house in Summer of Soul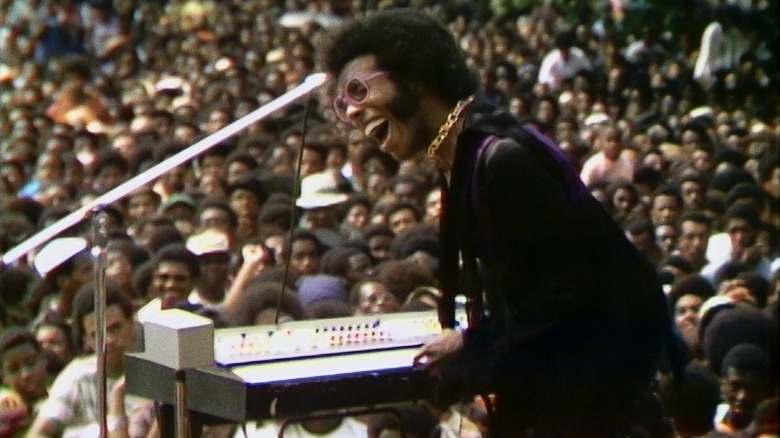 Hulu
Few documentaries capture the overwhelming power of music than "Summer of Soul." Directed by Ahmir Thompson (better known as "Questlove"), the documentary is an exquisite concert film set in the summer of 1969, showcasing the glorious Harlem Cultural Festival that celebrates the Black history, culture, style, and — above all — music. The film has received massive critical acclaim and currently holds an extremely impressive score of 96 on Metacritic.
It's nearly impossible to pick a standout moment from the film, as it's chock-full of stunning musical performances. Still, we have to hand it to Nina Simone, who received an outstanding response from the audience with her perfect performances of "Backlash Blues" and "To Be Young, Gifted and Black." As a talking head tells us in the film, "You'd walk on water to see Nina Simone ... her fearlessness, her control as a woman, a black woman, is awesome. She was sending a message." The message is clear: Nina Simone is one of the greatest artists in history, and having the opportunity to see her perform live is an unforgettable gift.
A mesmerizing, wordless conclusion to The Green Knight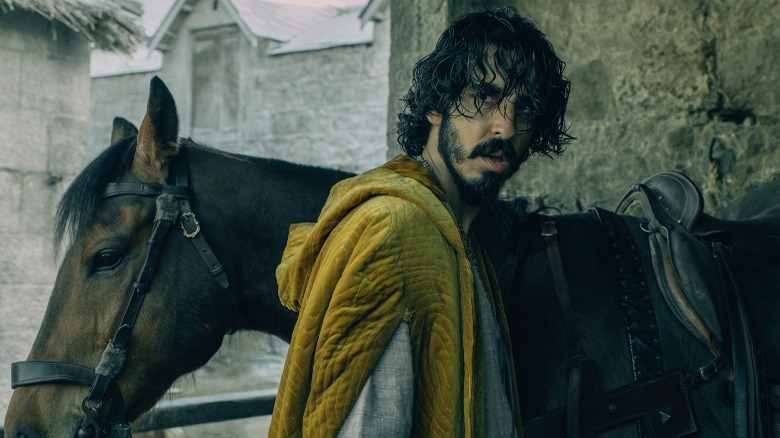 A24
Directed by David Lowery ("Aint Them Bodies Saints," "A Ghost Story"), A24's "The Green Knight" features some of the most spectacular visuals of 2021 and a towering performance from leading man Dev Patel. The film is based on an Arthurian legend about Gawain (Patel), King Arthur's (Sean Harris) nephew, who agrees to a challenge from the enormous and intense Green Knight (Ralph Ineson).
The film's standout moment comes after Gawain's extremely long quest to reach the Green Knight. After what feels like years of searching, Gawain has finally made it. But although he appears ready to receive the blow from the Green Knight, he runs into the woods. Then, an extended wordless sequence begins, where Gawain returns to Camelot and sees his life play out. He becomes king, but the position does not suit him — it turns him into a disconnected figurehead whose own people turn on him, and his son even dies on the battlefield.
It's an extended, ethereal sequence that is difficult to shake. The decision to have the entire thing unfold without dialogue is a brilliant choice, as it really allows audiences to soak up the feelings, mood, and glorious visuals. While the film leaves viewers with plenty of unanswered questions, it's all the better for it.
Spider-Man: No Way Home's multiverse meet-up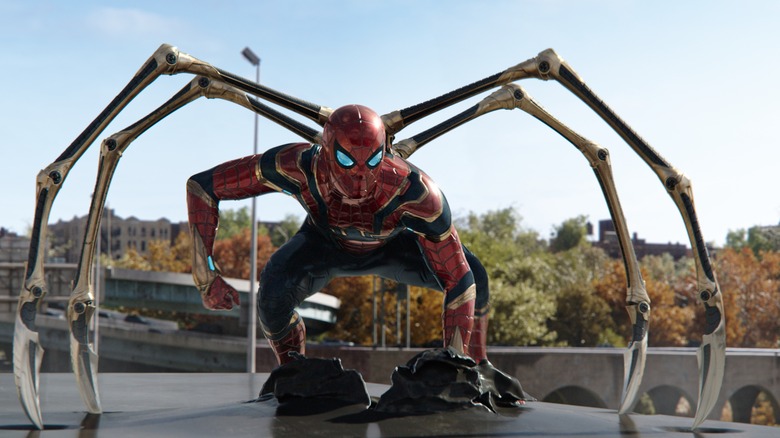 Sony Pictures
For months leading up to the release of "Spider-Man: No Way Home," fans put together a wish list of things they were hoping to see. We knew from the first trailers that the film would feature the return of various villains from across Spider-Man's movie history, but many eager moviegoers were also hoping that it would include the return of two particular Spider-heroes. When the film's marketing didn't feature either Tobey Maguire or Andrew Garfield as their respective versions of Peter Parker, and Garfield himself repeatedly denied involvement while promoting other films, fans still held out hope, suspecting a studio secret that would eventually be revealed.
Then, at last, we all got our wish. In the middle of "No Way Home," as Holland's Peter Parker reckons with a tremendous loss, his friends Ned and MJ accidentally summon two other Peters, and Garfield and Maguire come walking through portals — older, wiser, and ready for one more adventure. Watching Garfield take off his mask to reveal his Peter's impossibly tall hair, and watching Maguire quietly walk into the frame, fans burst into spontaneous applause, longtime Spider-Man fans got goosebumps, and a cinematic meet-up years in the making was born. It's not the flashiest moment in "No Way Home," but it is the most memorable.
The Matrix Resurrections takes flight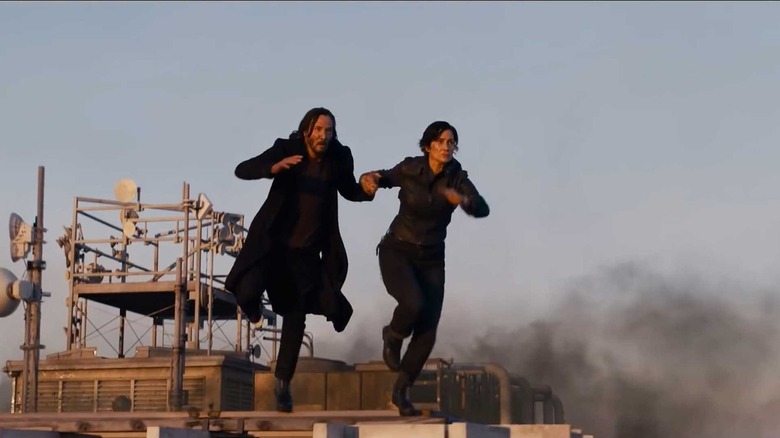 Warner Bros. Pictures
"The Matrix Resurrections" is a film that knows exactly how to twist the familiar iconography and themes of the franchise that inspired it into dazzling new things. The story of Neo's gradual reawakening to a past that's been hidden from him, most of the movie is about his efforts to reconnect with his lost love, Trinity, though she's since been brainwashed by the Matrix to forget the life they once shared.
Finally, as the film reaches its climax, Trinity takes her rightful place by Neo's side, and they fight their way through the streets as an army of the Analyst's drones come after them, desperate to sever the connection that gives them more power than the Matrix can contain. Along the way, as Trinity pilots her motorcycle and Neo blasts force fields out of his hands, we think we can see what's coming, and the film's trailers already set it up. The pair are cornered on the roof of a skyscraper, and have no choice but to jump. Our experience with the original "Matrix" trilogy suggests that this will be the moment Neo finally remembers how to fly, but no. Instead, Trinity is the one who takes flight, saving them both from plummeting down and revealing that, in her way, she's just as powerful as Neo is. It's a stunning, breath-catching moment of genre grandeur, and underlines the film's message that shared love is what really redeems us all.