The Best Disney Movies To Watch If You Liked Encanto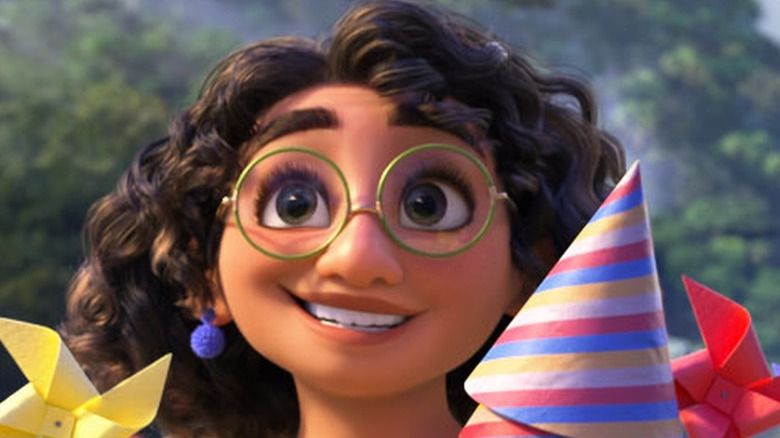 Disney
Few things in life are as synonymous as Disney and animation. Walt Disney Animation Studios have been making animated features since 1937, when Walt Disney changed the world with "Snow White and the Seven Dwarfs." The magic continues with their 60th film: "Encanto," directed by Jared Bush and Byron Howard (the pair previously directed "Zootopia"), co-directed and written by Charise Castro Smith, is a visually stunning and deeply charming love letter to Colombian culture.
The film tells the story of Mirabel Madrigal (Stephanie Beatriz), a member of a family whose members each have a special "gift" — whether it's shapeshifting, controlling the weather, super-strength, or incredible hearing. Mirabel, however, never received a gift and is something of the outcast of the family. When the Madrigals' magic begins to mysteriously diminish, it threatens the very balance of the family — and the entire community they protect. This sends Mirabel on a mission to uncover the secrets of the magic in an effort to save the Madrigal clan and finally discover how she fits into this crazy family.
"Encanto" is a delight to watch — anchored by a terrific performance from Beatriz as Mirabel, it's one of Disney's best-looking films, full of great charm and humor as well as fantastic songs written by Lin-Manuel Miranda. As the film also recalls a number of Disney classics, here are our picks for the best Disney movies to watch if you like "Encanto."
Warning: Spoilers for "Encanto" ahead!
Meet the Robinsons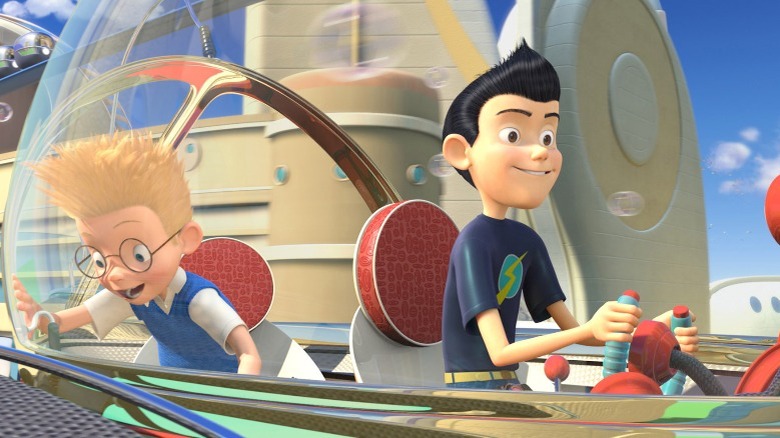 Disney
Sandwiched between the disastrous "Chicken Little" and the unremarkable "Bolt," "Meet the Robinsons" was released in 2007. It was dwarfed by other animated offerings such as "Shrek the Third," "Ratatouille," and "The Simpsons Movie," but the film is one of Disney's more original efforts.
Lewis (Jordan Fry) is a 12-year-old inventor, constantly trying to make the latest and greatest creation. His greatest wish, however, is to find his birth mother, or at least to be adopted — he's spent his entire life in an orphanage. Everything gets thrown for a loop when Lewis meets 13-year-old Wilbur (Wesley Singerman), who claims to be from the future and says he needs Lewis to help recover an old invention that has been stolen by Bowler Hat Guy (Stephen J. Anderson, the film's director).
At its core, "Meet the Robinsons" is all about the very essence of family — specifically, finding your place in a big, goofy, group of people. "Encanto's" Mirabel and Lewis are two sides of the same coin, as they are both two characters desperate to discover their purpose and figure out exactly how they belong in the world, and they're both willing to take big risks to do so. Just like "Encanto," "Meet the Robinsons" is a lush, colorful adventure filled with a quirky, charming cast of characters on an exciting adventure.
Moana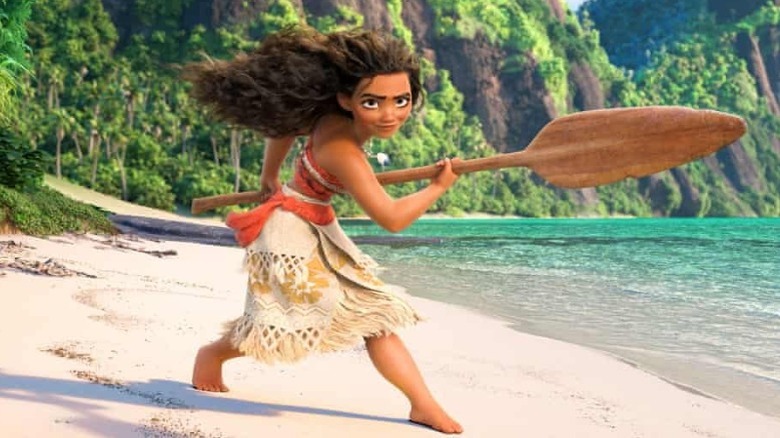 Disney
Lin-Manuel Mirada exploded into the stratosphere with the Broadway musical "Hamilton," which earned a slew of awards and is beloved by fans all over the world. Disney was quick to capitalize on his success: Miranda was hired to write the songs for "Encanto," where his unique blend of traditional ballads and show tunes with hip-hop gives the songs in the film an exciting, fresh feel. Before working on "Encanto," however, he was first brought in by the House of Mouse to compose songs for "Moana."
The film, directed by Disney stalwarts Ron Clements and John Musker (who gave us "The Great Mouse Detective," "The Little Mermaid," and "The Princess and the Frog," among others), brings viewers to the Polynesian island of Motunui. Moana (Auli'i Cravalho), the daughter of the island chief, is happy with her life but yearns for more. When the island begins to struggle as their once-plentiful resources diminish, Moana bravely sets off to restore the heart of Te Fiti in an effort to save her family and her people. The film is a sight to behold and a whole lot of fun, thanks especially to a brilliant suite of songs that includes the Oscar-nominated "How Far I'll Go," "Shiny," and the fabulous "You're Welcome."
In addition to songwriter Miranda, "Encanto" and "Moana" share another striking similarity. They're both films about a young woman setting off to fix a specific problem — faltering magic in "Encanto," and dwindling resources in "Moana."
Sleeping Beauty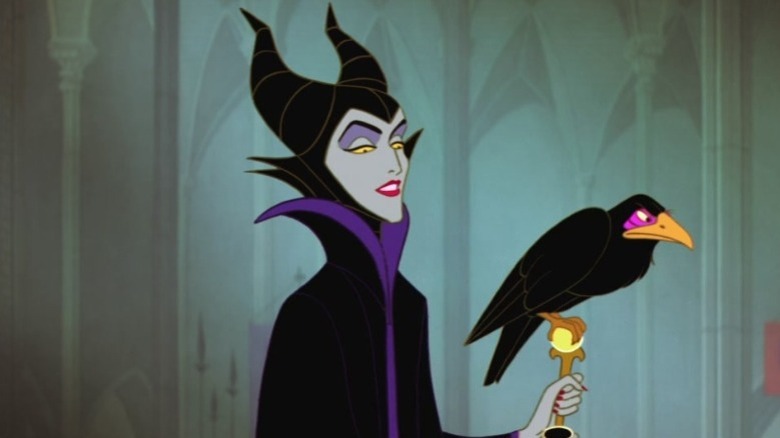 Disney
Is there a more visually breathtaking film than Disney's 1959 masterwork "Sleeping Beauty"? The film has a distinct visual style, largely thanks to the exquisitely painted backdrops from artist Eyvind Earle. Though Earle regularly clashed with the rest of Disney's animation department, his images are some of the most memorable in the medium's history. Between its lush visuals and its release in the experimental Technirama 70mm format, the film was an absolute sight to behold in theaters (even if it ended up tanking at the box office).
Despite its chilly reception in the '50s, the film has more than endured the test of time thanks to its jaw-dropping animation, beautiful music, and unforgettable characters. The standout is undoubtedly Maleficent (Eleanor Audley), the vengeful sorceress who curses Princess Aurora (Mary Costa) for the sole reason that the king and queen didn't invite Maleficent to Aurora's christening.
"Encanto" shares a special connection with "Sleeping Beauty" — specifically, the sequence in which Aurora pricks her finger on the spindle of a spinning wheel after following a mysterious green light through the castle. Mirabel does the same thing in "Encanto" while trying to uncover the mystery of Bruno (John Leguizamo).
Tangled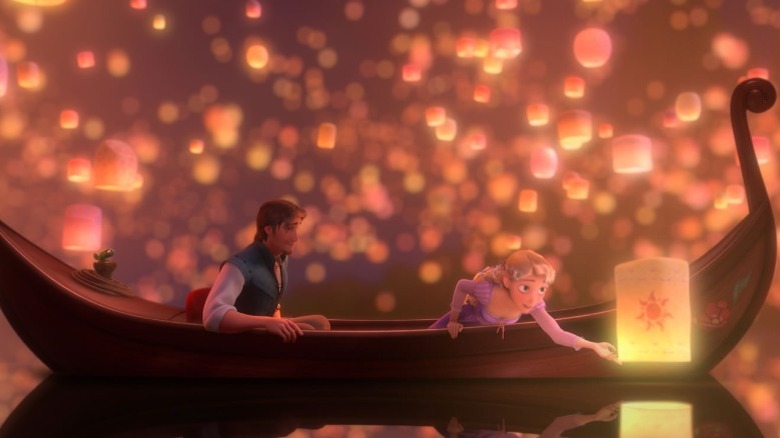 Disney
Another wonderful film about finding your place in the world and discovering your true self, "Tangled" is also one of the most expensive movies ever made. Disney's retelling of the Rapunzel fairytale is full of bold visuals, great characters, great jokes, and fantastic characters. At the start of the film, Rapunzel (Mandy Moore) is approaching her 18th birthday and still stuck in her tower, the only world she's ever known. Every year, distant lights appear on her birthday. When she asks her Mother Gothel (Donna Murphy) for permission to go see the lights and finally leave the tower, she refuses (in brilliant song and dance fashion, of course).
After the dashing Flynn Rider (Zachary Levi) appears in the tower, Rapunzel strikes a deal — she'll tell Rider where's she's hidden his prized possession if he takes her to see the lights. What unfolds after this exchange is a glorious adventure that culminates in one of Disney's great romances, all while challenging your preconceived notions of frying pans. "Tangled" features plenty of the tongue-in-cheek humor seen in "Encanto," and its overarching themes of finding yourself and family share striking similarities. For fans of "Encanto," the charming and endlessly re-watchable "Tangled" is a great choice.
Frozen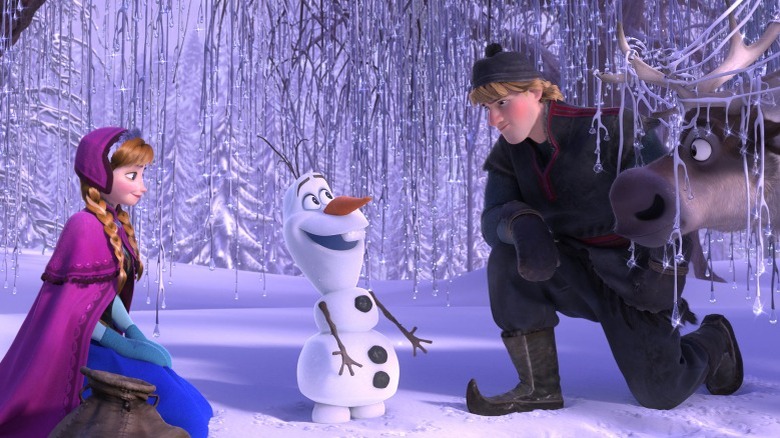 Disney
Perhaps the most impactful animated film of the 21st century, Disney's "Frozen" is one of the highest-grossing movies of all time, bringing in a monumental $1.28 billion (yes, that's a billion, not a million) at the worldwide box office. Not only was it a monumental commercial success, but the music may have left even more of a mark: "Let It Go," sung by Idina Menzel (who plays the beloved Elsa), was the ninth-bestselling song of 2014. The song has probably become every parents' nightmare as it has played constantly in households all over the world ever since. It's also been referenced in a number of Disney films since, including "Zootopia" and, yes, "Encanto."
"Encanto" and "Frozen" share a much deeper connection than just a single reference, however, as the two films are all about the power of family, specifically sisterhood. Just like in "Encanto," a sisterly bond is crucial to the story — the relationship between Anna and Elsa the driving force throughout the entire film.
Frozen II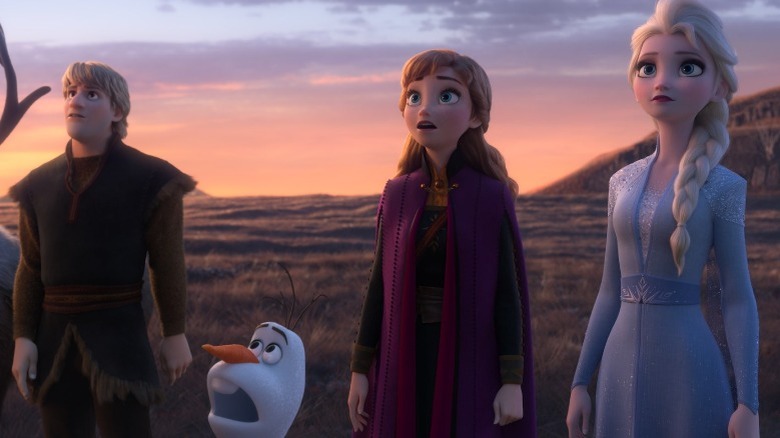 Disney
Following in the footsteps of the original "Frozen," Disney's "Frozen II" was released six years later in 2019, and managed to accomplish the seemingly impossible task of outperforming the original. Raking in a nearly unfathomable $1.42 billion at the box office, the film ranks high on the list of the highest-grossing movies of all time. The creators of the original went bold in their second outing, attempting to create a darker, more adult, and more complicated story — and "Frozen II" largely succeeds.
In "Frozen II," a key moment toward the end of the film causes Anna and Elsa to realize the shocking truth that their parents may not have been as noble and wonderful as they once seemed — not to mention their grandfather and, in fact, the rest of their family lineage. A very similar plot thread occurs in "Encanto," as Mirabel realizes that the family's issues stem not from the mysterious Bruno, but instead from the pressure put on their family by Abuela Alma (María Cecilia Botero). Though there are various thematic elements in both "Frozen" films that are echoed in "Encanto," the plot point of reckoning with your family not being it's all cracked up to be serves as a clear link.
Raya and the Last Dragon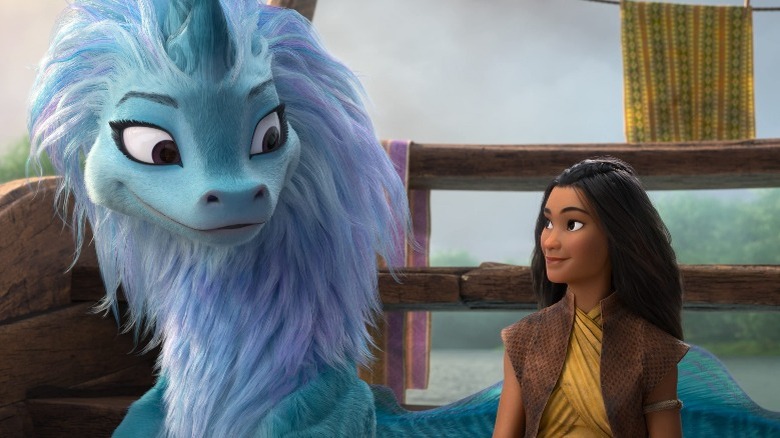 Disney
In 2016, the Disney productions "Zootopia" and "Moana" graced cinema screens mere months apart. This feat was matched in 2021, when "Encanto" arrived the same year as "Raya and the Last Dragon."
Although its box office performance was blunted by the COVID-19 pandemic, "Raya and the Last Dragon" is a fantastic movie, up there with some of Disney's very best. Similar to the way "Encanto" is deeply rooted in Colombian culture, "Raya" takes its roots from South Asian cultures, and it's really exciting to see Disney tackle more diverse stories. This particular tale follows Raya (Kelly Marie Tran), who sets off a mission to find the last dragon and restore her home and her family. Sound familiar? It should — its setup is very similar to "Encanto" (minus the dragons, of course). Despite the similarities, the two films feel very unique; "Raya" is full of epic action and features a thrilling globetrotting adventure. The film also has a terrific ensemble cast, including dragon Sisu (Awkwafina) and the destined-to-be legendary Con Baby.
Bambi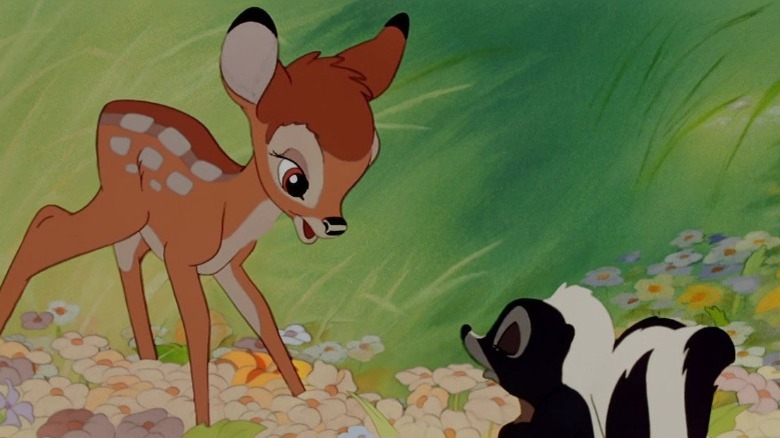 Disney
Boasting some of the most beautiful animation ever seen as well as charming anthropomorphic animals, "Bambi" is also one of Disney's darkest, most devastating films. Using the extraordinary talents of artist Tyrus Wong, it makes no attempt to soften the concept of death for children, which broke serious ground in 1942. Despite this heartbreak, at its core, "Bambi" is a film about the testament of carrying on through great difficulty, believing in yourself, and, above all, how important it is to preserve nature and the environment.
Just as "Encanto" places a great deal of importance on the Madrigal family's value to their community, "Bambi" is about how essential it is to work together with your friends and neighbors. This is especially evident in the "Little April Shower" sequence, as all the animals work to find shelter from the rain, and when a fire breaks out in the forest, as we see the animal kingdom come together to stay alive and find refuge from the flames. "Bambi" is not only an exquisite portrait of nature, but a vital message of the importance of environmental preservation. It's also must-see cinema.
Atlantis: The Lost Empire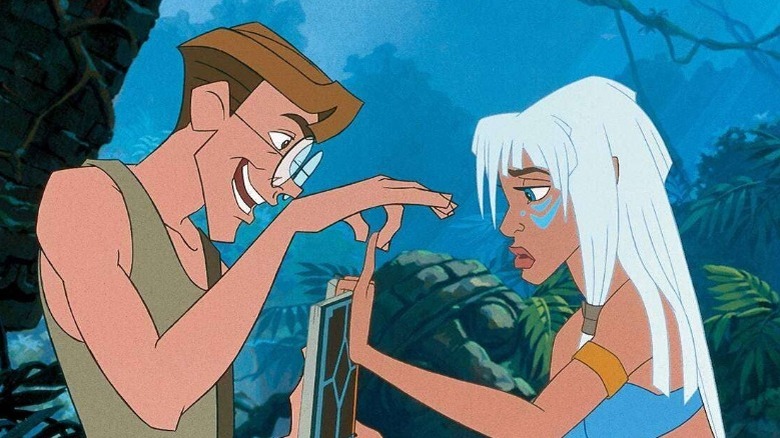 Disney
Mirabel in "Encanto" is unique among Disney leading characters in that she wears glasses. There are only two other main heroes that wear glasses in Disney animated films — the title character in "Chicken Little," and Milo Thatch in "Atlantis: The Lost Empire." While "Chicken Little" is more difficult to recommend, "Atlantis" is an exciting adventure with plenty to offer.
The approach to making "Atlantis" was markedly different from previous Disney efforts, as crew members working on the film wore T-shirts that read "Fewer Songs, More Explosions." The film tells the exciting story of Milo (Michael J. Fox), who discovers a journal that provides a guide to Atlantis. After receiving help from a wealthy eccentric, Milo joins a team of explorers hoping to uncover the truth of the lost city. When they find Atlantis, parallels to "Encanto" emerge. Both films become stories of people risking everything to help save their communities. For those who enjoy their Disney films with a healthy dose of action and adventure, "Atlantis: The Lost Empire" is a great choice.
Hercules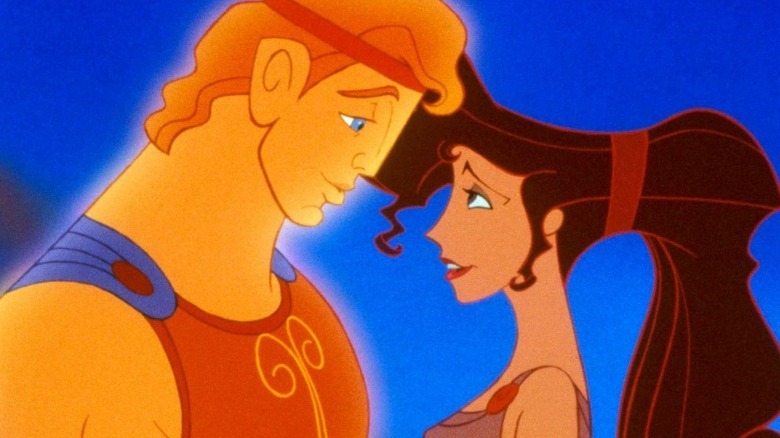 Disney
"Hercules," the 1997 film directed by the duo Musker and Clements (who also directed "Tangled"), actually gets an explicit shout-out in "Encanto." It comes during the standout musical number "Surface Pressure," performed by Mirabel's sister Luisa (Jessica Darrow), who sings "Under the surface, was Hercules ever like "Yo, I don't wanna fight Cerberus"?" The line links the films together, but there are more similarities that "Encanto" shares with "Hercules."
Just like Luisa in "Encanto," Hercules (Tate Donovan) is also trying to navigate life as someone with extraordinary strength, and all the attention and notoriety that entails. The two of them also share the same difficulties with losing their power and must learn how to exist without their power before eventually having it returned to them.
"Hercules" is super entertaining in its own right, and is loaded with pop culture references that are a joy to watch. The film also has a tremendous group of songs, thanks to composer Alan Menken and lyricist David Zippel. The highlight is "I Won't Say," a ballad from Megara (Susan Egan) that provides a refreshing look at the love ballads so typical in Disney.
Lilo & Stitch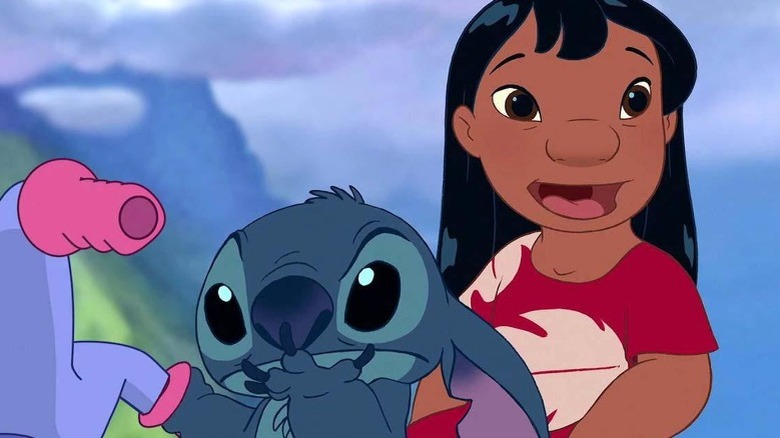 Disney
One of the central conflicts in "Encanto" happens between Mirabel and her older sister Isabela (Diane Guerrero). Mirabel, who feels like the outcast of the Madrigal family, is annoyed with Isabela as she is perceived to be the very essence of perfection, while Mirabel feels like she is constantly making mistakes. The feeling certainly appears to be mutual, as Isabela is always demanding that Mirabel stay out of her way so she doesn't mess everything up. Though their relationship improves a great deal throughout the film, the sister dynamic has a lot of similarities with "Lilo & Stitch."
Directed by Dean DeBlois and Chris Sanders, the 2002 Disney film features Lilo (Daveigh Chase), an eccentric young Hawaiian girl who is something of an outcast. Her older sister Nani (Tia Carrere) acts as her guardian after their parents pass away in a car accident. Nani struggles to keep their house in order, as Lilo is constantly making things difficult and always acting out, so she agrees to get Lilo a dog, hoping it'll provide stability. Only one problem: Lilo ends up adopting Stitch (voiced by writer-director Sanders), an alien prone to bouts of extreme chaos. Through all this chaotic energy lies a deeply heartfelt and earnest film about belonging and finding your place in the world — a theme that's also central to "Encanto."
Cinderella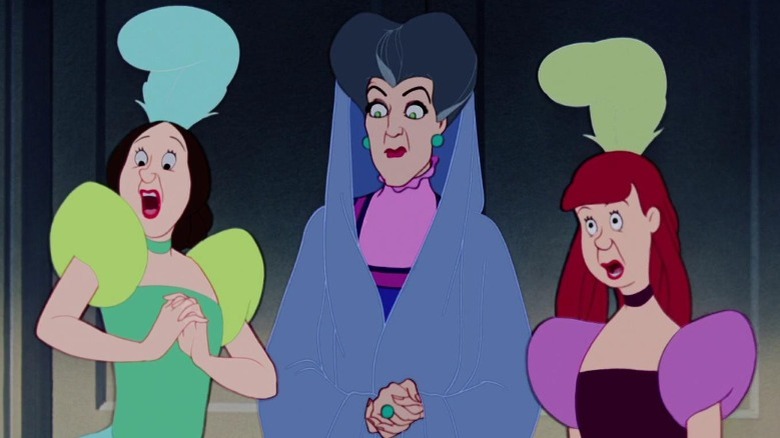 Disney
During World War II, Disney really struggled to stay afloat with a reduced staff, but "Cinderella" was a huge hit, earning more than enough to keep the studio going through the 1950s.
"Cinderella" is the classic tale of the titular princess and her difficult life before meeting the one and only Prince Charming (William Edward Phipps). Cinderella (an ethereal performance from Ilene Woods) lives with her wicked stepmother Lady Tremaine (Eleanor Audley) and her wicked stepsisters, who force Cinderella to work as a laborer in the house, hardly ever allowed to leave the walls of their estate. This is also one of the most unique aspects of "Encanto," brought to life with the fact that we rarely ever leave the Madrigal family home.
With the exception of the life-changing ball, the film takes place entirely on the grounds of Cinderella's home. Cinderella also follows a trajectory similar to Mirabel, as both of them are looking for answers about their identity (thankfully, they both find what they're looking for). While Mirabel comes to terms with her family, however, Cinderella finds salvation outside her abusive home.