Why Stephen Colbert's Lord Of The Rings Rap Has The Internet In Stitches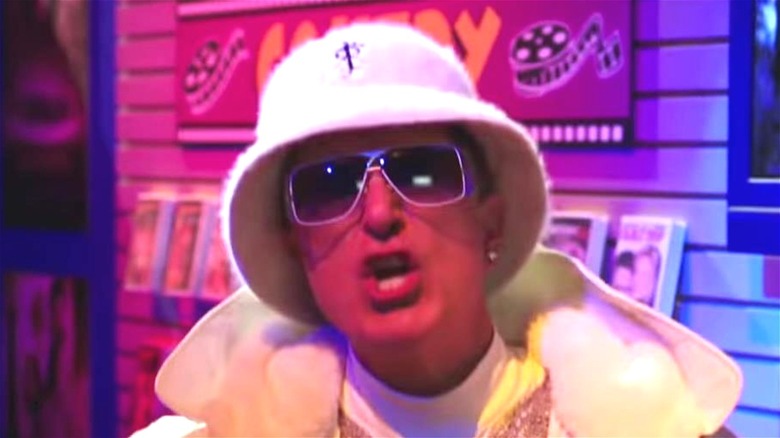 CBS/Youtube
This month marks the 20th anniversary of the release of Peter Jackson's trilogy-opening fantasy epic "The Lord of the Rings: The Fellowship of the Ring." And as hard as it is to fathom, there really hasn't been that much in the way of celebration surrounding the anniversary. Thankfully, that fact was not lost beloved late-night host Stephen Colbert, who's made no particular secret of how much he adores Jackson's trilogy. 
In noting the general lack of festivities over the anniversary of the film that launched the "Lord of the Rings" trilogy, Colbert even threw a little shade at the "Harry Potter" franchise, which actually debuted the very same year, and is getting a highly-touted reunion special on HBO Max. Not willing to let the "Lord of the Rings" anniversary pass without recognition, Colbert took it upon himself to celebrate all three films with a rap. And to the absolute delight of "The Lord of the Rings" fandom, he enlisted the help of a few famous faces — including several key cast members from the trilogy — to kick his "Lord of the Rings" hip hop party into high gear. 
The Lord of the Rings fandom cannot stop watching this riotous cast reunion rap
Among the cast members recruited by Colbert were O.G. Hobbits Elijah Wood, Sean Astin, Billy Boyd, and Dominic Monaghan. That crew was eventually joined by Orlando Bloom, Andy Serkis, Hugo Weaving (who brilliantly rapped in Elvish), and ever so briefly by Viggo Mortensen. Colbert also managed to bring legendary rappers Method Man and Killer Mike into the mix, and even talked Anna Kendrick into making an unexpected, and utterly hilarious, cameo.
Not surprisingly, fans have had Colbert's reunion rap session on repeat pretty much since the moment it hit YouTube, and they've taken to the comments section to show both Colbert, and the "Lord of the Rings" gang, some serious love. YouTuber Eleanor Mason was among the first to praise the dedication of everyone involved, stating, "I love how the entire cast were huge nerds for this ..." Oddity Bloggity backed up that claim posting, "They did not have to go this hard, but I'm so glad they did."
Meanwhile, Jimmy Ciaston couldn't get over how flawlessly it all came together, noting, "We didn't deserve this, we didn't expect this but my God this was perfect in every way." And like many of the commentators, Rafidog was most impressed by Weaving's show-stopping appearance. They wrote, "I was not ready for Hugo Weaving in a puffy jacket, beanie and thick chain necklace rapping in Elvish while Andy Serkis play the flute." 
In the end, PeanutButtNut perhaps summed up the feelings of most "Lord of the Rings" fans when they said, "Screaming. Crying. Shaking. This was everything I've ever needed. But I need more." So do we all, PeanutButtNut.