Best Late Night Hosts Of All Time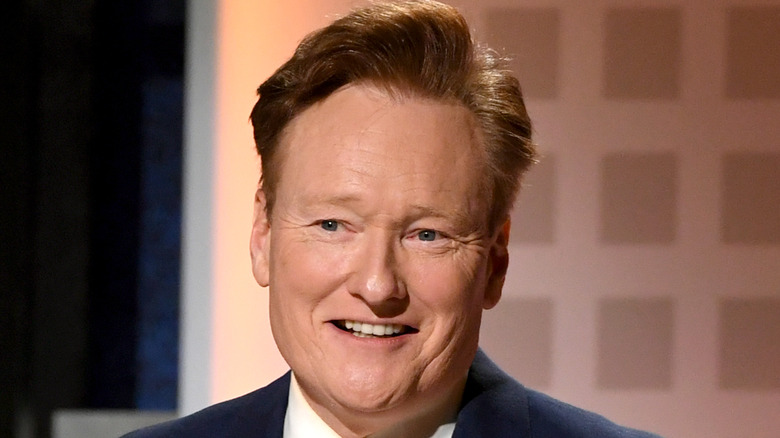 Kevin Winter/Getty Images
The format of late night talk shows has stayed more or less the same since the 1960s. An announcer, who frequently leads the house band, will rile up the audience as the host takes the stage. The host then delivers a monologue (usually consisting of one-liners about current events) and interviews a notable guest. Musical artists or stand-up comedians will often perform, and contemporary shows try to get something to go viral as often as they can. It's a formula even those who don't watch late night TV are familiar with, and it's no mystery as to why: It's worked for decades. Why fix something that isn't broken?
The tried-and-true nature of late night also means that the title of "best host ever" is hotly contested. Who puts the superior spin on the format? We're here to answer that question. So kick off your work shoes, plop on the couch, and get ready to laugh: These are the all-time best late night hosts.
Jay Leno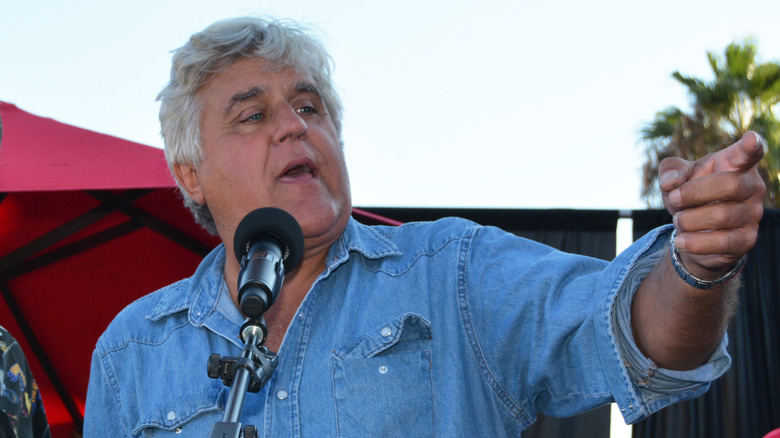 Shutterstock
Jay Leno is a TV icon. He first came into the spotlight as a stand-up comic in the '80s and an occasional fill-in host for Johnny Carson on "The Tonight Show." When Carson retired, Leno managed to inherit the top job over David Letterman. Letterman went on to enjoy a celebrated career at CBS, but as successful as his show was, it never held a ratings candle to the juggernaut that was Leno's "Tonight Show." Although his tenure produced few iconic moments, Leno's broad comedic appeal made him the undisputed ratings king of the format until the late '00s, when it came time to hand the torch to a new host.
But what happened next damaged Leno's legacy forever. He handed the show to Conan O'Brien and retired. Shortly after, however, he started a new show that NBC used as a lead-in to O'Brien's "Tonight Show". Poor ratings undermined Conan, who ultimately left the show after learning he was being moved to a later time slot to accommodate Leno. Leno then took "The Tonight Show" back for a few more years, until Jimmy Fallon took over in 2014. Outraged audiences accused Leno of stealing his show back from its rightful host, leaving him with plenty of money, but few friends.
James Corden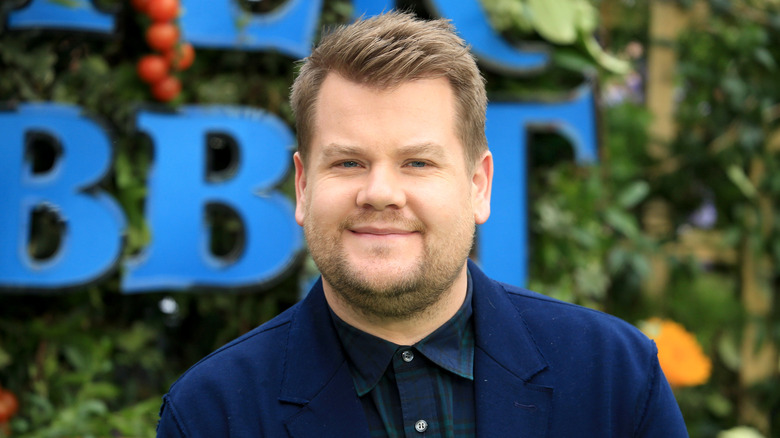 Shutterstock
After taking over from Craig Ferguson, James Corden turned CBS' "The Late Late Show" into a lighthearted, game-filled bash where celebrities stop by and let their guard down by chowing down on cow tongue, duking it out in lip sync battles, or singing their hit songs with Corden in his smash-hit "Carpool Karaoke" series, which is exactly what it sounds like (as if you've never seen it). Suffice it to say, finding ways to tweak the late night talk show formula to keep it interesting is Corden's strongest talent. It's also an important one, since the standard monologue-and-interview format is getting a little stale after decades of seeing barely any innovation whatsoever.
Corden simply knows that while being funny is great, knowing how to go viral is just as important. He isn't the only one who's figured that out, but he's been one of the most successful. His videos often punch above the weight class his middling place in the late night ratings war would suggest. Maybe that means he's destined for bigger and better things.
Seth Meyers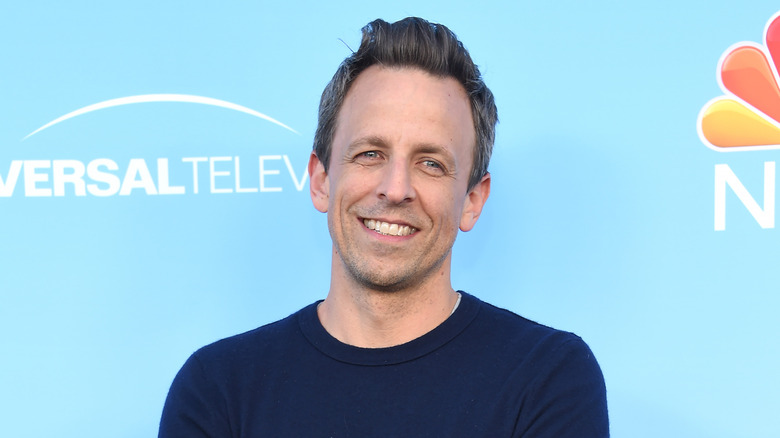 Shutterstock
The longtime host of the beloved "Saturday Night Live" segment "Weekend Update" took over for Jimmy Fallon at NBC's "Late Night" in 2014. Nobody could have foreseen it at the time, but Meyers' unique brand of political wit made him a perfect fit for hosting duties during the Trump years, when lampoonable material was delivered to comedy's doorstep on a nightly basis. Meyers put it to regular good use, getting as much mileage out of each new scandal and absurdity as fellow late night political comedians Trevor Noah and Stephen Colbert.
But Meyers is more than just another snarky TV host. He's a likeable guy with a big smile, quick wit, and solid jokes. He's also one of the most underrated interviewers in the game: Meyers makes guests feel perfectly at home, develops in-jokes with them, and turns the conversation into, well, an actual conversation, rather than a sleep-inducing Q-and-A in which he and the guest compete for the biggest laugh and last word. Meyers is still a little new to the late night game and doesn't produce as much viral content as other people on this list. But the ingredients are all there for a bright future.
Jimmy Fallon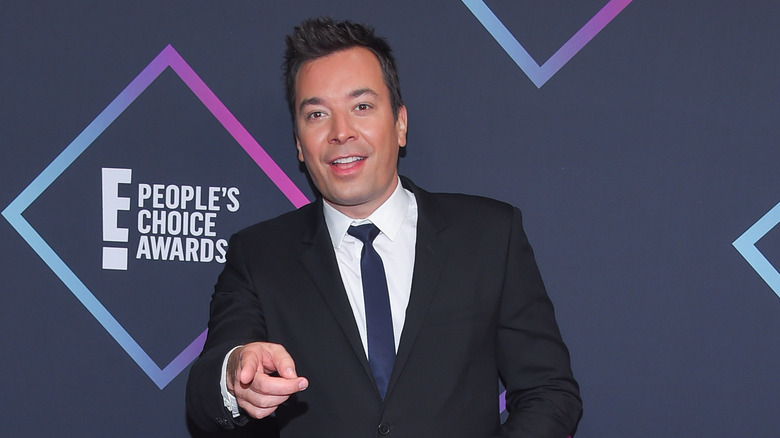 Shutterstock
The always-grinning Jimmy Fallon of "Saturday Night Live" and "Late Night" just can't seem to catch a break (or stop laughing). He took over as host of "The Tonight Show" in 2014, just a few short years after a vicious hosting battle that rocked the show's legacy. But Fallon stayed above the fray and got to work, turning the show into a party where celebrities would come and sing songs, play games, and enjoy silly, undemanding chats. Slowly, audiences came around and began to reliably tune into Fallon's family-friendly take on the long-running program.
But then, just when Fallon had finally managed to establish himself as a comfortable part of America's weeknight routine, the Trump era began. Suddenly, his brand of light-hearted fun fell out of style in favor of pointed political commentary. Fallon, whose entire schtick is being everyone's pal, looked like a lonely kid on the playground, trying to get angry cliques to put their differences aside and join him at the swing set. But nobody was in a laughing mood.
That being said, we have to respect Fallon's dedication to unthreatening, good ol' fashioned fun. It's nice to have a haven from all the viciousness in every other corner of TV. So you do you, Jimmy. We'll come around.
Jimmy Kimmel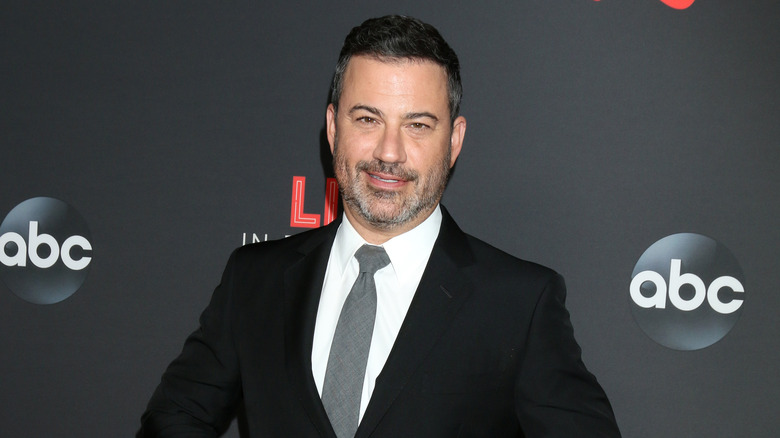 Shutterstock
Jimmy Kimmel is something of an anomaly. He's not as riotously funny as Craig Ferguson or Conan O'Brien. He's not as biting as Letterman. He's not an eager puppy dog like Fallon. He can't sing or dance, doesn't play games, and isn't as politically active as other hosts. He's simply an everyman: A likeable enough, talented enough, pleasant enough dude whose show, ABC's "Jimmy Kimmel Live!," has just enough of everything it needs to be a consistently rewarding weeknight watch.
One thing that's certainly helped is that Kimmel's as good at generating original viral content as anyone out there. "Celebrities Read Mean Tweets" is a hilarious bit that keeps on giving. His Halloween tradition, in which parents film themselves telling their little kids that they ate all their trick-or-treat candy, is mean-spirited, but hilarious — especially because you know there's a happy ending (even if we don't get to see the kids find out it was all a joke). Kimmel also knows how to put together a solid skit and clever running gags: His endlessly funny "feud" with Matt Damon, who's always scheduled to appear and always bumped for time issues, is killer. Plus, he's got Guillermo, one of the most charming and likeable late night sidekicks there is. In a nutshell, Kimmel knows his strengths and what his audience likes, and keeps on delivering. What more could you want?
Trevor Noah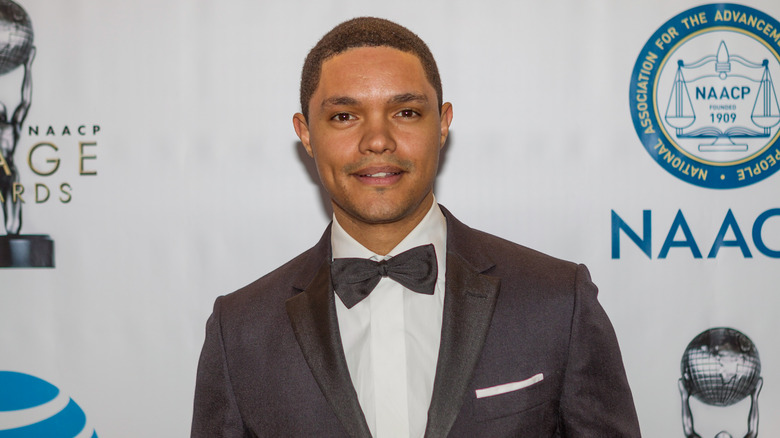 Shutterstock
To put it mildly, Trevor Noah had some big shoes to fill when he took the reins of Comedy Central's "The Daily Show" from longtime host Jon Stewart. Few people knew who he was, and Stewart was an icon departing at a tumultuous time: Asking uneasy viewers to simply line up behind Noah was a big ask. Luckily for everyone, Noah's done a terrific job in the role. First and foremost, he's funny. The South Africa-born host has been a comedian his entire professional life, and still does stand-up tours whenever he gets the chance — his skills are well-honed. His political sensibilities also line up well with Stewart's, so longtime watchers found the transition comfortable, even if they went into it missing the previous host behind the desk.
Beyond that, though, Noah's political commentary is deepened not just by his wit, but by the insight that comes from his unique personal experiences as both a Black man and a South African. He understands many modern American issues better than most modern Americans themselves ever will, and uses that to educate as well as entertain. We couldn't ask for more from any host of "The Daily Show."
Arsenio Hall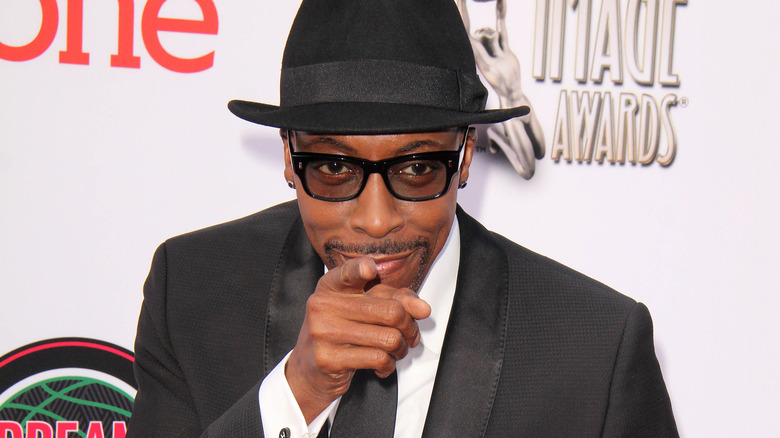 Shutterstock
Both the original 1989-1994 iteration of "The Arsenio Hall Show" and its 2013-2014 return were very short-lived by late night standards. This is, of course, a format in which hosts preside over legacy programs for decades before handing the baton off to the next guy in line. But Hall certainly left a mark, and not just because of Bill Clinton's legendary saxophone-playing appearance in June 1992, during his first presidential run.
Hall's show was topical, hilarious, and surprisingly popular among the younger demographic. His audience even had their own distinctive cheer: Rather than applauding, they'd pump their fists while shouting "woof, woof, woof," a ritual lifted from the Cleveland Browns' Dawg Pound bleacher section. For a few short but epic years, Hall's program was essential viewing. And though its time on air was tiny, the mark it made on pop culture is anything but. Ultimately, in less than a decade of air time, Hall pulled off something some hosts spend their entire careers trying to achieve.
Stephen Colbert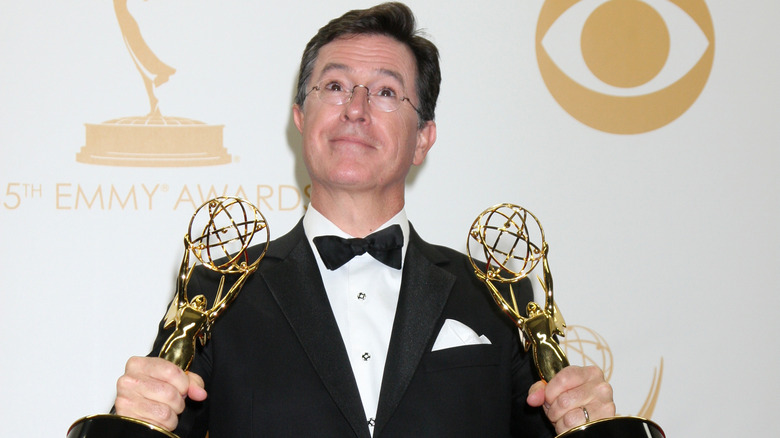 Shutterstock
Plenty of people on this list hosted more than one show over the years, but few of them can say their shows were really that different from each other. The format can change, as well as the ratings, but the host remains the same, often accompanied by the same band, sidekick, writers, and crew. But Stephen Colbert, who rose to fame as the star of "The Colbert Report," became a completely different performer after taking over CBS' "The Late Show" from David Letterman. And he's just as good at one role as the other.
On "The Colbert Report," Colbert played an outrageous parody of a right wing talk show host, a la Bill O'Reilly (who, at the time, was a major player over at Fox News). Colbert almost never broke character and delivered some of the most hilarious and insightful comedy available. Ultimately, the show became one of the most unique and inimitable late night comedy programs ever produced. And he didn't stop there. Today, Colbert captains network TV's most successful late night show, where he largely just plays himself. It's not quite as hilariously bizarre as his previous work, but in its own way, it's just as good. 
David Letterman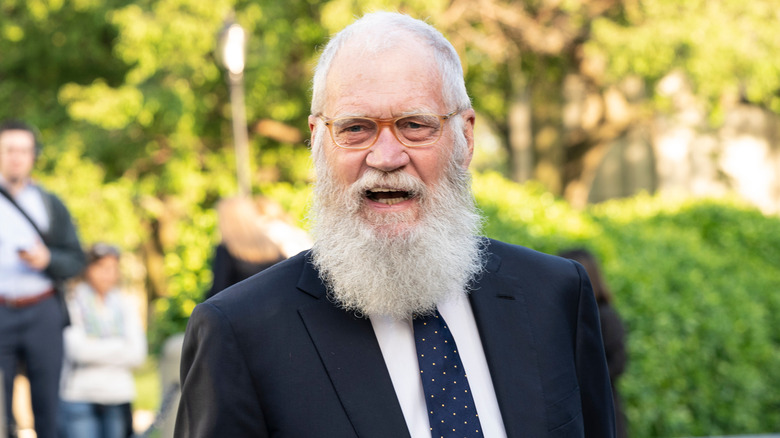 Shutterstock
David Letterman helmed NBC's "Late Night with David Letterman" throughout the '80s while he honed his chops for the big job: Succeeding his longtime mentor Johnny Carson as host of that same network's "The Tonight Show." But when Carson retired in 1992, Letterman was elbowed aside by Jay Leno. A semi-bitter Letterman packed his bags, went to CBS, and captained "The Late Show with David Letterman" until 2015, when Stephen Colbert took over.
During his tenure there, Letterman became the Rolling Stones to Leno's Beatles: A bit less successful in the ratings, but still a powerhouse with unique edge. Letterman still structured his show according to the traditional monologue-and-guest format, but he never shied away from sketches, audience participation, sharp political humor, and absurdist comedy.
Letterman most likely benefited from being the consistent runner-up in late night, as having a tail to chase forces a performer to stay sharp. His impact on comedy and television is enormous: Very few contemporary comedians list Jay Leno as an influence, but you'd be hard-pressed to find any who don't speak Letterman's name with reverence and awe.
Jon Stewart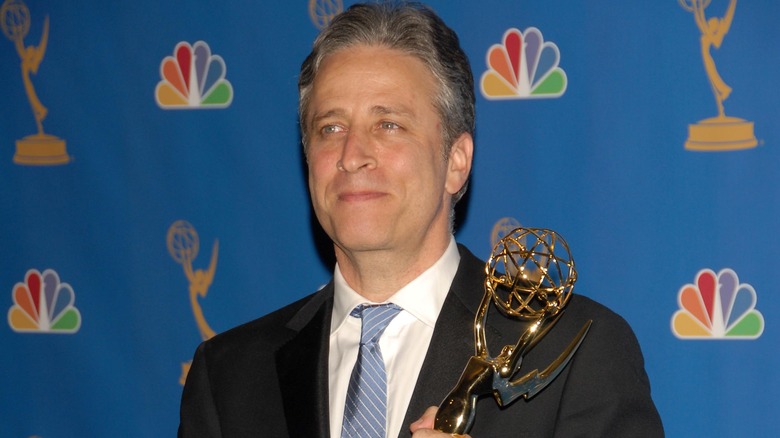 Shutterstock
Jon Stewart wasn't the first host of Comedy Central's "The Daily Show," but he's far and away the most beloved. For essentially the entire duration of the Bush and Obama years, Stewart's unique brand of passion, outrage, and peerless comedic chops revolutionized comedy and news, and got an entire generation of young people to care about politics. His skewering of Tucker Carlson and Jim Cramer have become the stuff of legend, and his show is arguably second only to "Saturday Night Live" as a launchpad for other comedians' careers. Ed Helms, Stephen Colbert, Steve Carell, John Oliver, Samantha Bee, Hasan Minhaj, and many other performers who have gone on to enjoy celebrated careers honed their chops under Stewart.
Stewart left "The Daily Show" in 2015, just before the chaotic Trump era. This seemed like strange and unfortunate timing to many fans, as  Stewart's M.O. is using comedy to speak truth to conservative power. But as his frequent and always welcome appearances on the shows of his friends indicate, he certainly hasn't left the stage entirely. Whatever the future holds for Jon Stewart, it's sure to be hilarious.
Johnny Carson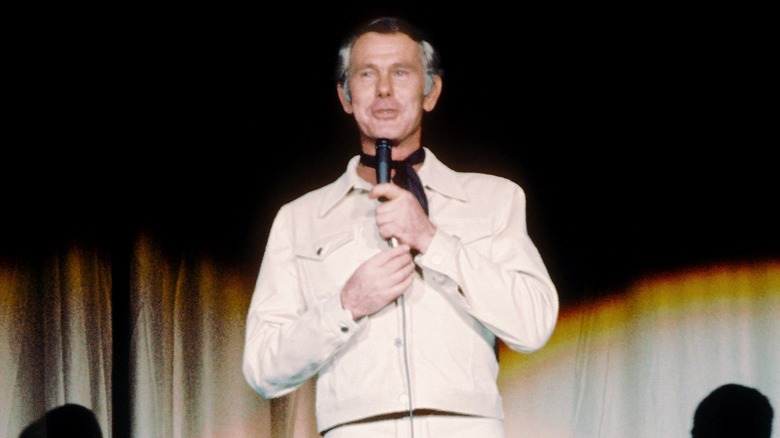 Michael Ochs Archives/Getty Images
Heeeeere's Johnny! Carson wasn't the first "Tonight Show" host, but he was far and away the greatest, to the point that he pretty much single-handedly created the late night program as we know it. It was Carson who pioneered the monologue-and-interview format, sprinkled with sketch comedy, musical numbers, and stand-up sets from up-and-comers. It was also Carson who popularized sidekicks, house bands, games, and more. His show worked so well that there hasn't been much of a reason to change it, beyond some superficial and isolated updates. Late night is an entire genre of TV now, and Johnny Carson is the man to thank.
Today, there are several worthy late night talk shows and similar programs to pick from. But from 1962 to 1992, there was only "The Tonight Show With Johnny Carson" and a bunch of shows that nobody remembers. He was, and likely will remain, the blueprint.
Conan O'Brien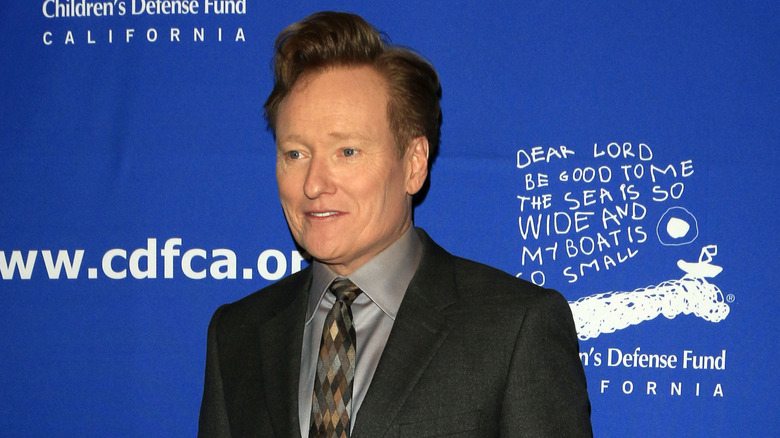 Shutterstock
This tall, Harvard-educated, gangly redhead from Boston is effortlessly, side-splittingly funny, even when he's just riffing off the cuff. Conan O'Brien's insults are biting and hilarious, but never mean-spirited: They're obviously all in good fun, never go too far, and usually position O'Brien as the ultimate butt of the joke anyway. Interviews on lesser talk shows are predictable and boring, but O'Brien made them into an unskippable highlight. He's a gracious host who knows exactly how to meet guests where they are, bring them out of their shells, and elevate the discussion — not with gimmicks, but with humor, and all without stealing the spotlight simply because it's his show. He also has hilarious and humble Andy Richter by his side, who might just be the greatest late night sidekick who ever lived.
Frustratingly, O'Brien's career has never reached the heights it should have. Almost everyone remembers the "Tonight Show" debacle, in which Jay Leno handed the iconic franchise to O'Brien, only to take it back shortly after undermining O'Brien's iteration with his own poorly received lead-in program. Afterwards, O'Brien found a home on TBS, which was arguably beneath him. But he made the most of it, and we got several more years of quality late night comedy from the simply titled "Conan." Sadly, this underrated cable gem came to an end in 2021, leaving the world a slightly less joyful place. But we can't wait to see what he'll get up to over on HBO Max.
Craig Ferguson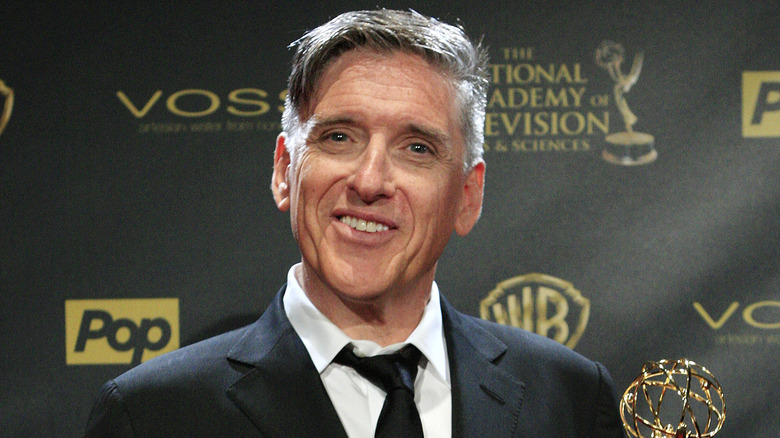 Shutterstock
Craig Ferguson never got the respect or success he deserved, but that was by design. In the Scottish-born host's own words, "If late night is a club, then I don't want to be a member." His CBS show, which shrugged off tired tropes in favor of whatever hysterical hijinks he felt like getting into, was every bit as much a parody of the late night format as it was a part of it. His sidekick Geoff was a gay, mohawked robot who looked like a skeleton. He had no house band. His interviews were unscripted and infinitely better for it. After all, a man with Ferguson's peerless, instantaneous wit needs no notes or staged bits. He's the kind of guy who could make drying paint hilarious, so when he hosted another comedic mind, the results were electric and endlessly rewatchable.
Importantly, Ferguson refused to punch down. While Leno and Letterman were dog-piling on Lindsay Lohan and Britney Spears in the 2000s, Ferguson took the high road. Not only did he refuse to pick such obvious low-hanging fruit, even when it was all the rage to do so, he delivered impassioned defenses of using comedy to target those in power instead.
Ferguson's show ended in 2014, and was never a major ratings juggernaut. But his absence has been felt ever since.