We Finally Know How Long Zendaya Expects Tom Holland To Play Spider-Man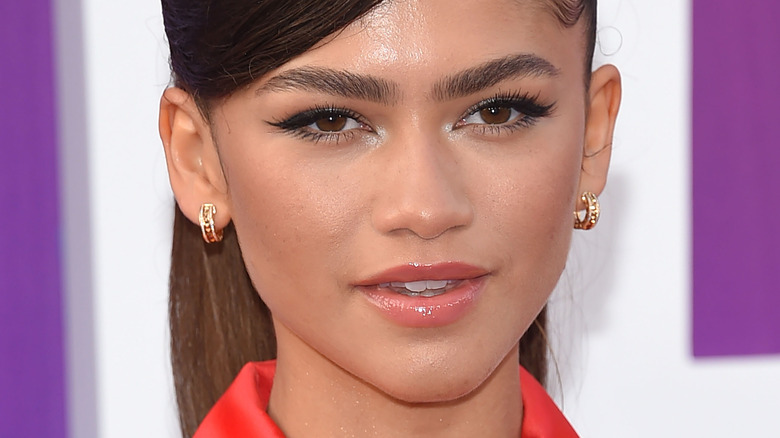 DFree/Shutterstock
"Spider-Man: No Way Home" isn't just a hotly anticipated MCU entry, it's also one of the biggest films of this year. The movie isn't even a month old, yet it still managed to beat an eye-popping world record set initially by "Avengers: Endgame." Considering what the trailers have revealed so far, it's easy to see why. We've got Doctor Strange accidentally opening up multiple universes, the promise of villainous Sinister Six members, and hopefully, some additional Spider-Men in some form or another.
With the stakes so high in "Spider-Man: No Way Home," it's no wonder our collective spider senses are tingling at the idea that this could all spell some type of major finale, especially as it concerns the future of Tom Holland as Peter Parker. There's no official confirmation yet on Holland signing on for more "Spider-Man" films. Although the actor isn't sure how much longer he'll stick around as Spidey, his co-star Zendaya, who plays MJ, jokingly gave her expectation on how many more "Spider-Man" films he will probably have to do.
Zendaya jokes that 34 is the Spider-Man cut-off age
Much has been speculated on just how longer Tom Holland expects to keep web-slinging on the silver screen. Recently the 25-year-old actor made a surprising comment about his future as Spider-Man, making it known that he's comfortable leaving the role long before his 30s to make room for a more diverse incarnation of the web-head. Despite his wishes to bow out before he wears out his welcome, Sony Studio head Amy Pascal wants him in the role for a long time, to say the least. And during an interview with Variety, Holland, Jacob Batalon, who plays Ned, and Zendaya poked a little fun at the idea of Holland continuing in the role well past what anyone would expect.
Holland opened by saying he thinks he's signed on with Marvel for at least 12 more films before Batalon questioned if it was actually 34? Zendaya then delivered the humorous clarification, "No, it's until he's 34."
If Holland did stick around as Spider-Man until he's 34, maybe that means we'd get a Spider-Man movie where the titular character isn't still in either high school or college. All jokes aside, Holland did present a wonderful prospect on the future of Peter Parker during an interview with Extra, where his version could be a mentor to another younger hero ready to take on the mantle. If that's ever the case, our fingers are crossed if this could mean Miles Morales properly stepping into the Spidey Boots for the MCU.