Tom Holland Makes A Surprising Comment About His Future As Spider-Man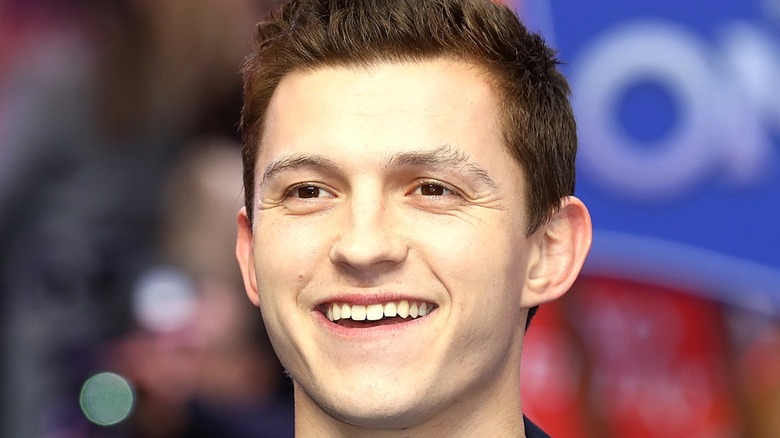 Tim P. Whitby/Getty
Now that the new trailer for "Spider-Man: No Way Home" has finally arrived online, many fans are wondering what it all means for Tom Holland's future as Peter Parker. The new footage sees the web-slinging teen working with Doctor Strange (Benedict Cumberbatch) to try to stop a band of villains from across the multiverse from wreaking havoc in the Marvel Cinematic Universe.
Fans already got a glimpse of Doctor Octopus (Alfred Molina) in the first trailer for the sequel. The newest footage offers a better look at Green Goblin (Willem Dafoe), Electro (Jamie Foxx), Sandman (Thomas Haden Church), and The Lizard (Rhys Ifans). The trailer doesn't explain why they're here to cause chaos, only that they're destined to die thanks to Spider-Man. For now, their collective motive seems to be rooted in self-preservation.
Although many fans were disappointed the new footage doesn't reveal any previous versions of Spider-Man, a new theory suggests Marvel Studios and Sony have edited them out of the trailer. But it makes sense why they've done this, to keep some secrets back for the film itself. If the past versions of the hero do show up in "No Way Home," it'll be interesting to see what the dynamic is between the cinematic trio.
Holland recently opened up about his future in the role and even made a surprising comment about whether he'll step back into the Spider-Man suit after "No Way Home."
Tom Holland doesn't want to play Spider-Man forever
Tom Holland recently spoke to GQ for a lengthy interview about playing Spider-Man, "No Way Home," as well as his relationship with co-star Zendaya. The conversation shifted to his future in the MCU, too. Sony clearly wants to keep working with him, with studio head Amy Pascal telling GQ, "I've talked to him about doing, like, 100 more," before adding, "I'm never going to make 'Spider-Man' movies without him. Are you kidding me?" 
However, the star himself doesn't see himself playing Peter Parker forever. Holland explained, "Maybe it is time for me to move on," before also suggesting that it would be good for the character if the hero passes the baton over to Miles Morales, saying, "Maybe what's best for Spider-Man is that they do a Miles Morales film." The recent success of the animated "Into the Spider-Verse" movie and the "Marvel's Spider-Man: Miles Morales" video game proves there is a desire to see more of the young hero. Although it doesn't feel like Holland has been in the role long enough to hand over the mantle to a new actor, Peter is still a high schooler, after all.
The star went on to say. "I have to take Peter Parker into account as well because he is an important part of my life." But he then made a very surprising comment, noting, "If I'm playing Spider-Man after I'm 30, I've done something wrong." Given that Holland is 25 (at the time of writing), that's only another five years to push the character to a place where Miles can step in. It's still possible, but it'd be an ambitious move for Marvel Studios and Sony.