Hawkeye's Piotr Adamczyk Explains Why Hailee Steinfeld Is A Unique Actress - Exclusive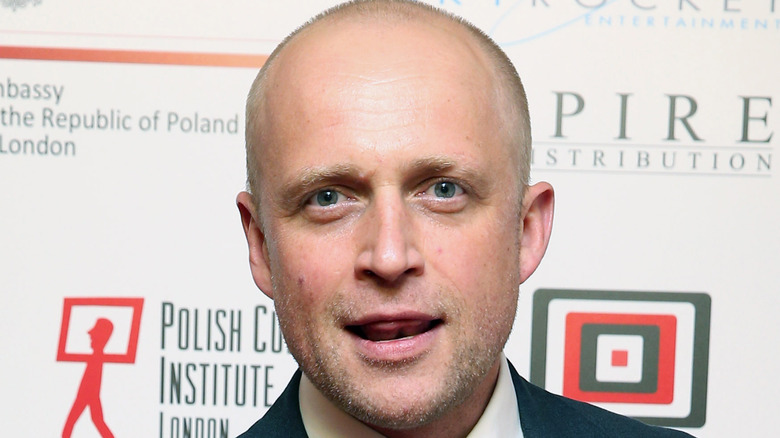 Cubankite/Shutterstock
Piotr Adamczyk made his way into the MCU with a fiery bang as the Tracksuit Mafia member Tomas in "Hawkeye." In addition to taking part in the group that Adamczyk calls "lovable idiots," he also got to work with pop star and actress extraordinaire Hailee Steinfeld. More than that, she beats the crap out of him. Steinfeld is far less biting in real life if you ask her co-stars.
"Hawkeye" and the MCU are a whole new ballgame for Adamczyk, who's best-known for his Polish films — but he's thrilled to be a part of the superhero action. However, it's not his first U.S.-based TV show. Adamczyk also plays Sergei in the Apple TV+ series "For All Mankind."
During an exclusive interview with Looper, Piotr Adamczyk spoke about what it was like working with Hailee Steinfeld in "Hawkeye." He also revealed the most surprising aspect of acting in a major MCU TV show.
The real-life archeress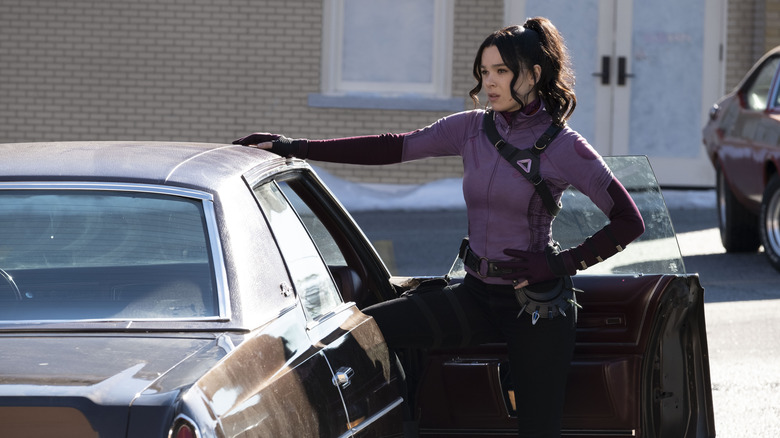 Disney+/Marvel Studios
Despite getting kicked around by Hailee Steinfeld on screen quite a bit, Piotr Adamczyk has only lovely things to say about the star. "She [brings] so much joy. Of course, a lot of people, it's a very professional set, everybody's focus is very ... But it's like trying to be on time — being in the moment. And she was an exceptional actress," he gushed. "I was amazed by her, how humble she was, how open. Being this level of a star and not losing [her] very normal human level [of] approach is something unique. And I was really very happy. We were taking care of her dog on set and having a lot of fun between takes." 
However, it's not only Adamczyk who's proud of working with such a lovely and hard-working actress. He explained how the people in his own life reacted to his work with Steinfeld, "And lately, I visited my friend, and her daughters are big, big fans of Hailee. And they were like, 'Oh my God. So you were kicked by Hailee in the face? She touched you?!' So part of this stardom came on me with the kick from Hailee. So I'm really proud." 
On whether there was anything about the show, the set, or the actors that surprised Adamczyk, he said, "If something surprised me? To be honest, there's so [much] gossip about stars and Hollywood and the huge contracts, and I was coming into the set having these strange expectations and not knowing actually anything."
There's no ego in the MCU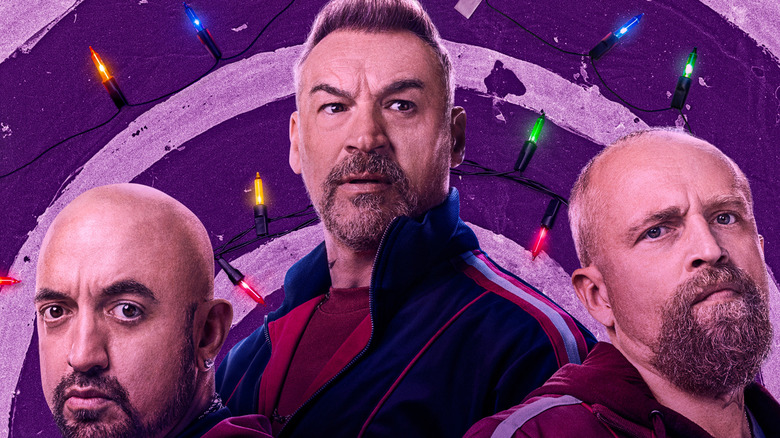 Disney+/Marvel Studios
For an actor who hasn't been in the spotlight of major blockbuster hits, it's no surprise that experiencing the MCU may be a tad daunting. But luckily for Adamczyk, it was all good surprises. He added, "So for me, in a way, it was a big surprise that films are done the same way everywhere. Of course, here is a big, big, huge budget — best of the best professionals, time, tweaking. We could come back to the same scene again and again and again, and make it better and better and better." That dedication certainly shows in the final product.
"So that's my answer to the question: how films, great films, are done. They are constantly made better every take, every moment. A lot of people are working on it to make it perfect," Adamczyk said. "And then we have a perfect effect after it all. So it's strange, but what surprised me is that the films are being made everywhere in the same way. And the stars are approachable, are great. We became friends. We were like a family. And the last moments of shooting, people were crying [and] hugging each other."
Adamczyk was quick to ensure that everyone was taking proper COVID measures, adding, "I don't know if I can say that they were hugging each other, but yeah, in masks. So yeah, it was so many hugs. But we definitely missed each other. And then seeing the faces, a few of the faces on the opening night and seeing even Jeremy Renner, who's waving to me and shouting, 'Bro!' I'm so proud of [that moment], yeah." 
New episodes of "Hawkeye" premiere Wednesdays on Disney+.