Could Spider-Man Become A Villain In The MCU's Future?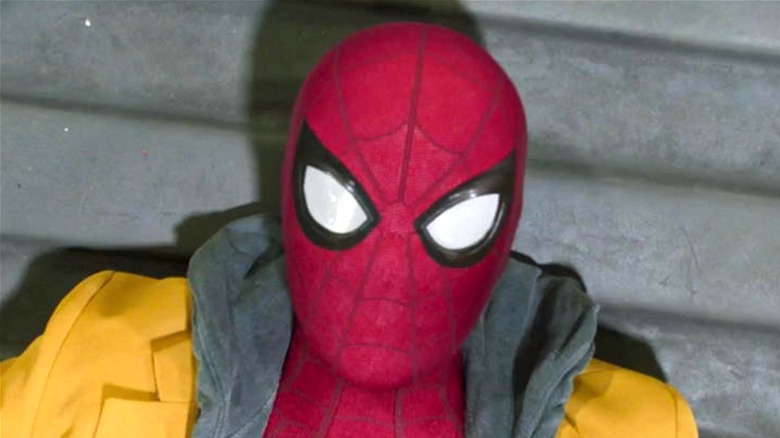 Marvel Studios/Sony Pictures
Tom Holland has played Spider-Man in five films, and with the upcoming "Spider-Man: No Way Home," it will soon be his sixth (well, seventh if you count that "Venom: Let There Be Carnage" post-credits scene). The latest installment sees Peter Parker get into a bit of trouble as he tries to harness the power of the multiverse after his secret identity was publicly exposed.
While we have some idea of how "No Way Home" will play out, with its reportedly high-profile cameos and all, the future of Peter Parker is still very much up in the air. Holland spoke with GQ in November about Spider-Man's potential next moves, as well as his future as an actor, and said, "If I'm playing Spider-Man after I'm 30, I've done something wrong."
While the long-term plans for Spider-Man may be a bit of a question mark at the moment, Marvel and Sony appear to have reached an agreement to bring Holland back to appear in at least one more MCU film as the web-slinger, reports BGR. With a new film in the future, Peter Parker's fate is seemingly open-ended at the moment. With so many possibilities for the character, is there a chance Peter could become villainous?
Tom Holland wants to see Peter Parker as a villain
Tom Holland recently spoke with Fandom and was asked if there were any villains he would like to tackle before he hangs up the cape, to which he surprisingly posed the idea of Peter Parker himself turning to the dark side. He said, "I also would like to maybe see what happens if my Spider-Man becomes a villain, I think there are some interesting things where you could make a film about an anti-hero, or things like that."
If you think about it, the idea doesn't seem too far-fetched, especially when you consider Sam Raimi's "Spider-Man 3." In Raimi's film, Peter Parker (Tobey Maquire) comes into contact with the entity known as Venom, and he becomes a sort of anti-hero and takes on a more dark and vengeful persona. And looking at the post-credit scene from "Venom: Let There Be Carnage," we now know that Holland's Spider-Man is also in the same universe as Venom, so a crossover like Raimi's could be a possibility.
For now, though, we can only speculate about Peter's future until we can head to the theaters on December 17 to see "Spider-Man: No Way Home."