The Grey's Anatomy Scene That Had Fans In Tears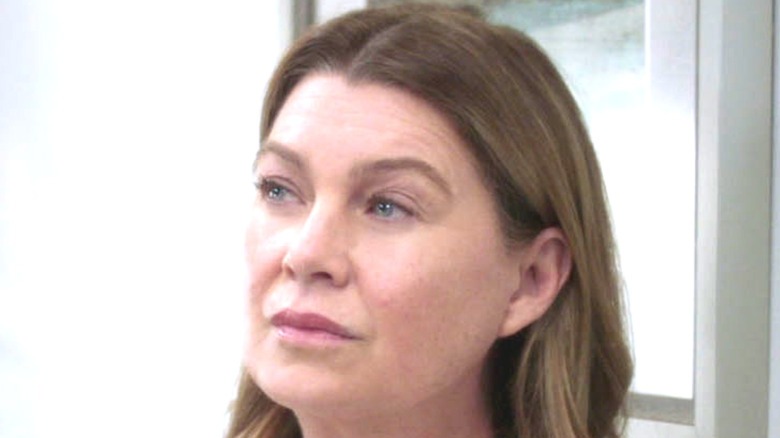 ABC
Throughout 18 seasons, the characters on "Grey's Anatomy" have their fair shares of highs and lows. While the series provides viewers with plenty of on-call room liaisons, sexy doctors, weird medical anomalies, cutting-edge surgeries with both miraculous and disastrous results, and humorous moments that include the accidental ingestion of marijuana cookies, "Grey's Anatomy" is at its best when it's breaking our hearts.
There's no shortage of sad moments on the long-running medical drama. Viewers who have become emotionally invested in the show's characters easily remember its saddest moments: the plane crash that claims the lives of Lexie Grey (Chyler Leigh) and Mark Sloan (Eric Dane), the departure of Cristina Yang (Sandra Oh), the death of Jackson Avery (Jesse Williams) and April Kepner's (Sarah Drew) first child, or a grieving Izzie Stevens (Katherine Heigl) lying on the bathroom floor following the death of Denny Duquette (Jeffrey Dean Morgan). Based on those moments alone, "Grey's Anatomy" manages to devastate fans at every turn.
Arguably, Season 17 of "Grey's Anatomy" is particularly heart-wrenching since the show infuses the real-life devastating effects of the pandemic into many storylines. As Meredith Grey (Ellen Pompeo) fights for her life, the series uses her battle to survive COVID-19 as a catalyst for a scene that had fans reaching for the tissues.
Meredith's dream of her beach wedding made fans cry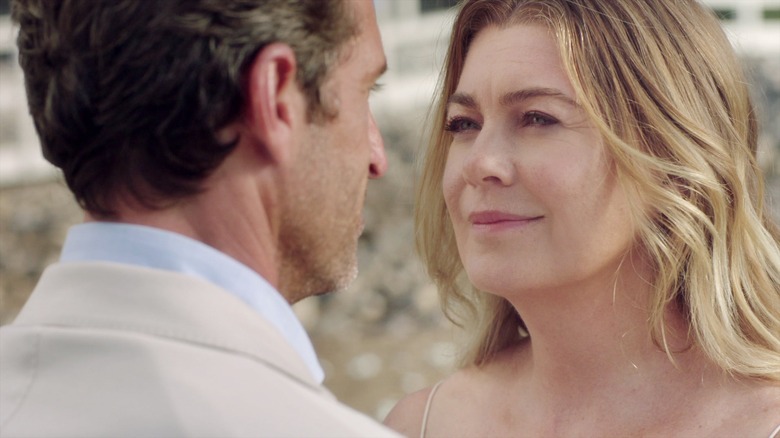 ABC
In Season 17, Episode 2, "The Center Won't Hold," Meredith reunites with her husband (albeit in a dream state) and soulmate Derek Shepherd (Patrick Dempsey), but it's their beach wedding in Season 17, Episode 13, "Good as Hell" that made fans cry. Although the two tie the knot during Season 5, Episode 24, "Now or Never," writing their vows on a Post-it note, Derek dreams of a beach wedding, and it finally happens. The scene is almost a replica of a picture drawn by the couple's youngest daughter, Ellis, that hangs on Meredith's refrigerator, and fans took to social media to express their feelings about Derek and Meredith's second-chance nuptials.
Twitter user @merdersuniverse posted a photo of Derek in Season 5, Episode 23, "Here's to Future Days," telling Meredith someday they'll wed in the Bahamas and a shot of their Season 17 impromptu ceremony. "MERDER GOT THEIR DREAM WEDDING," they tweeted. Another fan, @nvm27ac, posted similar images with the Twitter message "DEREK REALLY MAKES HIS WORDS COME TRUE I CANT — " along with two crying-face emoji.
The entire episode packs an emotional punch for "MerDer" fans who still mourn the neurosurgeon's death in Season 11, Episode 21, "How to Save a Life." Although Meredith tries to move on, it's obvious her heart and those of fans that will always belong to Derek. A third viewer, @merderlife_, tweeted pictures of Derek and Meredith composing their Post-it vows along with photos of their beachside wedding with the caption, "This is forever."
Season 17 of Grey's Anatomy packs an emotional punch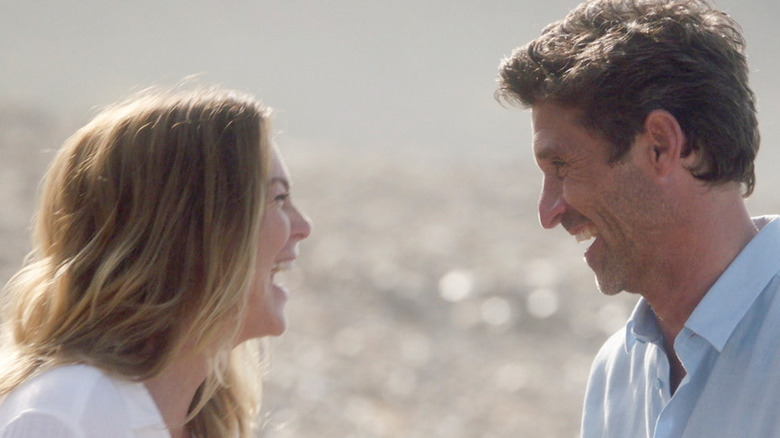 ABC
In Season 17 of "Grey's Anatomy," Meredith's unconscious mind provides fans with many tearful reunions. Fan-favorites George O'Malley (T.R. Knight), Sloan, and Lexie all give Meredith a peek of what the afterlife has to offer as well as reasons as to why she needs to return to the land of the living to be with her children. However, it's the interactions between Derek and Meredith that stand out. Meredith, who is torn between staying with her husband and being at peace or leaving their kids behind, gets to see one of her and Derek's unrealized dreams fulfilled, even if it's not real.
It wasn't just Twitter buzzing with chatter about MerDer's wedding. Viewers had plenty to say on Reddit about the couple's romantic rendezvous. "Part of me wants Meredith to die this season because I can't imagine her ending up with anyone other than Derek," wrote u/feed-my-dog-sir. "I am so conflicted, because of the kids, but also I want my MerDer ending even if it's in beach heaven," stated u/catspjs2388.
Of course, Meredith makes the right choice because what's "Grey's Anatomy" without its titular character? At least fans can derive some comfort in the fact that even though Derek is gone, they'll always have Meredith and Derek's tear-jerker of a wedding.