What The Cast Of Firefly Looks Like Today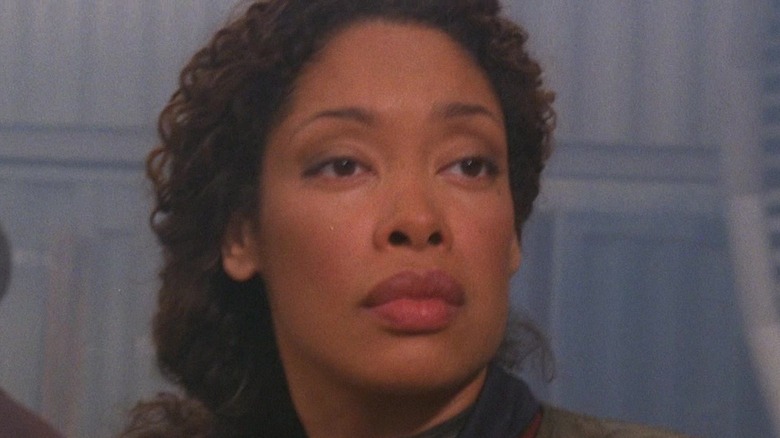 Fox
"Firefly" debuted on Fox in 2002, highly anticipated by fans of science-fiction as well as viewers of showrunner Joss Whedon's other buzzy shows, "Buffy the Vampire Slayer" and "Angel." Hard to classify but extremely engaging and entertaining, "Firefly" is a lightly comic space western, revolving around the roguish exploits of a small spacecraft worked by a motley crew hundreds of years in the future in a galaxy run by the powerful, iron-fisted Alliance. "Firefly" aired to low ratings and was canceled midway through its first season, but DVD sales and an active online fanbase have turned the short-lived series into a cult classic, so much so that in 2005, Universal produced a theatrical wrap-up movie, "Serenity."
With nearly two decades gone since "Firefly" took to the skies, its core cast members have all gone on to notable pursuits in and out of the entertainment field. Here's what the crew of the Serenity has been up to since the mid-2000s, and what they look like today.
Nathan Fillion - Malcolm Reynolds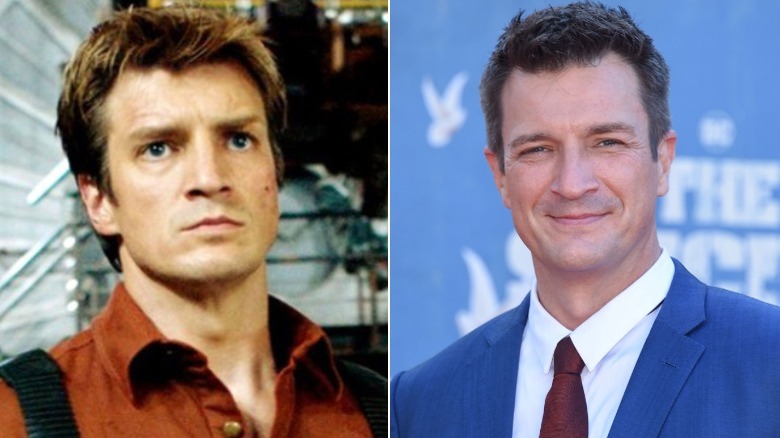 Fox / Shutterstock
In his role as Captain Malcolm Reynolds, Nathan Fillion led the band of misfits manning the space vessel "Serenity." From his years as an officer in the Browncoats to the conclusion of the movie "Serenity," Captain Mal always gave his all to make sure their missions were successful and his people taken care of.
Since the brief run of "Firefly" in the 2002-03 season, Fillion has mostly been involved in television work, although he has had a few movie roles along the way. For eight seasons he starred on ABC's lightly comic crime procedural "Castle" as Richard Castle, a bestselling crime novelist who consults on cases for the NYPD. At the same time, Fillion had a recurring role on "Modern Family" as Rainer Shine, a smarmy TV weatherman who dates the much younger Haley Dunphy. And in 2018, ABC gave Fillion his own show again, placing him in the title role of "The Rookie," a police drama about a man in his forties who joins the LAPD. Fillion occasionally voices an animated version of himself on Netflix's "Big Mouth," appearing in the romantic fantasies of nerdy "Firefly" obsessive Missy. He also joined "Firefly" castmate Alan Tudyk for "Con Men," inspired by the pair's experiences on the fan convention circuit.
In 2007, Fillion teamed up with author P.J. Haarsma to found the charity Kids Need to Read, which provides books to underfunded schools and libraries.
Gina Torres - Zoe Washburne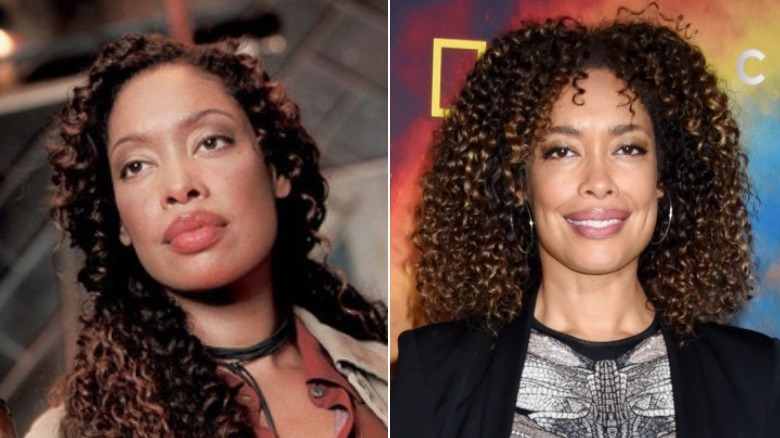 Fox / Shutterstock
Gina Torres played the role of Zoe Alleyne Washburne on Firefly and its follow-up movie, Serenity. Zoe serves as the first mate on the ship, and her friendship and loyalty to Mal date back to the Unification War, where she fought for the Browncoats under Mal's leadership. After joining the crew of Serenity, Zoe married the ship's pilot, Hoban "Wash" Washburne; her loyalty to her ex-commander caused friction at times, especially when Wash objected to one of Mal's more dangerous schemes.
Torres has kept busy in the years since "Firefly" ended its run, appearing in several movies and more than two dozen television roles, including the Fox drama "Standoff," the ABC caper "The Catch," and the ABC Family series "Huge." In addition to "Firefly," Torres appeared on another little-watched cult favorite, NBC's "Hannibal," playing the spouse of her then real-life husband, Laurence Fishburne, with whom she shares a daughter, Delilah. (The couple divorced in 2016.) From 2011 to 2018, Torres co-starred as attorney and law firm partner Jessica Pearson on the hit USA legal drama "Suits," a role she continued on "Pearson," the spinoff focused on her character.
Alan Tudyk - Hoban Washburne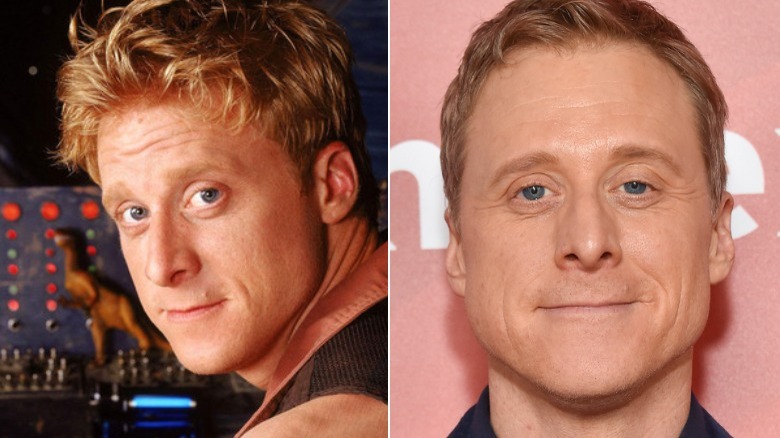 Fox / Shutterstock
As Hoban "Wash" Washburne in "Firefly," Alan Tudyk piloted the ship and frequently served up comic relief with his dry wit. His character was married to first mate Zoe Washburne, which caused some issues when Wash became jealous of Captain Malcolm Reynolds' "war buddy" relationship with his wife. Wash usually served as a voice of reason and logic during arguments on board, and there's no doubting both his loyalty to his shipmates and his willingness to put his life on the line.
Following "Firefly" and "Serenity," Tudyk became one of the most-hired comic character actors in Hollywood, earning laughs from showy and memorable roles. He played Steve the Pirate in "Dodgeball," Tucker in the horror spoof "Tucker and Dale vs. Evil," loathsome yuppie dentist Noah Werner on "Suburgatory," and Reagan Biscayne on the Adult Swim news spoof "Newsreader." Tudyk has additionally racked up a ton of voice acting credits, notably the Joker in "Harley Quinn," various weirdos on "American Dad," a toucan in "Encanto," and the droid K2SO in "Rogue One: A Star Wars Story." Tudyk created and starred in the web series "Con Man," riffing on his time on the fan convention circuit, and plays a strange alien posing as a rural doctor on the Syfy comedy series "Resident Alien." He stopped working long enough in September 2016 to marry choreographer Charissa Barton.
Morena Baccarin - Inara Serra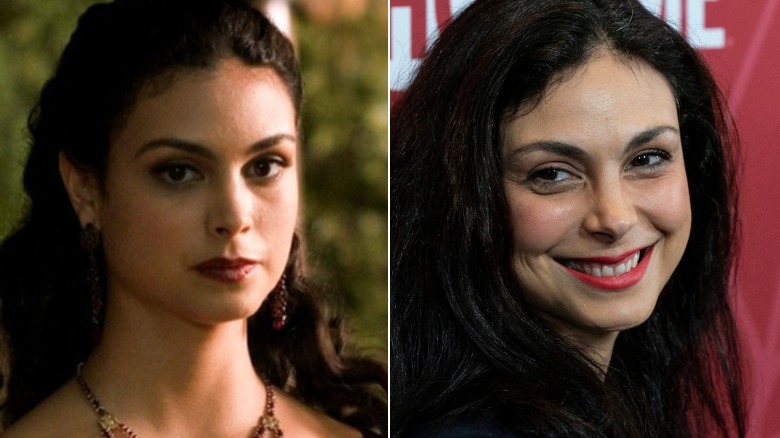 Fox / Shutterstock
On "Firefly," Morena Baccarin portrayed Inara Serra, a member of the respected Companions guild. While Captain Malcolm Reynolds likes to needle Inara about the nature of her occupation, it is also clear that the two care for each other deeply. They have a contentious relationship fraught with romantic tension that was never fully resolved before the series came to an untimely end.
Following her reprisal of the role in the 2005 film "Serenity," Baccarin went on to co-star in several television shows and films, portraying the villain Adria in "Stargate SG-1," the enigmatic alien Anna in ABC's "V" revival, and Jessica Brody in Homeland," a role which netted her an Emmy nomination for outstanding supporting actress in a drama series. Her most high-profile role to date has been that of Vanessa Carlysle in the mega-blockbusters "Deadpool" and "Deadpool 2." From 2015 to 2019, Baccarin recurred as Leslie Thompkins on the Batman-based "Gotham," a show which also stars her husband, Ben McKenzie. The two wed in June 2017 on Baccarin's 38th birthday, and they're the parents of two children, a daughter born in 2016 and a son in 2021.
Adam Baldwin - Jayne Cobb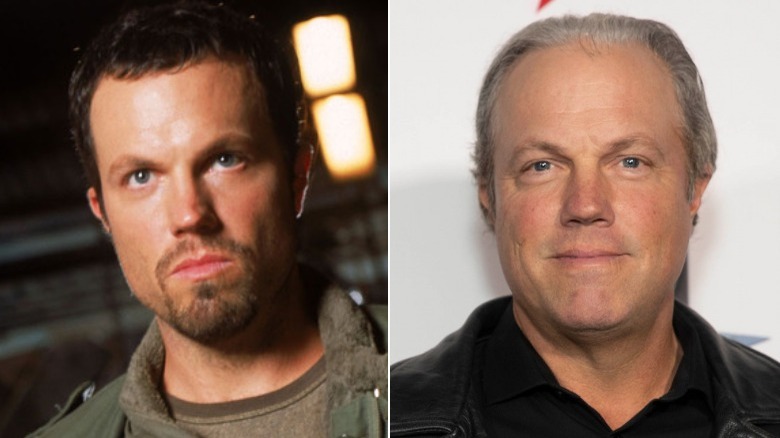 Fox / Shutterstock
Mercenary Jayne Cobb is hard to pin down. Rash, impulsive, but behaving according to his own complex moral code, he clashes with members of the crew (particularly Simon and River Tam) as well as with fellow fly-by-night brawlers. Despite his calculating nature, Jayne also has a softer side, sending money back home to his mother and wearing a flap-eared knit cap she'd made for him.
Adam Baldwin was a perfect choice to portray Cobb, as he's an expert at playing tough guys and no-nonsense figures with some kind of military connection. Prior to "Firefly," Baldwin appeared as heavies in '80s classics such as "Full Metal Jacket" and "My Bodyguard," and afterward he played armed and high-ranking officers on "NCIS," "JAG," "Stargate SG-1," and "Law and Order: SVU." Most notably, for five years he held down the role of stern, highly-trained Marine-turned-NSA agent John Casey on the action-comedy "Chuck." Baldwin's most recent regular series role is that of Admiral Mike Slattery on the long-running TNT drama "The Last Ship."
Baldwin is active in the video game world, providing his voice to many titles, including "Halo 3" and "Mass Effect 2." In 2015, according to Reason, Baldwin reportedly coined the hashtag #GamerGate, which would come to be associated with a harassment campaign against several female figures in the gaming world.
Jewel Staite - Kaylee Frye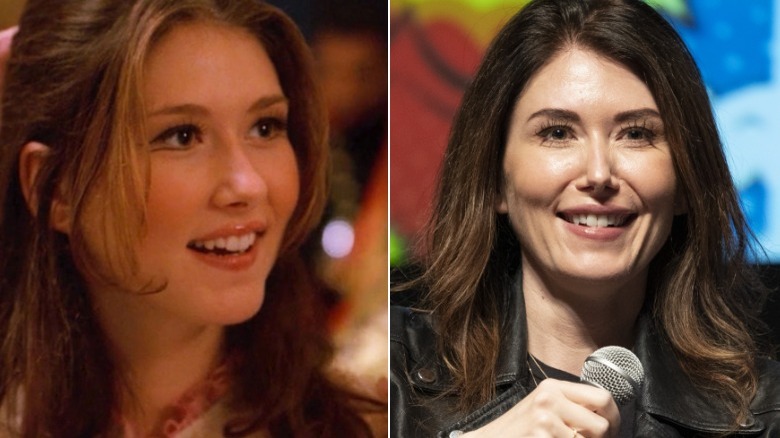 Fox / Erika Goldring/Getty Images
Canadian actor Jewel Staite, a well-known child performer from her days on '90s favorites "Space Cases" and "Flash Forward," moved forward into adult roles with the space-set "Firefly" in 2002, portraying the ship's sweet and plucky mechanic, Kaylee Frye. After the brief run of the series, Staite reprised her role in "Serenity" and took on a recurring role in "Wonderfalls," another short-lived, much-loved mid-2000s Fox series.
Following Adam Baldwin and Morena Baccarin, she became the third "Firefly" veteran to appear in the "Stargate" franchise, portraying Dr. Jennifer Keller in a few dozen episodes of "Stargate: Atlantis." Staite held down main roles in the Canadian drama "The L.A. Complex" and the AMC crime show "The Killing." She married boyfriend Charlie Ritchie in July 2016, shortly after giving birth to their son, Wilder. As of 2021, Staite is part of the regular cast of the Canadian legal series "Family Law."
Sean Maher - Simon Tam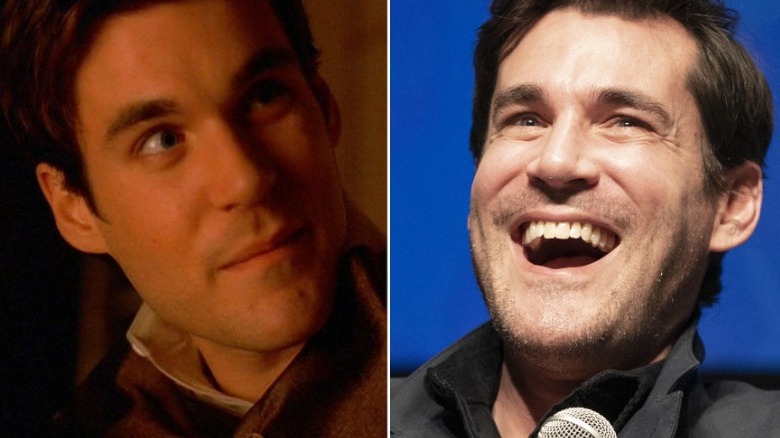 Fox / Erika Goldring/Getty Images
As the straitlaced and extremely skilled trauma surgeon Simon Tam, Sean Maher's character on "Firefly" provides both cool intellectualism and invaluable medical skills to the Serenity crew. Simon and his sister River start as fugitives, using the Serenity to hide their tracks from the Alliance, but it isn't long until they're part of the family, with Simon becoming the ship's doctor and River using her preternatural fighting skills to help with more than one mission.
In the years following "Firefly" and "Serenity," Maher popped up in a handful of TV shows ("CSI: Miami," "Ghost Whisperer," and "Warehouse 13") before landing a starring role in the quickly-canceled '60s-era NBC drama, "The Playboy Club." Around the time that series premiered in 2011, Maher publicly came out in Entertainment Weekly, announcing that he'd lived with his partner, Paul, for nine years and had two kids, Sophia Rose and Liam Xavier, born in 2007 and 2010, respectively. Maher and Paul married in 2016, amidst a period when the actor focused primarily on voice acting, portraying Dick Grayson/Nightwing in many direct-to-video DC comics animated movies.
Summer Glau - River Tam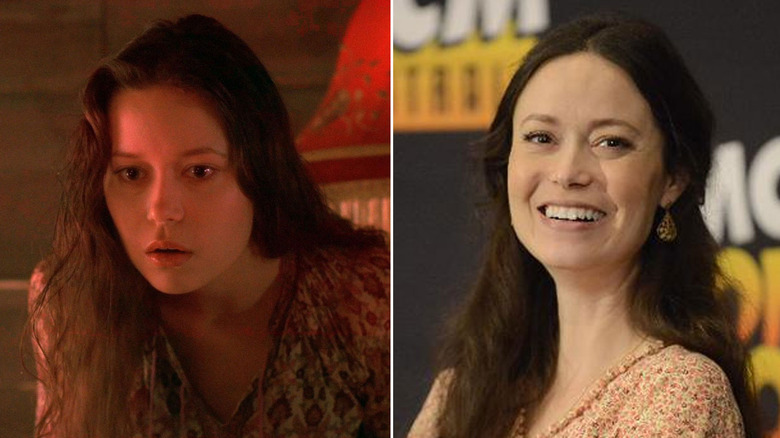 Rudi Keuntje
Former dancer Summer Glau landed her first screen acting role in 2002, playing a ballerina on an episode of "Angel" a few months before Joss Whedon cast her on "Firefly" in the role of River Tam, a troubled child prodigy who had fallen into the hands of evil Alliance experimenters. After being rescued by her brother Simon, River takes refuge among the Serenity crew, her near-supernatural abilities becoming a focus of the show and the follow-up film "Serenity."
After the cancellation of "Firefly," Glau was a go-to actor for producers of sci-fi television. She played another troubled character in "The 4400," appeared on a few episodes of Whedon's "Dollhouse," and had a main role on "Terminator: The Sarah Connor Chronicles." Glau co-starred in the 2013 comedy-horror film "Knights of Badassdom" and joined her "Firefly" brother Sean Maher with a stint as Ravager on the CW's "Arrow."
Glau and husband Val Morrison welcomed their first child in 2015 and a second in 2017. Since becoming a mother, Glau has acted very little, appearing with "Firefly" co-stars on the rare episode of "Con Man" and "Castle," and taking on a two-episode arc on Netflix's "Wu Assassins."
Christina Hendricks - Saffron/Yolanda/Bridget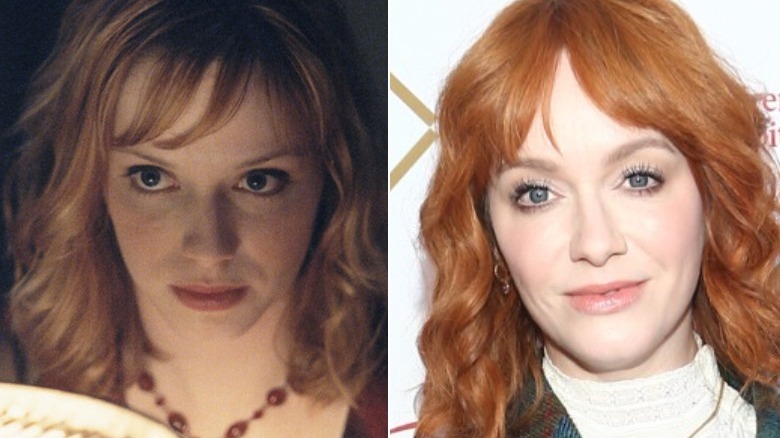 Fox / Tommaso Boddi/Getty Images
Christina Hendricks made her first appearance in the "Firefly" episode "Our Mrs. Reynolds" as the seemingly simple and naive Saffron, who Mal unwittingly marries during a drunken visit to her planet. Saffron isn't as simple as she appears, however, and we later learn she is actually a con artist with Companion training. Throughout the series, Hendricks' character returns to plague Mal and the crew of Serenity under her various aliases.
After the cancellation of "Firefly," Hendricks became arguably the show's most famous alumnus and biggest breakout star. On AMC's acclaimed 1960s-era advertising drama "Mad Men," Hendricks plays office manager Joan Holloway, a role which earned the actor six consecutive Emmy Award nominations. Post "Mad Men," Hendricks took on lead roles in other cable TV shows, including "Hap and Leonard" and the turn-of-the-century spoof "Another Period," while also co-starring in the big-screen comedies "Bad Santa 2" and "Fist Fight." In 2021, Hendricks wrapped a four-season run on the NBC suburban crime saga "Good Girls."
Ron Glass - Shepherd Book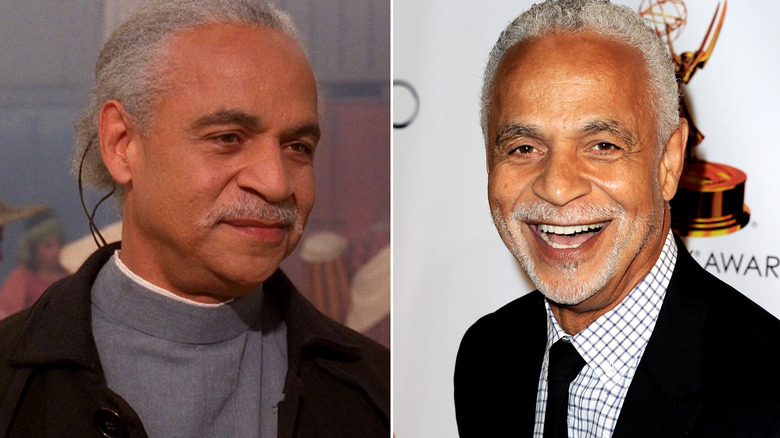 Getty Images
On the surface, Shepherd Derrial Book appears to be what he claims — a devout and humble missionary venturing out into the galaxy following years of sheltered cloistering in an abbey. He quickly settles into the rhythm of daily life aboard Serenity, becoming an integral part of the crew, but viewers learn that Book had a far darker past from which he was actively running away.
When "Firefly" debuted in 2002, Ron Glass was the most seasoned and recognizable actor in the show's cast, familiar to TV audiences for his dozens of TV roles dating back to the early 1970s, most notably his seven-year, Emmy-nominated gig on the police sitcom "Barney Miller" as the suave and witty Detective Ron Harris, and his recurring voice role as Randy Carmichael on "Rugrats." After "Firefly" finished, Glass kept booking one-off roles on TV dramas ("CSI: NY," "Shark," "Major Crimes," and "Agents of S.H.I.E.L.D.") and played Randy Carmichael on the "Rugrats" sequel series "All Grown Up!" Glass retired from acting in 2014, and died in November 2016 at the age of 71.