The Controversy Between Anger Management's Charlie Sheen And Selma Blair Explained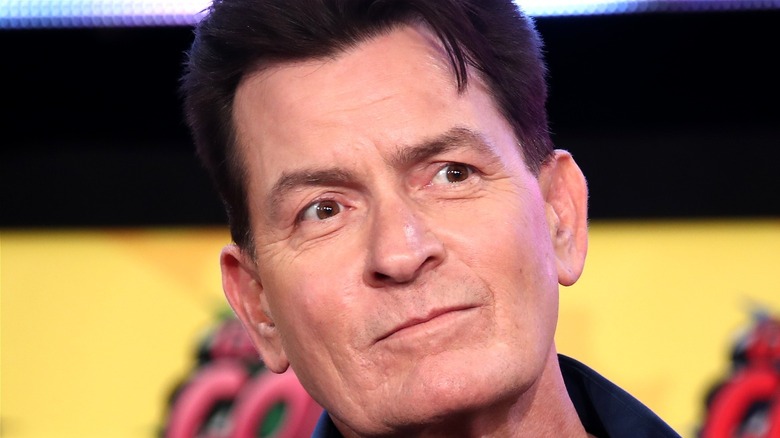 Holger Much/Shutterstock
In 2011, "Two and a Half Men" was one of the most popular series on television, and Charlie Sheen was the highest-paid actor, making about $1.25 million per episode, according to Celebrity Net Worth. And then something bizarre happened, and no one — except Sheen, of course — can be 100% sure how it began. After a stint in rehab for drugs and alcohol, he was getting ready to head back to filming "Two and a Half Men." Then he decided to appear on "The Alex Jones Show," and he lashed out at everyone and everything. Among the highlights was him calling himself a "high priest Vatican warlock" and calling Chuck Lorre — " the creator of Two and a Half Men" — a turd and charlatan (via TMZ). Within hours, CBS and Warner Bros. stopped production on "Two and a Half Men" for the rest of the season, according to The Hollywood Reporter.
Within months of being fired from "Two and a Half Men," Sheen was already in negotiations to make his television comeback, in a series loosely based on the 2003 Jack Nicholson comedy, "Anger Management" (via The Guardian). Actress Selma Blair was to be his co-star, and he spoke highly of her in interviews. But by the middle of the second season, there were loud rumblings that Charlie had issued an ultimatum: either fire Blair, or he'd leave the series (per THR). Everyone wondered what could've happened to make Sheen turn on her so harshly.
Charlie Sheen was reportedly always late to set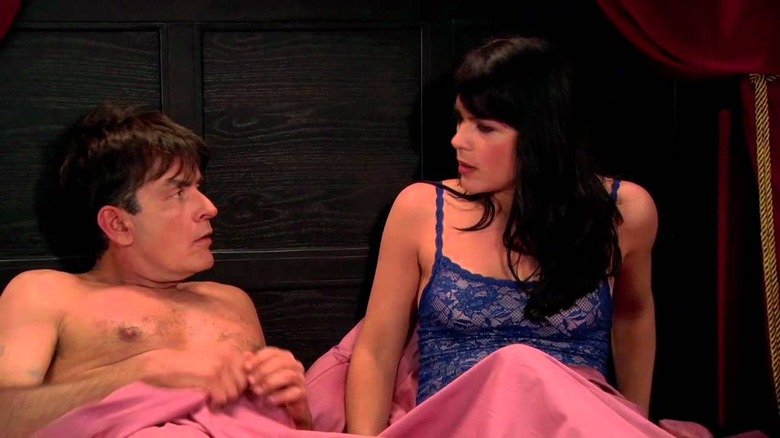 FX
According to Deadline, Charlie Sheen had been a fan of Selma Blair ever since she starred in "Cruel Intentions." He had lobbied hard to get her hired as his co-star, even when FX wanted to go with another actress after the final round of auditions. The show got off to a strong start, with the first episode breaking viewing records, becoming FX's most-watched debut (via Rolling Stone). But slowly, some of Sheen's destructive behaviors on-set began to creep back up, and it wasn't long before Blair and others were frustrated with his constant tardiness.
While many reports stated that Blair had gone to the producers to complain about Sheen's behavior, Radar Online claimed that wasn't the case. She allegedly complained to a mutual friend, and it got back to Sheen through gossip. When he heard about it, he went nuclear. What happened next was Sheen "firing" her through an expletive-filled text message.
Sheen is obviously no stranger to public spats and holding grudges. His feuds with Chuck Lorre, Rihanna, and many others (via EW) have lasted years. He has gone after his ex-wife and mother to two of his kids, Denise Richards, numerous times (via The NY Daily News). And years later, it's clear Sheen still has not gotten over his anger at Blair, tying her with Jenny McCarthy as his "least favorite coworkers" (via Us Weekly).