Only Three Cast Members Appeared In Every Episode Of The Fresh Prince Of Bel-Air
Dave Hogan/Getty
NBC's hit sitcom "The Fresh Prince of Bel-Air" aired for six seasons, and effectively launched actor and rapper Will Smith into stardom. From 1990 to 1996, Smith starred as a fictionalized version of himself who gets sent to live with his wealthy aunt and uncle in Bel-Air, California after getting involved with the wrong crowd.
With the exception of the episode arc where Will tries to permanently move back to West Philadelphia, every episode generally begins or ends in the Bel-Air mansion owned by Uncle Phil (James Avery) and Aunt Viv (played both by Janet Hubert and Daphne Maxwell Reid). Will lives with his cousins, Carlton (Alfonso Ribeiro), Ashley (Tatyana Ali), and Hilary (Karyn Parsons), and their butler Geoffrey (Joseph Marcell). The entire family seems to appear in every single episode, seeing as a lot of the show takes place inside the house.
However, there were only three cast members who appeared in every single episode of "The Fresh Prince of Bel-Air."
Will, Hilary, and Uncle Phil appear in every single episode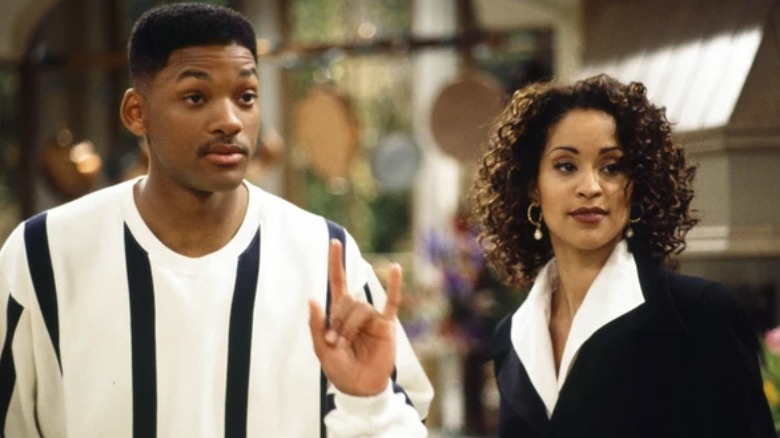 NBC
Will Smith, the late James Avery (Uncle Phil), and Karyn Parsons (Hilary) are the only cast members who appear in all 148 episodes of "The Fresh Prince of Bel-Air," meaning that co-lead Alfonso Ribeiro (Carlton) isn't actually in every episode, among other family members. Parsons is technically absent from the Season 5 episode, "Love in an Elevator," as the bulk of the episode finds Will, Carlton, and Jazz (DJ Jazzy Jeff) trapped in an elevator on the way to Will's bachelor party. While stuck, the three friends reminisce about their experiences together over the years, and Parsons appears in the trio's flashbacks. The episode was one of several "clip shows" deployed over the course of the series' run. 
One could argue that DJ Jazzy Jeff appears in every single episode because he is seen playing basketball during the opening credits — a nod to his and Smith's real-life music success as DJ Jazzy Jeff and The Fresh Prince. But the rapper and former Smith collaborator is only credited for a total of 46 episodes as the fan-favorite supporting character Jazz. 
"The Fresh Prince of Bel-Air" is currently streaming in its entirety on HBO Max, along with the recent reunion show from November, 2020.