The Character Everyone Forgets Aubrey Plaza Voiced On Spongebob Squarepants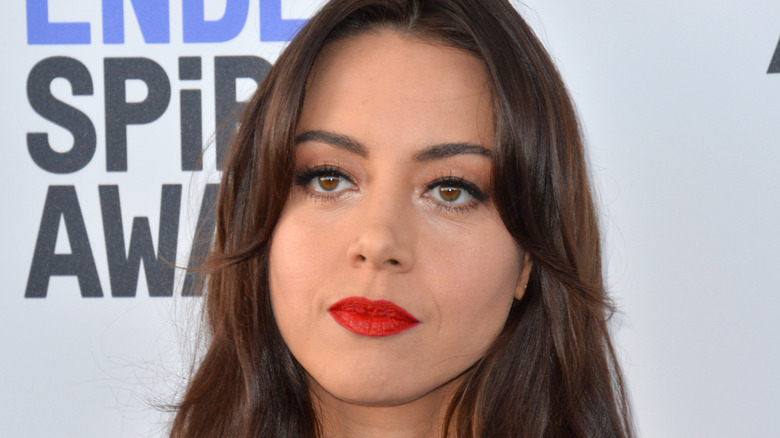 Featureflash Photo Agency/Shutterstock
Amidst the excellent cast of "Parks and Recreation," the deadpan Aubrey Plaza quickly became an integral part of the sitcom's ensemble as April Ludgate, the bored yet delightfully weird intern at the Pawnee Parks Department. She'd had a handful of parts before landing that role (via IMDb), but playing April made Plaza a household name. 
Since finishing the seven season-run of "Park and Rec" in 2015, her career has not slowed down. She has starred in several comedies, including "Ingrid Goes West" and "Mike and Dave Need Wedding Dates," did a short stint on "Criminal Minds," and joined the short-lived but critically acclaimed series "Legion" as a regular cast member.
What fans might not realize is that Plaza hopped in for a one-episode appearance on the long-running Nickelodeon cartoon "Spongebob Squarepants" in 2016. This isn't her first time voice acting (she voices Eska on "The Legend of Korra"), but it's an easily overlooked part. Audiences with keen ears will recognize her character from her dry tone and the same terrible customer service skills that made Ron Swanson (Nick Offerman) hire April to be his assistant on "Parks and Rec."
Aubrey Plaza voices a goth teen fish on Spongebob Squarepants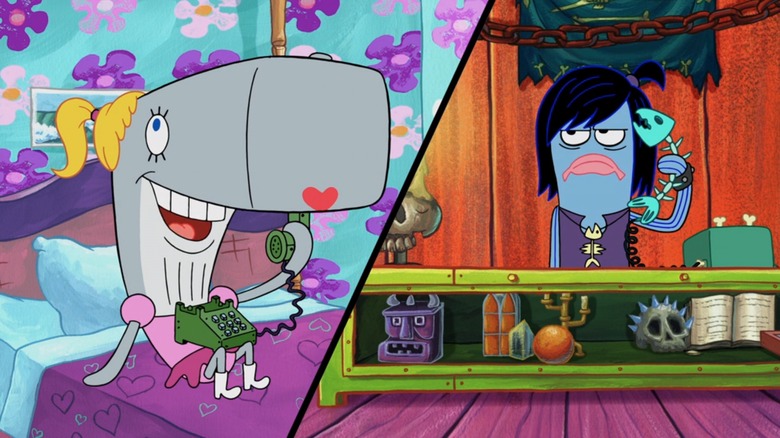 Nickelodeon
In the Season 9 episode "Mall Girl Pearl/Two Thumbs Down" (via IMDb), Mr. Krabs' (Clancy Brown) whale of a daughter, Pearl (Lori Alan), wants to hang out with her friends. Unfortunately, they're all working various jobs at the mall, which is where we meet Aubrey Plaza's character. She voices one of Pearl's friends: Nocturna, a goth teen fish with black hair, a spiked bracelet, and a fishbone necklace, who works at a punk clothing store called Scorched Coral. The whole place is decorated with skulls, candles, and chains, but the skeleton fish phone brings it all together — even if it's a little morbid for a cartoon about talking fish. (Of course, it's hardly the only dark detail in "Spongebob Squarepants.")
Nocturna uses the same deadpan, dark humor that Plaza is known for throughout the episode. When a customer walks up to her with a similar spiked bracelet around her neck — thinking it's a choker — and passes out on the floor, Nocturna says, "Awesome." Upon seeing customers entering the store, she tells them, "Welcome to Scorched Coral. Please go away." Later, Pearl gets a job at a shop owned by an elderly fish. Nocturna and her other friends make fun of her for working at a store for old people. If April Ludgate were younger (and a fish), she'd be Nocturna.
Check out Aubrey Plaza's "Spongebob" episode, as well as the entire Nickelodeon series, right now on Paramount+.