The Character Everyone Forgets Carrie-Anne Moss Played In Baywatch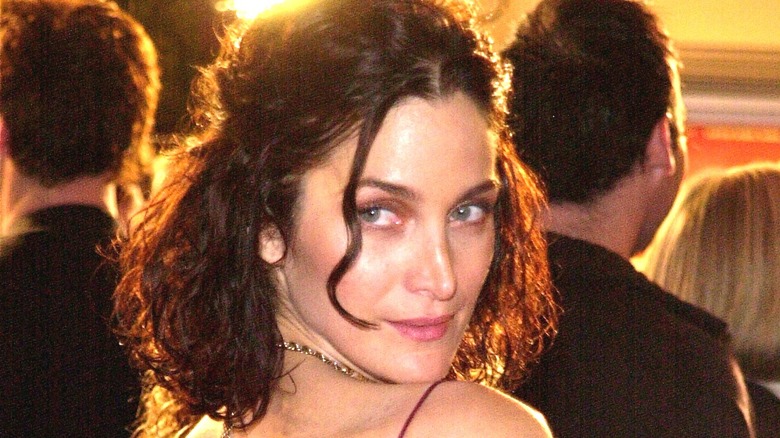 Vince Bucci/Getty
Before her rise to fame in the late 1990s, Carrie-Anne Moss began her acting career as a guest star in television shows ranging from the horror anthology "The Hitchhiker" to the sitcom "Down the Shore." In 1993, she transitioned from bit parts to playing Liz Teel in all 13 episodes of "Matrix" (per IMDb). While similarly named, the supernatural fantasy series differs from the cyberpunk trilogy that would catapult Moss to stardom just a few years later.
Throughout the '90s, Moss portrayed minor characters on TV and in movies until she landed the role of a lifetime. In 1999, she debuted as Trinity in the Wachowski Sisters' inventive and impactful "The Matrix." Trinity is a sharp-witted, multi-talented hacker with a mind as strong as her body. The scene where she is frozen in mid-air is one of the most iconic images in cinema.
Moss will reprise her most renowned role in "The Matrix Resurrections," which she was drawn to because of the strength of its script. But before she was one of the most confident, inspiring women in sci-fi, Moss donned a bathing suit instead of a black bodysuit as a character many may have forgotten she played.
Carrie-Anne Moss played Gwen and Mattie Brown in Baywatch
"Baywatch" was one of the most-watched series of the '90s. At the peak of its popularity, over 1 billion people tuned in to see its attractive, bathing suit-clad characters save swimmers. From its soulfully sung theme song to its often parodied slow-motion running scenes, "Baywatch" left an unforgettable impression on pop culture.
In the Season 4 episode "Mirror, Mirror," Carrie-Anne Moss plays the glamorous and confident Mattie Brown and her more reserved sibling Gwen. Both women romantically pursue lifeguard Mitch Buchannon (David Hasselhoff). As they fight over him in their trailer, it is revealed that Gwen and Mattie are the same person. When Mitch arrives to have dinner with the sisters, Mattie drugs and imprisons him in a flooded basement. He nearly drowns until he convinces Gwen to emerge as the dominant personality and free him. Before Gwen is transported to a mental health facility, she acts like Mattie and cackles sinisterly as the episode ends.
"Mirror, Mirror" perpetuates outdated and harmful stereotypes about individuals with mental health issues being dangerous. While the episode is problematic, Moss' intense and captivating performance is praiseworthy, with that actress' effortless portrayal of both characters conveying the range and depth of her talent.
If you or someone you know is struggling with mental health, please contact the Crisis Text Line by texting HOME to 741741, call the National Alliance on Mental Illness helpline at 1-800-950-NAMI (6264), or visit the National Institute of Mental Health website.