Why You Won't See Spider-Man: No Way Home On Disney+ Anytime Soon
The Disney+ streaming platform is quite pointedly the home of all things Marvel. Marvel Comics is, of course, owned outright by Disney, and they have their own dedicated hub on the service. Disney+ hosts not just the Marvel Cinematic Universe but tons of other films based on Marvel Comics characters as well, plus a bevy of animated Marvel TV series going back decades. It's an impressive trove of material for any Marvel fan, but as is often the case, there are a few gaps in the archive — most notably Tom Holland's "Spider-Man" films.
Fortunately, that's soon to change. As reported back in April by Deadline, Sony and Disney (who split the film rights to Spider-Man thanks to deals that predate the Disney/Marvel buyout) announced a deal to place a whole bunch of Sony content on the streaming platform, including the missing "Spider-Man" films. But that doesn't mean you can expect to see the upcoming "Spider-Man: No Way Home" on Disney+ immediately following its theatrical release.
Sony also has a deal with Netflix that complicates things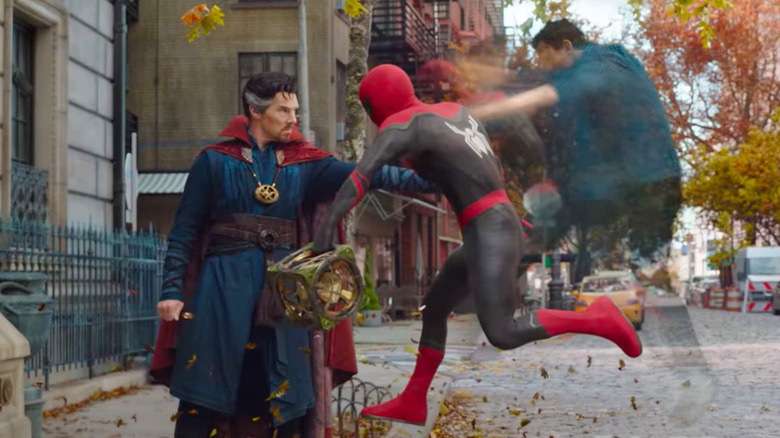 Sony Pictures Entertainment
The deal between Sony and Disney encompasses Sony catalog titles as well as new theatrical releases that come out between 2022 and 2026. "No Way Home" is coming out towards the end of this year, so it technically won't be included in that slate of releases. To further complicate things, Disney is not the only company to have a streaming agreement with Sony. Sony also has a deal with Netflix, which according to Deadline includes an 18-month exclusive window for Sony theatrical films. That means that after a Sony movie's theatrical run comes to an end, Netflix has exclusive rights for at least 18 months.
Put simply, that means that any Sony release included in the Disney+ deal, such as "Spider-Man: No Way Home," will have to complete its theatrical run and pass an 18-month window where Netflix would presumably have the rights, before making its way to the Disney service. Whether the film actually appears on Netflix — or just doesn't stream anywhere for a while— remains to be seen. Regardless, it could be a while before you can watch Spidey's newest adventure from the comfort of your own home, so be sure to see it in theaters when it releases on December 17.