The Haunted American Pickers Find Danielle Colby Wouldn't Let Mike Wolfe Sell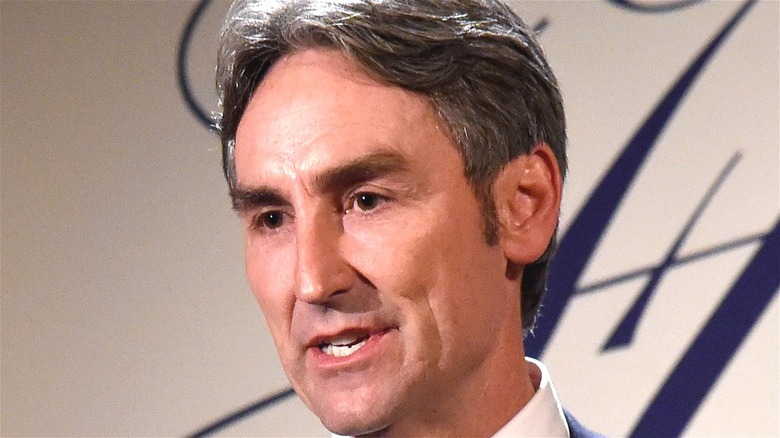 Rick Diamond/Getty
When you've worked in the business of searching for treasures all over the U.S. as long as "American Pickers" team Mike Wolfe and Frank Fritz have, it seems only natural that you will experience some truly bizarre moments as well as unearth priceless — and occasionally odd — items tucked away in people's homes and storage units. Some of the weirdest items to ever grace the Antique Archaeology shop (the location where many "American Pickers" finds end up) include a pair of mummified circus exhibits lovingly referred to as "The Wolf Boys" and a coin-operated fortune teller machine, dating back to the 1940s or '50s. Other items found by the "American Pickers" team over the years include an antique collection of glass eyes that will be haunting our dreams forever, as well as a large wooden devil mask and some nightmare-inducing papier-mâché clown heads. 
While on the road finding items, Wolfe and Fritz needed an extra pair of hands to manage the business. This role has been expertly filled by Iowa native Danielle Colby (despite that time she went a little too far on the show). Her friendship with lead picker Wolfe has spanned a decade before "American Pickers," and it seems a perfect working relationship. Typically, Colby's main goal is to sell every item that comes into the shop, but there was one memorably hair-raising piece that came into Colby's possession that she couldn't seem to let go of.
Danielle Colby became attached to a haunted foot locker
During the Halloween 2021 episode of "The Sailor Jerry Podcast," host Matt Caughthran and the self-proclaimed "Queen of Rust" (via Instagram) sat down to discuss everything from Danielle Colby's work on "American Pickers" to her love of burlesque dancing. During this chat, Caughthran asked his guest if the "American Pickers" crew had ever encountered a haunted item. The "Sailor Jerry Podcast" host queried, "Have you ever purchased anything that was cursed? Or that you felt bad energy from that you had to get rid of, like, maybe, a doll or something like that?
Colby had quite a story to tell Caughthran. She revealed that, early in the show's run, Mike Wolfe picked up a footlocker owned by a woman named Mary Reaver that had, at one time, belonged to her brother. Since Colby and her children lived so close to the Antique Archaeology, the trio liked to ghost hunt after store hours. As the Colby family went on another such ghost hunt, the "American Pickers" host recalled that " we opened up Mary Reaver's trunk, and the vibe in the air got so crazy. As we're looking through the trunk — this is when [Wolfe] had just brought it in — there's this stack of letters that says 'Do not read. Private.' and there's also divination sticks, tarot cards, there's, like, her whole life."
Colby went on to tell Caughthran that she held on to a lot of Reaver's possessions, although Wolfe did sell some items. She convinced Wolfe to let her keep some of these items, including those private letters, by convincing him about their occult nature. She concluded, "I still feel [Reaver] to this day because I take her with me everywhere."