Faith Hill And Tim McGraw Talk Working As A Married Couple On Yellowstone Prequel 1883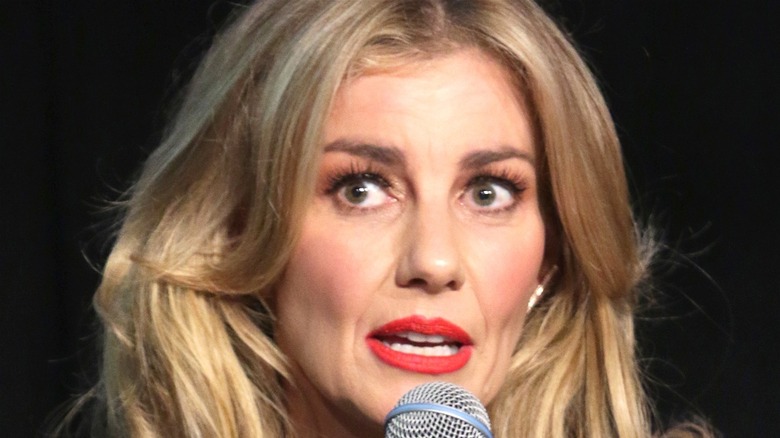 Jerritt Clark/Getty
Even if you, yourself, don't watch "Yellowstone," the odds are pretty good that you at least know someone who does. The Paramount Network series starring Kevin Costner is one of the most popular television series on the air right now. And though the latest season has had its share of online naysayers, there is little reason to believe the franchise is about to slow down anytime soon. The Season 4 premiere broke recent cable television records when it aired on November 7. 
Now, with the Paramount+ premiere of "Yellowstone" prequel series "1883" looming, creator Taylor Sheridan is poised to expand his empire of Dutton family drama. While "Yellowstone" has plenty of recognizable stars, "1883" has the potential to begin with a built-in base of country music fans because of series stars Tim McGraw and Faith Hill. The famous musicians will star in the new series as James and Margaret Dutton, ancestors of the modern day Dutton family portrayed in "Yellowstone" (via IMDb). 
In a recent interview with People Magazine, McGraw and Hill talked about their experiences of getting into character and balancing the on-screen marriage of the Duttons with their own real-life marriage.
Faith Hill and Tim McGraw are very different from James and Margaret Dutton
During an interview with People Magazine, Tim McGraw and Faith Hill detailed the various difficulties involved in shooting a period drama like "1883" on location in Texas and Montana. Aside from a variety of environmental challenges and era-specific costume requirements, Hill said the most grueling part of the first season was filming a particularly intimate scene with her husband.
"It was really uncomfortable for me personally because I'm a very shy person in that type of situation," Hill told People Magazine of a scene that places James and Margaret Dutton together in a bath tub. "I obviously feel comfortable with my husband, but this is different. For intimate scenes, I feel like that belongs to us."
Of course, "intimate" scenes can go the other way too. "We had this scene where she has to slap me," McGraw said in the same interview. "I was expecting a finger slap but it was a paw to the jaw. There was 25 years of pent-up aggression going on!"
Hill went on to say that she and McGraw have made a point not to rehearse scenes together prior to being on the actual set. "It's important that we react to one another naturally as characters, not as husband and wife," Hill said.
Though McGraw and Hill have both acted for decades, this is the first time they have appeared on screen together. "It's been incredible to do scenes together and to watch her work," McGraw said. Notably, the couple celebrated their 25th wedding anniversary during the course of filming "1883." 
"1883" is set to premiere on Paramount+ on Sunday, December 19.