Why Some Yellowstone Fans Don't Know If They Want To Keep Watching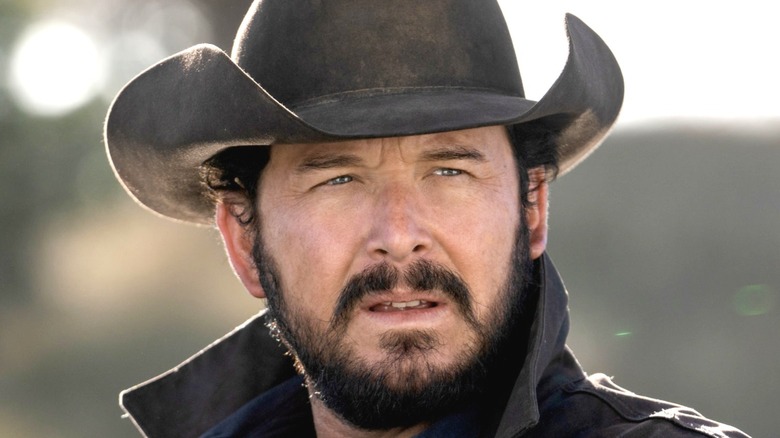 Paramount Network
Sometimes writers may not realize exactly how large the scenario they've constructed would loom in the minds of the audience. Take, for example, the cliffhanger at the end of the Season 2 finale of the BBC's modern retelling of "Sherlock" (via IMDb). That's the episode where Sherlock (Benedict Cumberbatch) seemingly jumps to his death to put a stop to Moriarty's (Andrew Scott) hit on all his friends, only to be revealed to be alive in the Season 3 premiere. 
Fans spent nearly two years between Seasons 2 and 3 speculating how Sherlock could survive, so much so that when Sherlock did return, writers Mark Gatiss and Steven Moffat realized there would be no way to satisfy all of them. Instead of presenting a definitive version, they told the story of Sherlock's survival in a series of anecdotes and theories throughout the first episode (via YouTube).
Similarly, the ending of "Yellowstone" Season 3, which saw a simultaneous attack on John Dutton (Kevin Costner), and his children Beth (Kelly Reilly) and Kayce (Luke Grimes), grew to similar proportions for that show's fanbase. There were so many possible answers to the questions left in the wake of the season finale (how many Duttons would survive, how would they make it, and who orchestrated the hits) that the speculation kept fans busy for the year-plus wait between seasons.
Now that the outcome of those tense Season 3 events has been revealed with the premiere of the first two episodes of Season 4, some "Yellowstone" fans have notes about how it was pulled off and where it failed to meet their expectations.
Yellowstone fans think the Season 4 premiere skipped crucial story beats
Following the premiere of the first two episodes of "Yellowstone" Season 4 on November 7, some viewers congregated on a thread begun by u/DietFoods in the r/YellowstonePN subreddit to discuss what they'd just watch. For many, they were not happy about the start of the new season.
Redditor u/Glad-Ad7744 remarked that there was a low standard of storytelling in the Season 4 opener and that there a lot of the biggest moments weren't touched on. "Honestly, I felt the same way at the outset (Season 1) where cheap gimmicks were employed for shock value," they explained, and continued, "Not what you'd expect in a series being done at this level. Not so sure I'll bother watching the rest of Season 4 even, lol."
Many of the comments seem less upset about the resolution of the cliffhanger — where it's shown that all three threatened Dutton family members survived — and more with how quickly its aftermath was skipped over. After showing the attacks, "Yellowstone" jumps forward a couple of months to a bearded John Dutton waking up out of his coma. Some fans feel cheated that they didn't get to see the immediate aftermath or the frustration and anger some of the characters must have felt. U/Adorable_Sweet9722 was shocked by the time jump and wrote, "I was so looking forward to Rip's reaction to finding out about Beth and watching Montana burn at his feet while he doled out vengeance and he BARELY had a reaction."
Other fans defended the episode's treatment of the incidents, saying it felt like a deliberate choice to leave the details out. "I felt like the confusion is intentional as it matches the character's own confusion in the 'fog of war,'" wrote u/MaskedMexicanWrestlr.
Some fans blame creator Taylor Sheridan's busy schedule
But for those who were disappointed, many found the same target on which to pin the blame: series creator Taylor Sheridan's ever-more-crowded schedule.
Sheridan, the creative whose credits include 2016's "Hell or High Water" and 2021's "Those Who Wish Me Dead," also has a writing credit on 31 episodes of "Yellowstone," per the Writer's Guild of America. (One episode of the show appears to be missing from its database, but IMDB credits him with that one as well.) While in the second season, he's often credited as a co-writer, for the third and fourth he's the sole writer listed for any of the episodes. He also wrote episodes of Paramount+'s upcoming "Mayor of Kingstown" and the upcoming "Yellowstone" spinoff "Y:1883." And he reprised his role as the horse trainer Travis Wheatley in the second episode of Season 4, which might be an ongoing engagement.
In other words, the man is busy, and some fans think that it's showing up onscreen. "[Sheridan is] too worried about promoting his other shows now instead of sticking with the one who put his name on the map in the first place," speculated u/Adorable_Sweet9722. "[A] prime example that some creators aren't capable of writing and directing two 10-episode series at the same time," wrote u/Sensitive_Syllabub86. "Dropping the ball on 'Yellowstone' to focus on '1883' was a contractual misstep of gargantuan proportions."
Fans who aren't sure can continue to judge for themselves. New episodes of "Yellowstone" will continue to air on the Paramount Network on Sundays. "Y:1883" premieres on Paramount+ on December 19.