The Best Breakout TV Shows Of 2021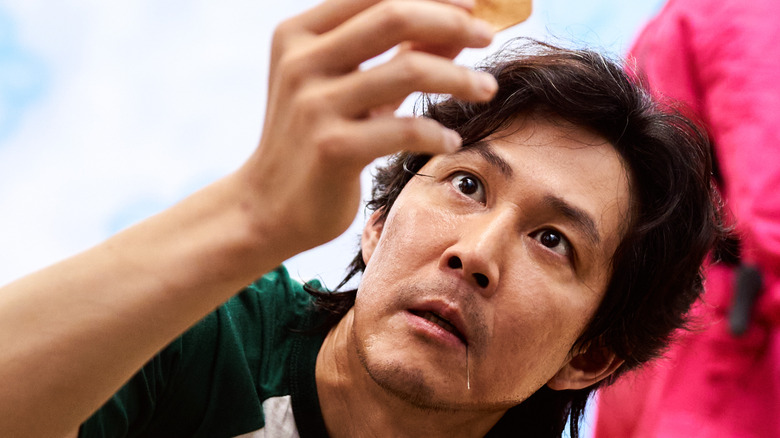 Noh Juhan/Netflix
Between broadcast channels, cable networks, and an ever-expanding set of streaming platforms, there are more TV shows being made today than ever. From critical darlings like "It's a Sin" and "The Underground Railroad" to reboots like "Gossip Girl" and "Dexter: New Blood" and fantasy epics hoping to please crowds like "The Wheel of Time" and "Jupiter's Legacy," 2021 brought so much TV that no one could possibly keep up with it all. That's made it hard for new shows to attract and maintain an audience, and even harder for them to become buzz-worthy enough to garner widespread attention. Nonetheless, several shows managed to break from the pack and become part of the cultural conversation this past year.
Each of these series stood out for different reasons — whether it was huge stars, twisty plots, smart observational humor, or a superhero or two — yet, they share must-see status. Here are our picks for the best breakout shows of 2021.
Midnight Mass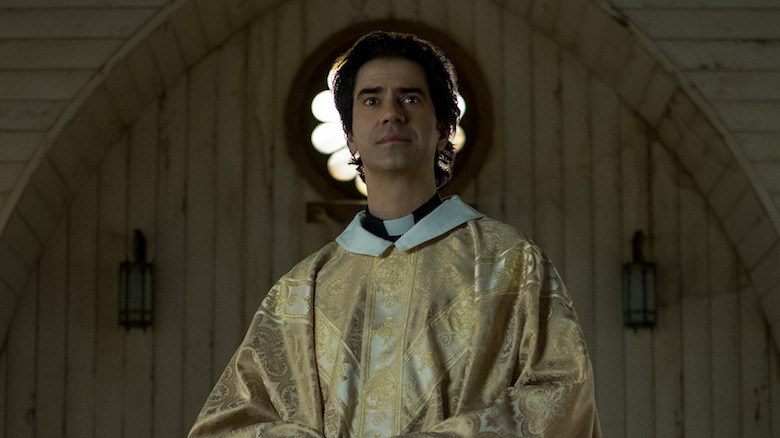 Eike Schroter/Netflix
All kinds of stories have been told about vampires, from romantic to terrifying, but rarely have these bloodthirsty creatures been used to such poignant effect as they are in "Midnight Mass." Netflix's supernatural horror series focuses on what happens when the small island community of Crockett Island welcomes a new priest (Hamish Linklater) whose ability to perform miracles draws the townspeople back to the church. Yet when some question the events that others see as heaven-sent, it touches off a showdown between the skeptics and the true believers.
A potent meditation on life, death, and faith that is often just as violent as it is thought-provoking, "Midnight Mass" drew viewers who had seen creator Mike Flanagan's "The Haunting Of..." series and expected more of the same from his newest show. However, while "Midnight Mass" uses its horror elements to keep viewers guessing, it has much more on its mind, leading to a series full of surprises. With noticeable hat tips to Stephen King, "Midnight Mass" leaves a lasting impression due to its adherence to fantasy conventions and the clever ways it transcends them.
Cruel Summer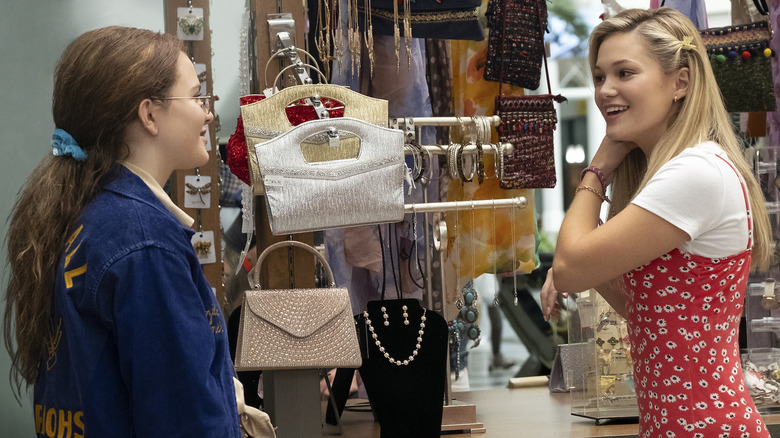 Bill Matlock/Freeform
"Cruel Summer" is exactly the kind of juicy teen thriller you turn to when you're looking for a mindless escape. Yet this one rose above other entries in the genre due to a time-hopping story, twists and turns galore, and a killer 1990s setting. The Freeform series tells the tale of two high school classmates, popular Kate Wallis (Olivia Holt) and socially marginalized Jeanette Turner (Chiara Aurelia), whose lives become entwined when Kate disappears and, after resurfacing a year later, accuses Jeanette of knowing about her abduction but failing to report it. Each episode focuses on the same day in the years 1993, 1994, and 1995, enabling the show to unravel the mystery of what really happened before, during, and after Kate goes missing, while baking in an interesting examination of the pressures that lead these girls to make the choices they do.
Aurelia gives a particularly noteworthy performance as a girl who starts off socially awkward, takes over Kate's social life after she vanishes, and then becomes one of the most hated people in the country as Kate goes to the national media with her story of Jeanette's betrayal. Of course, the truth isn't quite as it seems — just when you think you've figured out what's going on, a new revelation changes everything. This makes for a show that keeps you guessing right up until the game-changing final seconds of the season finale, which offers a tantalizing tease for the show's upcoming second season.
Squid Game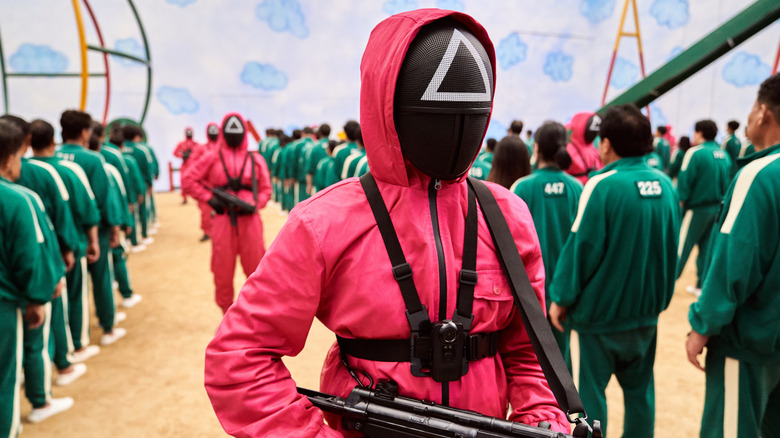 Noh Juhan/Netflix
No list of 2021's breakout shows would be complete without "Squid Game," which became a huge international hit when it was released on Netflix in September. The South Korean series took viewers into the world of the secretive titular contest, where players compete in a series of children's games to win an enormous cash prize.
When down-on-his-luck gambling addict Seong Gi-hun (Lee Jung-jae) is approached by a strange man about joining the competition, he believes it could be an opportunity to make the money he needs to finally pay off his debts and prove he's worthy of being awarded custody of his young daughter. Yet when the first game begins — a supposedly innocent round of "red light, green light" — he and the other contestants quickly learn that losing leads to instant death. The players form alliances in an attempt to stay alive, even as the people behind the games gather to witness the carnage and bet on their favorite players.
Although "Squid Game" is often intensely brutal, its commentary on class feels disturbingly relevant. Plus, the question of who will survive the latest round of the contest keeps viewers glued to their screens. "Squid Game" established South Korea as a TV powerhouse, and even though some may see the show as exploiting the very violence it's condemning, for a few weeks in the fall, it brought the world together as people everywhere discussed the series.
Hacks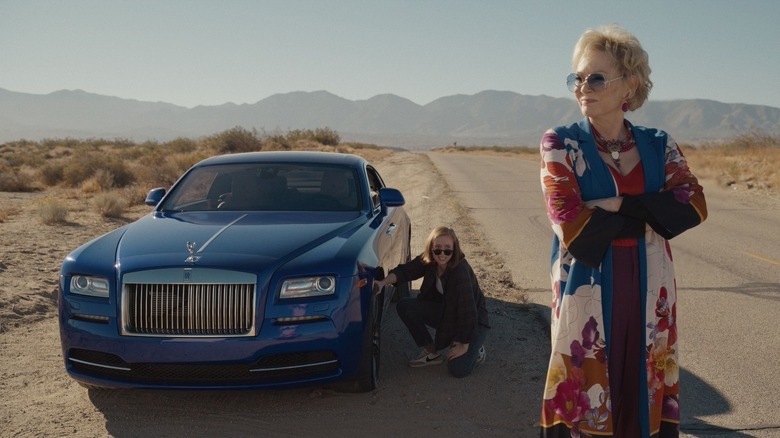 Jake Giles Netter/HBO Max
The HBO Max comedy "Hacks" stars revered actor Jean Smart as Las Vegas standup comic Deborah Vance. It's a tour de force performance that netted Smart an Emmy earlier in the year. Deborah's act has brought her fame and fortune beyond most people's wildest dreams, but interest in her comedy is starting to fade and the owner of the casino where she has her residency has decided to cut her performance dates. In order to bring a fresh voice to her routine, Deborah hires Ava Daniels (Hannah Einbinder) a young writer who lost her TV comedy writing job after posting an off-color joke on Twitter.
Much of the humor in "Hacks" comes from the push and pull between these two determined women, who are opposites in almost every way. While Deborah is older, established, and wealthy, Ava is young, struggling, and trying to make ends meet, yet they are united by their love of comedy and their desire to come up with new material. That frequently brings them together — but just as often forces them apart, as their ideas about what comedy and fame should be clash. "Hacks" is an incisive exploration of the compromises and conceits of showbiz as well as a more intimate tango between Smart and Einbinder, making for a show that's alternatively scathing and hilarious.
Mare of Easttown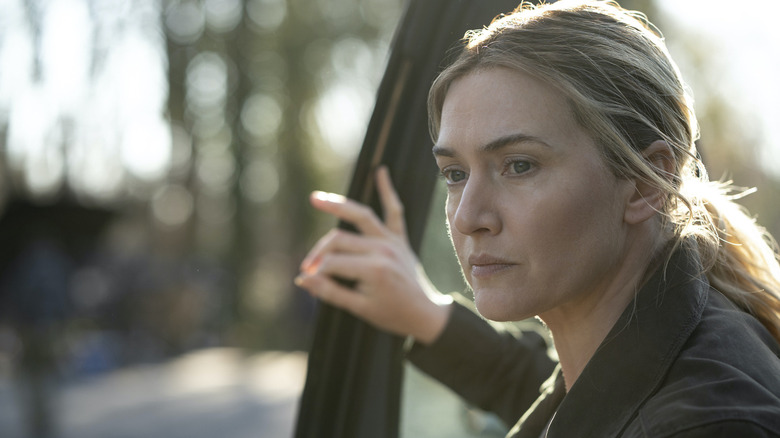 Michele K. Short/HBO
Gritty crime shows are currently having a moment, but only HBO's "Mare of Easttown" can boast a masterful performance by Kate Winslet. In this Emmy-darling series, a de-glammed Winslet stars as the title character Mare, a detective with the police department in a small Philadelphia suburb where everyone seems to know everyone else.
While Mare is renowned by the locals for making the winning shot during a championship basketball game 25 years prior, since then her fortunes have dwindled. She's been investigating the case of a missing girl for a year but hasn't turned up any leads, she's bitter over her ex-husband's pending re-marriage, her son committed suicide, and her custody of her grandson is threatened by the return of his heroin addict mother. Mare's messy life is thrown into further disarray when a teen mother is found dead and Mare is put on the case.
The show juxtaposes Mare's determination as a detective with the difficulty she has coping with many of the elements of her personal life, and Winslet never shies away from showing the good, the bad, and the ugly sides of her character. While the mystery is involving, it's Winslet's performance, with support from an outstanding cast that includes Evan Peters, Julianne Nicholson, Guy Pearce, and Jean Smart, that truly carries the show. Winslet may be one of the world's most recognizable stars but in "Mare of Easttown" she virtually disappears into her role.
Only Murders in the Building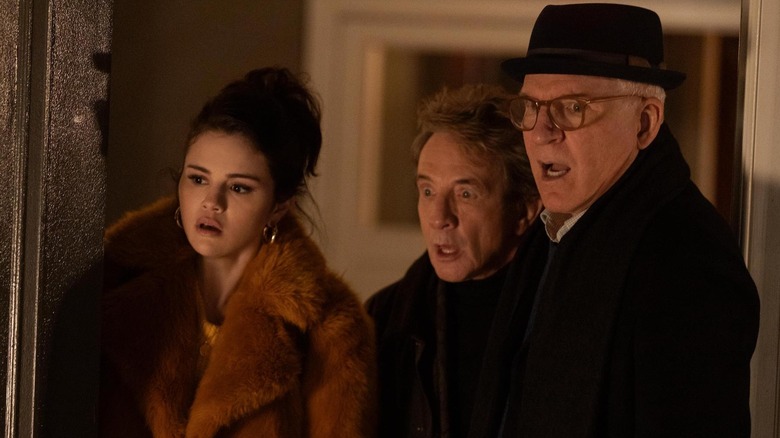 Craig Blankenhorn/Hulu
Hulu's comedic mystery "Only Murders In the Building" gained attention for the oddball pairing of comedy legends Steve Martin and Martin Short with pop star Selena Gomez. If the show hadn't offered more than this head-scratching combination, it would have quickly been forgotten, but it turns out the trio make a compelling ensemble — their performances, combined with tight plotting and clever humor, fuel a show that's easy to enjoy as an enthralling mystery as well as a lively comedy.
Martin, Short, and Gomez star as strangers living in the same apartment building in New York City who are brought together by their shared love of true crime podcasts. After a man dies in their building, the group decides to investigate the case even though the police have already ruled the death a suicide. Meanwhile, Short's character, Oliver Putnam, a cash-strapped Broadway director, starts a podcast to track their efforts — and make some money in the process. Soon, the trio find themselves in far deeper than they could have imagined, and gaining fans for their surprisingly involving show.
"Only Murders in the Building" works as a parody of crime fiction while also telling a gripping crime story of its own. And in addition to the mystery's latest revelations and laugh-out-loud moments, the show has a smart, snappy style that sets it apart.
Reservation Dogs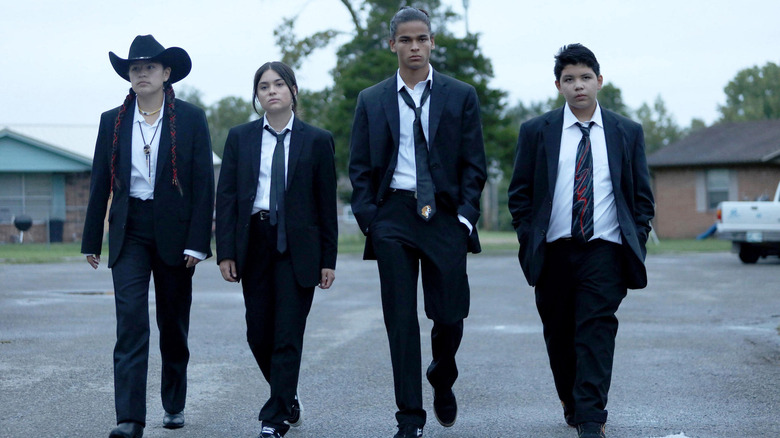 FX on Hulu
"Reservation Dogs" would have been a breakout this year for its largely Indigenous cast and crew alone. However, the FX series, which was created by Sterlin Harjo and Taika Waititi, is even more notable as a laid back dramedy about four Indigineous teenagers coming of age in rural Oklahoma. Bear (D'Pharoah Woon-A-Tal), Elora (Devery Jacobs), Willie Jack (Paulina Alexis), and Cheese (Lane Factor) make a pact to leave their reservation for California and the series is loosely structured around their efforts — both legal and not so much — to raise money for their trip. But the show is often more interested in delving into the quartet's lives, especially their relationships with their families, including Bear's absentee rap star father (Sten Joddi), Willie Jack's grieving dad (Jon Proudstar), and Elora's quirky uncle Brownie (Gary Farmer).
Throw in a wacky yet sporadically insightful spirit guide (Dallas Goldtooth), a rivalry with another gang, a revealing ride-along with the reservation cop Officer Big (Zahn McClaron), and a tornado that ultimately brings everyone together, and "Reservation Dogs" becomes a layered, insightful story that's both universally relatable and remarkably specific.
Starstruck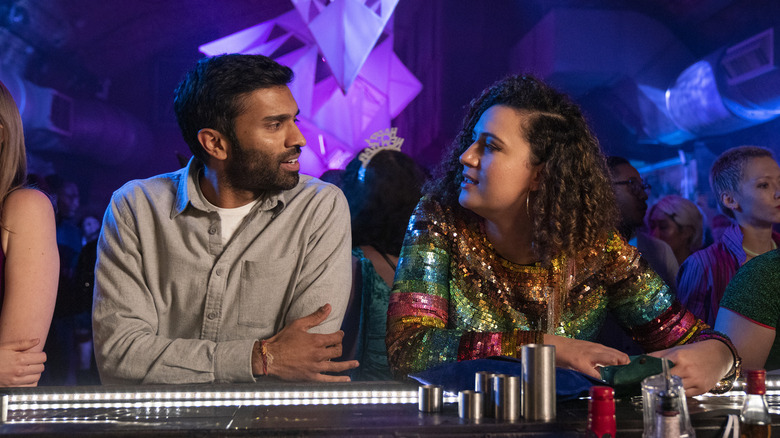 Mark Johnson/HBO Max
"Starstruck" imagines a scenario that many have likely fantasized about but few have lived: an average woman goes home with a man she meets at a bar, only to wake up the next day and discover he's a movie star. But despite what the title of this HBO Max gem suggests, when free-spirited millennial Jessie (Rose Matafeo) discovers she's had a one-night stand with world-famous Tom Kapoor (Nikesh Patel), she recovers from the shock in seconds and quickly decides the incident is simply a fun story.
Jessie goes back to her life — in which she works as a back-up nanny and at a movie theater and lives with roommate Kate (Emma Sidi) — thinking she'll never see Tom again. Yet somehow the pair continue to run into one another, popping into each other's lives periodically over the course of the year the show covers. While there's clearly a spark between them, Jessie is never especially concerned about their romance; ultimately, it's Tom who often seems most invested.
A riff on the Julia Roberts film "Notting Hill," "Starstruck" is built on rom-com tropes while establishing a delightful group of characters all its own. Jessie never takes herself too seriously and puts her needs above those of any guy, making her a hilarious and empowering lead in a show that arrived in America to little fanfare but nonetheless attracted an audience due to its fun — and funny — story and Matafeo's confident performance.
Girls5Eva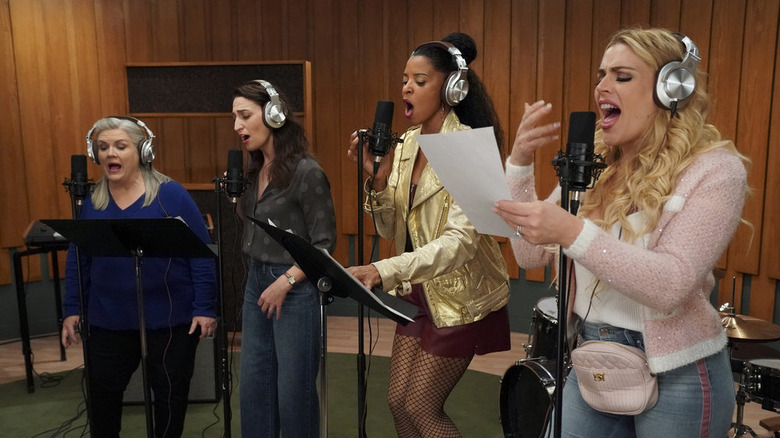 Heidi Gutman/Peacock
If you've enjoyed the humor of shows like "30 Rock" or "Unbreakable Kimmy Schmidt" but thought they needed more songs, "Girls5Eva" is for you. The Peacock musical comedy, which counts Tina Fey as one of its executive producers, centers on the titular musical act, a '90s girl group who attempt to make their pop star dreams come true a second time after their one hit is sampled by the rapper Lil Stinker (Jeremiah Craft). Of course, it's decades later and the women now have marriages, children, and day jobs to juggle with their latest attempt at fame. Not to be confused with the similarly themed, but more serious, series "Queens," "Girls5Eva" makes an impression with its mix of goofy irreverence, '90s nostalgia, and smart observations about the realities of adulthood, chasing dreams, and the creative process.
Plus, each episode features a silly yet well-constructed song, either from the group's '90s heyday or from their more recent efforts. And with a cast that includes Sara Bareilles, Renee Elise Goldsberry, Busy Phillips, and Paula Pell, the quartet have both the musical and comedic chops to convincingly bring the show's often hilarious scenarios to life. But be forewarned, the lyrics to the group's one hit "Famous 5eva" ("'Cause forever's too short," of course) will definitely get stuck in your head.
We Are Lady Parts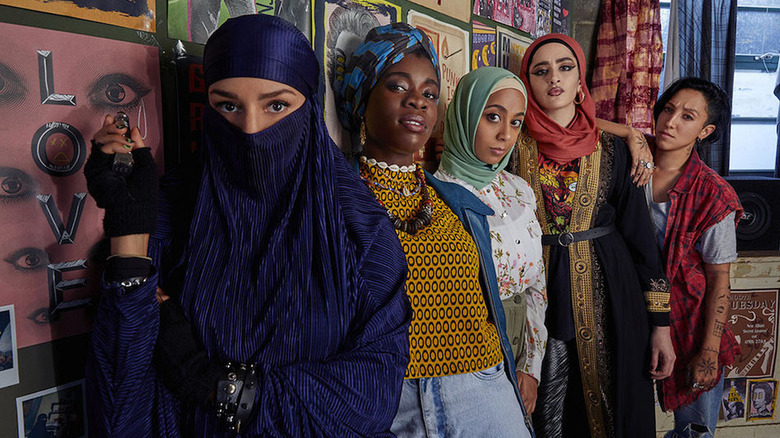 Laura Radford/Peacock
Like "Girls5Eva," "We Are Lady Parts" is a musical comedy on Peacock that focuses on a band made up entirely of women, but that's where the similarities end. The women of "We Are Lady Parts" are in a punk rock band and every member, as well as their manager Momtaz (Lucie Shorthouse), are practicing Muslims who see no conflict between their faith and their desire to shred through songs with provocative themes and lyrics. That is, until they enlist microbiology PhD student Amina (Anjana Vasan) as their lead guitarist. Amina is a virtuoso who's too scared to play in public and who, like her more traditional Muslim school friends, is driven by her desire to find a husband — something her involvement in the band often conflicts with.
The story is largely told from Amina's point of view, but the six-episode series also provides insights into the other band members and even Amina's parents. This enables the show to represent modern Muslims as a complex and diverse group while also commenting on the challenges of being a woman today. However, none of this is treated in a heavy-handed way; instead, the show stands out for being genuinely funny while frequently reveling in its punk rock sensibility.
Resident Alien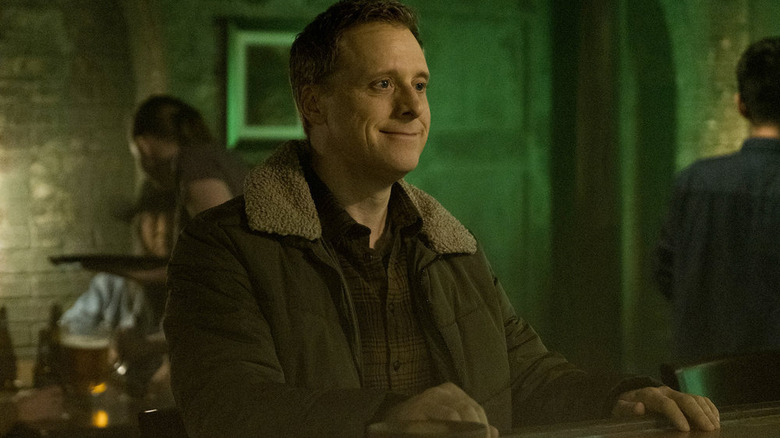 James Dittinger/Syfy
Alan Tudyk came to wide attention for playing Wash in "Firefly," and in 2021, he took on the role he was born to play: Harry Vanderspeigle, the lead character in Syfy's "Resident Alien." See, Harry isn't really Harry — he's an alien who crash-landed on Earth, killed the real Harry, assumed his face and body, and then took over his role as the local doctor in a small Colorado town. Yet while Harry can easily accomplish all that, the one thing he can't do is replicate real human emotions. Instead, he spends much of the series attempting to puzzle out social situations and learning what it is to be human, right down to people's messy, confusing relationships. None of this would work, however, without Tudyk's pitch-perfect performance.
There are plenty of fish-out-water stories, but with Tudyk leading the cast, "Resident Alien," which is based on the comic of the same name, becomes something special. It's a comically offbeat examination of the human condition that also bakes in plenty of touching and thought-provoking moments along with a mission for Harry that could spell doom for the new friends he's made on Earth.
WandaVision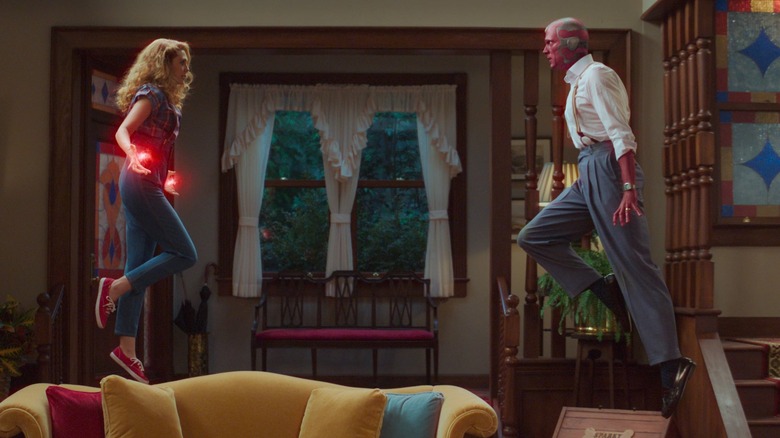 Marvel Studios
Marvel Cinematic Universe fans had been anticipating the rollout of shows focused on the movie franchise's beloved characters for well over a year when "WandaVision" finally debuted on Disney+ in early 2021. And while "The Falcon and the Winter Soldier," "Loki," and "Hawkeye" have all premiered since then, "WandaVision" still stands out from the rest for being one of the year's most creatively adventurous and deeply felt explorations of grief.
The show begins mere weeks after the events of "Avengers: Endgame" as newlywed superheroes Wanda Maximoff (Elizabeth Olson), aka Scarlet Witch, and Vision (Paul Bettany), an android who was killed during the events leading up to the film, move to the idyllic town of Westview, New Jersey. The first episodes of the series mimic sitcoms from the '50s, '60s, '70s, '80s, and '90s, going from black and white to color as the couple participates in small-town shenanigans. Yet while it's slow to establish itself, there's more going on in this story than there initially appears to be, and soon the show becomes a deep dive into Wanda's backstory and immense magical powers as well as an exploration of trauma and grief.
While some fans were initially frustrated with the series' slow burn, its scope is ambitious and its approach is undeniably unique. Even more impressive, it manages to balance a meaningful story, tropes from over 50 years of TV, and superhero showdowns while setting up the next MCU movie featuring Wanda, "Doctor Strange in the Multiverse of Magic."
Invincible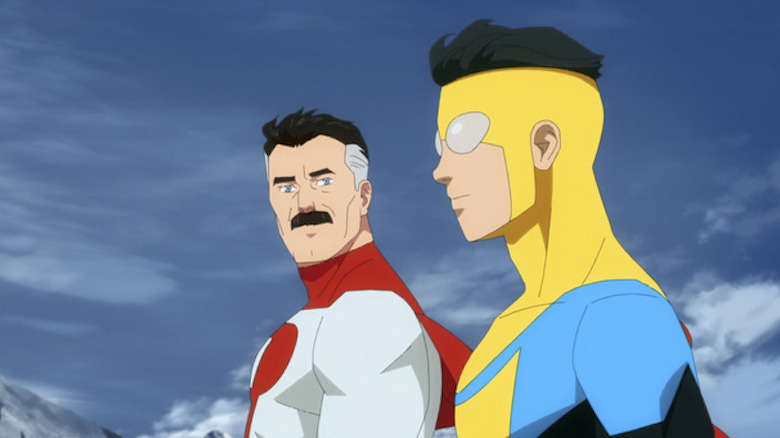 Amazon Studios
Superheroes dominate today's TV and movies, so it's rare that a new superhero story stands out. However, with crisp animation, a penchant for violence, and a take on the superhero genre that alternates between familiar and subversive, Amazon Prime Video's "Invincible" managed to become the talk of the cultural zeitgeist when it premiered in March.
The story revolves around Mark Grayson (Steven Yeun), the 17-year-old son of a human, Debbie (Sandra Oh), and a superpowered Viltrumite, Nolan (J.K. Simmons), who also happens to be Omni-Man, Earth's most powerful superhero. Shortly after the show begins, the moment Mark's been waiting for finally happens: his superpowers start to develop. The series follows his adventures as he trains with his father, is given a super-suit, and chooses to call himself Invincible, while he also discovers the pleasures and pressures of being a superpowered hero.
Based on the comic book of the same name co-written by the show's creator Robert Kirkman, "Invincible" made a splash with a killer twist at the end of its first episode and kept the story moving along from there. In addition to its superhero elements, "Invincible" includes notes of teen drama, alien invasion mystery, and domestic thriller, and all of it is brought to life with impressive voice performances from a starry cast and vibrant animation that is interesting to look at and easy to follow, making the series a must-watch for superhero fans looking for something different.
The White Lotus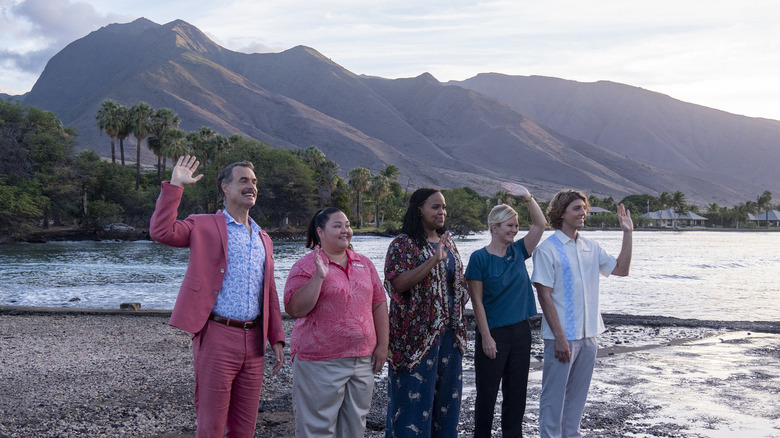 Mario Perez/HBO
For the six weeks it was broadcast on HBO, "The White Lotus" became the talk of the summer TV season. Written and directed by Mike White and starring a cast chock full of noteworthy names including Connie Britton, Jennifer Coolidge, and Steve Zahn, the show follows the actions and interactions of the guests at the title resort in Hawaii and the staff who serve them during a week-long stay. This leads to an examination of privilege in all its forms and the ways it impacts each character, from the supposedly "woke" college students to a clueless boomer.
The clash between the resort's haves and have-nots sets up juicy drama and frequently uncomfortable comedy as the power dynamics between characters shift and reset in sometimes unexpected ways. "The White Lotus" starts with a flash-forward to the week's end that indicates not everyone makes it out of their vacation alive; ultimately, though, it's the stellar cast and the characters' often unsettling relationships that make the show worth checking into.
Yellowjackets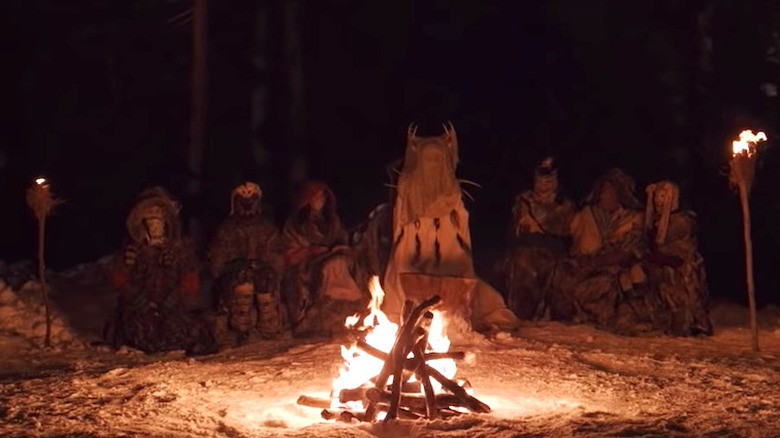 Showtime/YouTube
Many shows have tried and failed to become the "next 'Lost.'" Showtime's "Yellowjackets" may be the exception. The show unravels on two timelines: In the 1990s, a plane carrying the titular girls' championship soccer team crashes in the wilderness, leaving those who survive stranded for 19 months; in the present day, four of the women who made it out alive attempt to live their lives while keeping the secret of what happened while they were stranded, even as they each receive a mysterious postcard that seems to indicate someone else knows the truth about what they did.
The '90s timeline starts as pure teen drama, but once the team crashes, it turns into a horrific "Lord of the Flies"-like scenario. Meanwhile, in the present day, the characters attempt to figure out who is behind the postcards they received while maintaining the appearance of normalcy. Led by an excellent Melanie Lynskey as the adult version of the character Shauna, a woman whose guileless exterior hides a dark side, the show's cast includes Juliette Lewis and Christina Ricci, actors who were especially popular in the '90s, as well as a fantastic '90s soundtrack that both evokes the time period and works with the intense plot.