Burt Ward Pays Tribute To Adam West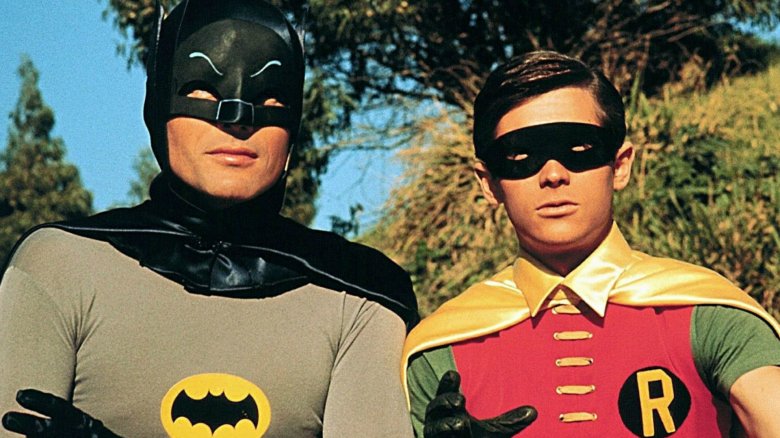 20th Century Fox
Although Burt Ward and Adam West only worked together for a brief time on the '60s Batman series, Ward said the pair forged a bond that transcended their onscreen personas.
West sadly passed away June 9 after a brief battle with leukemia, and Ward—the Robin to his Batman—penned a heartfelt tribute for The Hollywood Reporter.
He said he met West during a screen test for Batman, which ran from 1966 to 1968 and was spun off into a movie, and they quickly became friends. Ward also revealed that he soon learned to play off of West's distinct acting style.
"He was very debonair and suave, kind of almost British. But he had a unique delivery," Ward wrote. "In some ways, Adam was a little difficult for other actors to get used to because he had a stilted speech. He would say, 'Okaaay, Robin' in a way that could throw you off balance. But I realized he was playing a game. He understood that this was a 30-minute show, so if he talked slowly, the camera would have to be on him for 29 minutes. Sometimes in a scene, he would turn unexpectedly off his position and walk right up to the camera and completely block me out of the scene. After a couple of times, I learned to just sneak up under his cape and get in front of him."
Ward, who last saw West about two weeks earlier when they traveled to the East Coast together for an autograph show, also said West never regretted taking the role of Batman, which later prevented him from getting other roles.
"People always asked Adam if he felt like he'd been typecast, if Batman had hurt his career. But I know he loved it. He loved being a star. After the show became such a hit, he got offered everything. They offered him Bond but he turned it down. He thought Bond should be played by a Brit... We both looked at it this way: You take a glass and you fill it to the top. You can either fill it with a bunch of different movies or fill it with one huge success that makes people around the world love you and want to shake your hand. Adam filled his glass with the adoration of the world."
Other celebrities also shared their thoughts on West's passing. Julie Newmar, who played Catwoman on the Batman series, said he was "stellar, exemplar, a king to the end." 
West, Ward, and Newmar recently voiced their characters again in the animated feature Batman: Return of the Caped Crusaders, released last October.
Take a look back some of the other actors we've already lost this year.