Stars React To Adam West's Death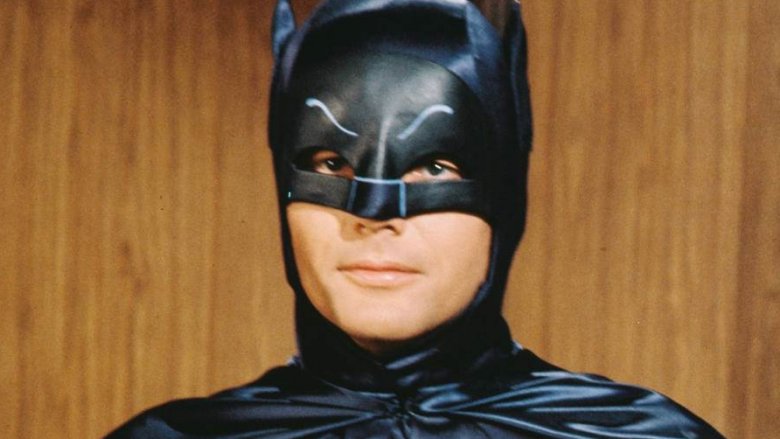 CBS
Adam West, the actor who brought Caped Crusader to a newer, brighter light in the 1960s Batman series, passed away at the age of 88. After West's passing, his spokesperson called him a "true American icon and beloved father and husband" who will be "dearly missed by his family, friends, and millions of fans around the world" (via The Hollywood Reporter). 
That statement undoubtedly rings true, as West's co-stars, family, and friends, as well as industry executives and creatives who simply admired his work have taken to social media to honor his memory. 
Julie Newmar, who starred as Catwoman alongside West on Batman, issued a statement (via THR) after the news of West's death broke. "Stellar, exemplar, a king to the end. He was bright, witty and fun to work with. I will miss him in the physical world and savor him always in the world of imagination and creativity. He meant so much to people." 
Family Guy writer David Goodman tweeted a picture of West with the caption, "RIP Adam West.  Great, sweet, nutty guy. And it's saying something that we look the same age in this photo." On the official Adam West Twitter account, the West family said, "Our beloved AW passed away last night. He was the greatest. We'll miss him like crazy. We know you'll miss him, too."
Silicon Valley actor Kumail Nanjiani remembered West's influence: "RIP Adam West. First person I saw who was funny, badass & cool all at once." Actor, comedian, and writer Michael McKean tweeted, "Farewell, Adam West." Charmed star Alyssa Milano shared a video of West in his Batman days and said, "Rest in peace, Adam West." Director of the upcoming movie Baby Driver Edgar Wright wrote a heartfelt tweet: "Farewell Adam West. You were MY Batman. Such a super funny, cool, charismatic actor. Loved the show as a kid, still love the show now. POW!"
Comedy writer Stephen Glickman wrote, "So sad to hear about the passing of Adam West. Such a huge loss today. He was a legend. The greatest Batman of all time." Gotham actor Robin Taylor Lord expressed his gratitude for the DC character who came before him: "Gotham City has lost a legend. Adam West was every bit as gracious and loving in person as you'd expect." Actress Jamie Lee Curtis was heartbroken at the news: "Holy heartbreak, Batman. Adam West was a big part of my childhood. We were acquaintances in my adulthood. A wonderful man who will be missed."
Lord of the Rings alum Elijah Wood stated he loved West in roles even outside the Caped Crusader. "Sad to hear of Adam West's passing. A legend as Batman but also [as] Ty Lookwell," he wrote in a tweet. Author Neil Gaiman looked back fondly on the time he met West, addressing the late star personally in a post on Twitter. "Rest in peace, Adam West. We met once in 1987 and I was too embarrassed and too foolishly 'cool" to tell you what you meant to my childhood," Gaiman said. The Big Bang Theory executive producer Bill Prady shared a snap of him and West with simple and sweet caption, "So long, old chum."
Batman superfan and all-around comics nerd Kevin Smith wrote a lengthy, sentimental statement on Instagram in light of West's death: "Oh Batman, my Batman! I'm standing on my chair to honor Adam West, the man whose portrayal of costumed justice made me wanna be a good person when I was a boy. The Adam West Batman was my first Batman at age four. His performance was campy to most, but to me, that's how true heroes spoke. A lifelong love of the character started with Mr. West's interpretation of what he called, instead of the Dark Knight, the Bright Knight... Farewell, Caped Crusader. Off to Superhero Heaven you go, where all your rascally rogues are ready to see you again! Atomic batteries to power. Turbines to speed. Heart to broken."
Burt Ward, who played the Robin to West's Batman, issued his own touching statement (via Variety). "I am devastated at the loss of one my very dearest friends. Adam and I had a special friendship for more than 50 years. We shared some of the most fun times of our lives together. Our families have deep love and respect for each other... This is a terribly unexpected loss of my lifelong friend. I will forever miss him. There are several fine actors who have portrayed Batman in films. In my eyes, there was only one real Batman that is and always will be Adam West. He was truly the Bright Night."
RIP Adam West. Great, sweet, nutty guy. And it's saying something that we look the same age in this photo. pic.twitter.com/9TNNm3cy5c

— David Goodman (@DavidAGoodman) June 10, 2017
Our beloved AW passed away last night. He was the greatest. We'll miss him like crazy. We know you'll miss him too – West Family pic.twitter.com/8bkEq1C2ao

— Adam West (@therealadamwest) June 10, 2017
RIP Adam West. First person I saw who was funny, badass & cool all at once.

— Kumail Nanjiani (@kumailn) June 10, 2017
Farewell, Adam West.

— Michael McKean (@MJMcKean) June 10, 2017
Rest In Peace, Adam West. 🦇 https://t.co/eFbdRPm8n6

— Alyssa Milano (@Alyssa_Milano) June 10, 2017
Farewell Adam West. You were MY Batman. Such a super funny, cool, charismatic actor. Loved the show as a kid, still love the show now. POW! pic.twitter.com/6QAZnOhtMs

— edgarwright (@edgarwright) June 10, 2017
So sad to hear about the passing of Adam West. Such a huge loss today. He was a legend. The greatest Batman of all time. #AdamWest pic.twitter.com/DBBnyNcK57

— StephenGlickman (@StephenGlickman) June 10, 2017
Gotham City has lost a legend. Adam West was every bit as gracious and loving in person as you'd expect. @therealadamwest

— Robin Lord Taylor (@robinlordtaylor) June 10, 2017
Holy heartbreak Batman. Adam West was a big part of my childhood. We were acquaintances in my adulthood. A wonderful man who will b missed.

— Jamie Lee Curtis (@jamieleecurtis) June 10, 2017
Sad to hear of Adam West's passing. A legend as Batman but also, Ty Lookwell https://t.co/BtEBu6uH49

— Elijah Wood (@elijahwood) June 10, 2017
Rest in Peace Adam West. We met once in 1987 and I was too embarrassed and too foolishly "cool" to tell you what you meant to my childhood.

— Neil Gaiman (@neilhimself) June 10, 2017
So long, old chum. pic.twitter.com/dchXeF0aVG

— Bill Prady (@billprady) June 10, 2017