Nathan Fillion, Tony Hale Cast In A Series Of Unfortunate Events Season 2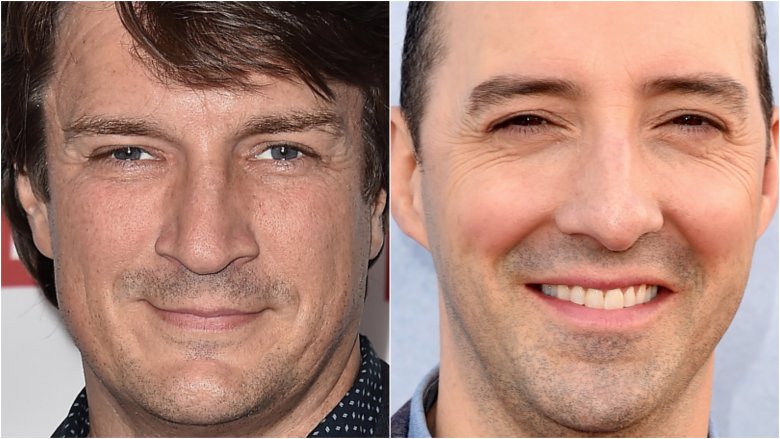 Getty Images
A handful of actors will bring more misfortune to one of Netflix's most beloved originals.
Variety reports that Castle star Nathan Fillion and Veep actor Tony Hale have been cast in the second season of Lemony Snicket's A Series of Unfortunate Events. 
But that's not all: Sara Rue (Rules of Engagement, Dorfman in Love), Lucy Punch (Hot Fuzz, Into the Woods), and Roger Bart (The Producers, Desperate Housewives) also join the Netflix show. No details on their characters have yet been dished up, but as the second season nears, we'll likely know more.
The five new cast members will act alongside series alum Neil Patrick Harris as Count Olaf, Patrick Warburton as Lemony Snicket, Malina Weissman as Violet Baudelaire, Louis Hynes as Klaus Baudelaire, Presley Smith as Sunny Baudelaire, and K Todd Freeman as Mr. Poe. Netflix confirmed the news at the Series of Unfortunate Events panel discussion during an event held at Netflix's FYSee space in Los Angeles. 
Based on the best-selling book series penned by Lemony Snicket (the pseudonym of author Daniel Handler), Lemony Snicket's A Series of Unfortunate Events follows the three Baudelaire children, orphaned after a house fire destroyed their mansion and killed their young parents, as they attempt to bypass their corrupt uncle Count Olaf (Harris) looking to secure their inheritance for himself. 
An announcement trailer for A Series of Unfortunate Events season 2 was released a few months ago, and it promises even grimmer circumstances for the Baudelaires. 
"To my horror, Netflix has been encouraged by this, and funneled their ill-gotten gains towards a second season of this unhappy and unnerving series," the clip says. "Even as we speak, set builders, costume designers, and trauma specialists are snapping into action, the better to bring you even more upsetting episodes, all because of your repeated enthusiasm for this grim example of so-called family programming. I hope you're happy. Because you won't be, ever again."
The show's second season is currently underway, and Netflix has already confirmed a third season, but no set release date has been announced. As we wait to find out more, discover how the cast of A Series of Unfortunate Events should really look.