Stranger Things Soundtrack To Be Released On Cassette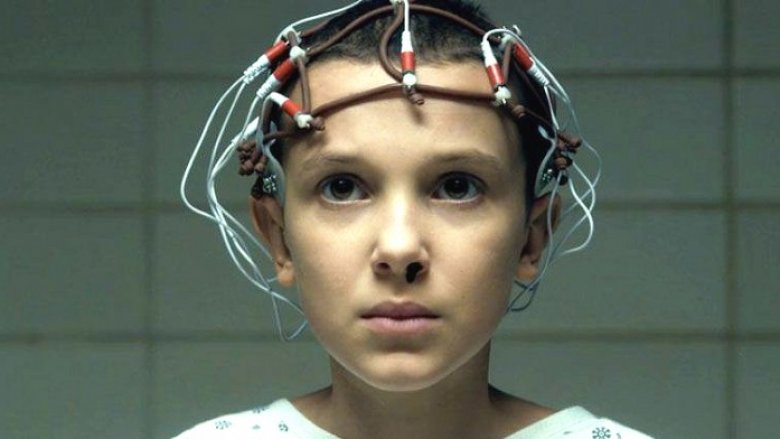 Stranger Things' soundtrack is getting a fittingly retro release. Pitchfork reports that the show's soundtrack will get a cassette tape release this summer in honor of the series' one year anniversary.
Both volumes of the soundtrack will be released on a red cassette held in a case designed to look like a VHS tape, which also comes complete with a cardboard sleeve with Stranger Things artwork. The soundtrack was composed by Michael Stein and Kyle Dixon, of the band Survive; the pair's score was designed to honor and represent the show's 1980s setting while also emphasizing its creepy themes.
Stranger Things season two will pick up on Halloween in 1984, almost a year after the events of the first season. As Noah Schnapp's Will Byers deals with a type of PTSD and the other sinister repercussions from his time in the Upside Down, David Harbour's Hopper tries to keep the events of the first season under wraps. While plot details have been kept mostly hidden, the stars and behind-the-scenes crew have nothing but good things to say about the upcoming second batch of episodes, which the cast says will be "darker" and "more horror oriented" than the first. Showrunners Ross and Matt Duffer also teased that the season will introduce the show's main villain, with the threats introduced continuing to affect Hawkins beyond just this season. 
The season, which will debut on Halloween, will also introduce a number of new characters, including Sean Astin as a former high school nerd and the new boyfriend of Winona Ryder's Joyce; Paul Reiser as a high-ranking member of the Department of Energy who now runs the lab; and Linnea Berthelsen as an emotionally damaged woman with a connection to the supernatural events in the lab. Will Chase, Sadie Sink, and Darce Montgomery fill out the new cast. 
The soundtrack cassette tapes will be available on July 14 via Lakeshore and will be sold exclusively at Urban Outfitters stores. (No pricing information has been released yet.) While we wait, read up on the untold truth of the show.