DuckTales Reboot Characters, Plot Revealed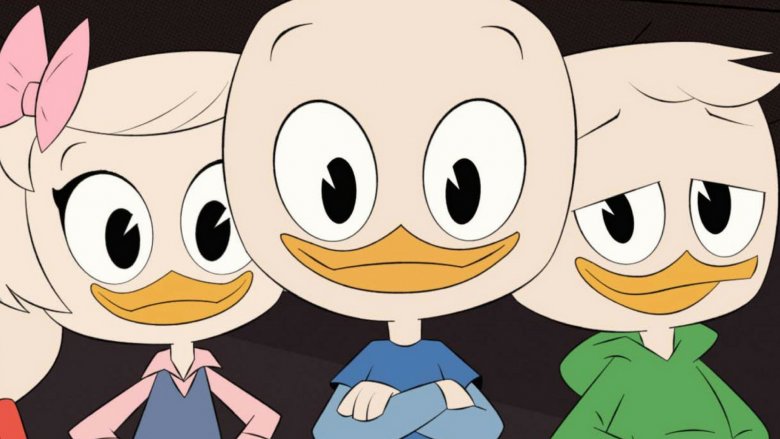 Get ready for a whole new set of Duckburg adventures. Entertainment Weekly has released new details and photos from the upcoming Disney XD DuckTales reboot, revealing co-producer Francisco Angones' plans to update the series while still keeping it familiar and engaging for fans of the original. 
The new season will feature a greater focus on Donald Duck (Tony Anselmo), with the character described as a single parent who is obsessive and a little bit overprotective when it comes to caring for his boys. While the series will mostly stick with the adventure-of-the-week concept, a season-long plot line will investigate a falling out between Scrooge (David Tennant) and Donald Duck, with the two former adventurers not even speaking at the start of the show. "Huey, Dewey, and Louie don't even know that the richest duck in the world and this legendary explorer is their great uncle," Angones says. 
However, that will all change when Donald makes the tough decision to move his family in with Scrooge at the start of the series. This is when the show will begin to put an increasing focus on the characters as "a big blended family of adventurers," with the ultimate product feeling like a combination of Arrested Development and Indiana Jones, according to Angones.   
Part of this new focus on the family dynamic will come in characterizing Huey, Dewey, and Louie, voiced by Danny Pudi, Ben Schwartz, and Bobby Moynihan, with their names defining their birth order– and that defining their traits. "So, Huey's the oldest, a little more responsible, a little bit brainy," Angones said. "Dewey wants to stand out, and wants to break out of being labeled as just one of a set of three. And Louie is happy being the youngest child— he can slip under the radar."
A new child getting increasing screen time is Webby (Kate Micucci), Scrooge's "neice-by-affection." Webby will get "a stronger and more unique voice" than she ever had in the past, with Angones adding that she will now be a crucial part of the adventuring team. "If Huey has Scrooge's brains, Dewey has Scrooge's guts, and Louie has Scrooge's love of treasure, Webby has Scrooge's heart," he said.
Angones said they have made some changes to Scrooge's characterization, with Scrooge, in his mind, working more as the Batman of the story, more obsessed with adventure than gold. His Catwoman will come in the form of Allison Janney's Goldie O'Gilt. "She's equally adventurous, every bit Scrooge's equal, and he hates and loves that," Angones said. "They have this amazingly contentious relationship that's been going on ages and ages, spanning back to the Gold Rush days." Scrooge will also have to contend with his pilot Launchpad McQuack (Saturday Night Live's Beck Bennett), his mad scientist Gyro Gearloose (Community's Jim Rash), and Gyro's intern Fenton (Lin-Manuel Miranda), also known as local hero Gizmoduck.
Scrooge and Donald Duck will be united by a common enemy in Paul F. Tompkins' Gladstone Gander, a "supernaturally lucky" character who the two can easily come together to hate. Another of the series' villains will come in Margo Martindale's Ma Beagle and the Beagle Boys (Eric Bauza), who actually look (at least a bit) like dogs this time. 
Scrooge will also have to face off with his rival, Flintheart Glomgold (Keith Ferguson), who Angones said made his fortune from "branding and getting his face on every storefront." "An in-joke we had for him was that originally in the comics, he was South African, and then they made him Scottish in [the original] DuckTales, so we really leaned into that and decided that when Glomgold saw that Scrooge was a Scottish billionaire, he decided to be the cheap knock-off," Angones added. "More Scottish and even richer."
A new addition to the cast comes in Josh Brener's Mark Beaks, a more modern billionaire who made his money from the tech industry. However, it turns out that Mark doesn't care all that much about money anyway, but is more concerned with his status and "being buzzworthy." "Josh Brener was so incredibly on all the time, selling and pitching," Angones said of the Silicon Valley star. "He's a character who's so broad and over the top, you love to be annoyed by him."
The DuckTales reboot, which has already been renewed for season two, will premiere on Disney XD in August; while we wait, read up on the untold truth of the show.