Black Panther Confirmed For Avengers: Infinity War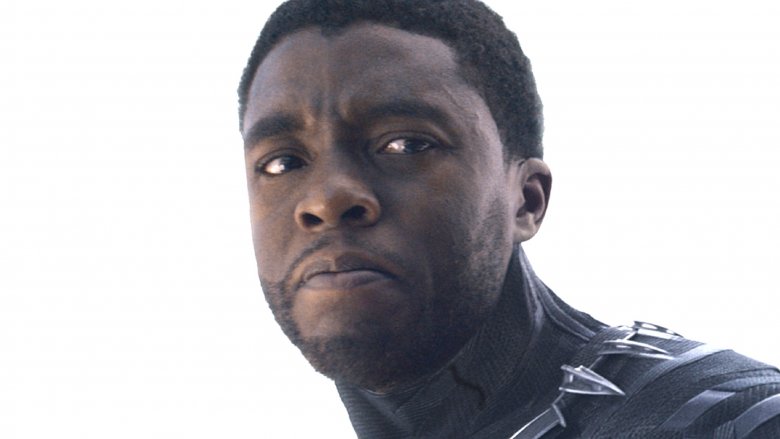 T'Challa will team up with all of your other favorite superheroes in Avengers: Infinity War. Although it was assumed that the character, who debuted in Captain America: Civil War and will get his own standalone film Black Panther in February of 2018, would make an appearance, star Chadwick Boseman recently confirmed it by posting a video from the set. He captioned the video, which shows his chair next to those of Black Widow and Captain America, "Here we go..." 
Boseman wrapped filming on Black Panther a couple months ago. The film, which takes place after the events of Civil War, follows T'Challa after he returns to the isolated, technologically advanced African nation of Wakanda to take his place as king. However, when an old enemy reappears on the radar, T'Challa's mettle as king and Black Panther is tested when he is drawn into a conflict that puts the entire fate of Wakanda and the world at risk. Lupita Nyong'o will play Nakia, a member of T'Challah's personal guard and Michael B. Jordan will play villain Erik Killmonger, while Martin Freeman and Andy Serkis reprise their roles as Everett Ross and Ulysses Klaude, respectively. Forest Whitaker, Angela Bassett, Danai Gurira, Sterling K. Brown, and Daniel Kaluuya also star. Ryan Coogler directs based on a script he co-wrote with Joe Robert Cole.
Black Panther has already received a lot of buzz, with Marvel Studios head Kevin Feige describing the film's cast as the "highest class" they have ever recruited. The film also got positive reactions from reporters after screening gritty footage a few months ago. With T'Challa's positive reception and with the huge cast being assembled for Infinity War, it isn't surprising to see that Boseman has joined the cast of the upcoming team-up film; still, knowing for sure is certainly exciting when it comes to picturing the character's future in the busy MCU.
Avengers: Infinity War, directed by Joe and Anthony Russo based on a script from Christopher Markus and Stephen McFeely, is due out on May 4, 2018.
Here we go... #BlackPanther #InfinityWar pic.twitter.com/T4UDl5cR0s

— Chadwick Boseman (@chadwickboseman) June 8, 2017