The Pixar Movie That Made The Least Money In Theaters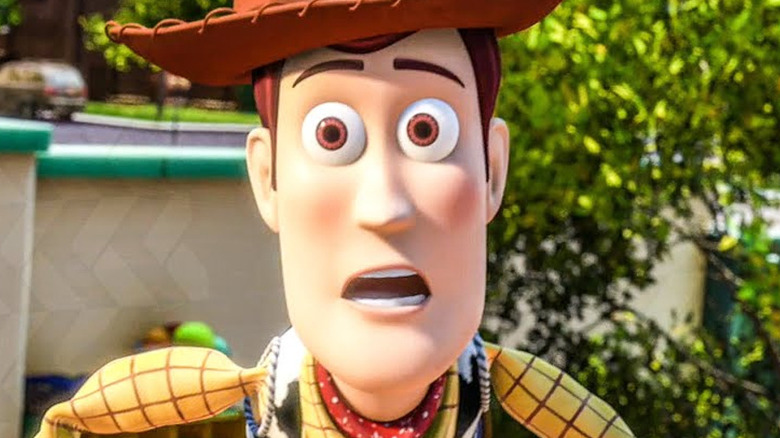 Disney/Pixar
After years of cleaning up at awards shows — including 11 Academy Award wins for best animated feature (via The Hollywood Reporter) — it's safe to say that Pixar is a titan among animation studios. In the last decade, Pixar has solidified its status partially through its critical success, with films earning an average critical rating of 92% on Rotten Tomatoes. The Disney-owned studio has released 23 feature films to date, including the top-grossing "Toy Story," "Finding Nemo," and "The Incredibles" franchises. Of those movies, only "Cars 2" holds a less-than-fresh Tomatometer rating of 49%.
What's the recipe for Pixar's nonstop critical success? In addition to pioneering breakthrough visual technology, the company is known for nurturing a collaborative creative process that privileges the raw material of bold, unconventional ideas over tried-and-tested formulas. As Pixar co-founder Ed Catmull writes in his 2014 memoir, "Creativity Inc.": "Originality is fragile. The world is often unkind to new talent, new creations. [...] Our job is to protect our babies from being judged too quickly. Our job is to protect the new" (via Forbes). 
Ironically, this commitment to originality has, over time, been distilled into a reliable blueprint for producing runaway successes that trade on heartstring-plucking nostalgia and madcap fun. The Pixar canon openly indulges fanbases of all ages by using zany concepts (toys coming to life, the monster under your bed, sentient emotions) to excavate tear-jerking life lessons about growing up.
Besides its reputation for turning out critically acclaimed pics, Pixar has achieved staggering financial success with an average worldwide box office revenue of $587 million, per The Numbers. However, this year, there was one exception that proved the rule. As the COVID-19 pandemic made theatergoing increasingly tricky, Pixar's latest release fared unusually poorly at the box office. 
Pixar's lowest-grossing film was released in 2021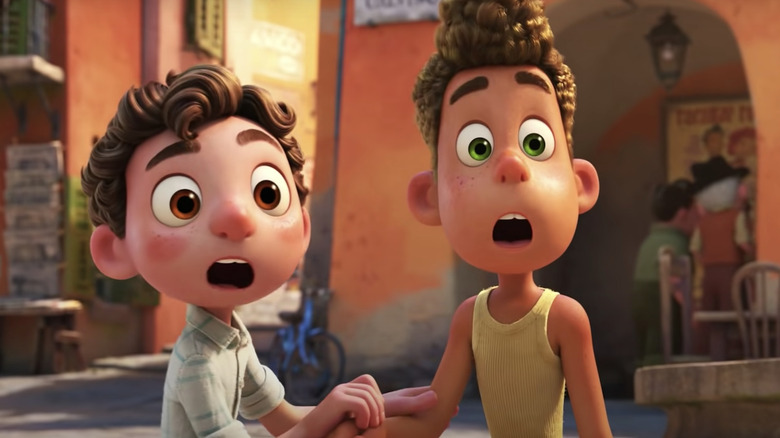 Disney/Pixar
The lowest-grossing Pixar film to date is "Luca," which was released on Disney+ in June 2021. It follows the exploits of a young sea monster (voiced by Jacob Tremblay) who dreams of a life on dry land, much to the consternation of his parents (Maya Rudolph and Jim Gaffigan), who historically have distrusted human beings. While scoring a rating of 91% on Rotten Tomatoes, "Luca" withered on the box office vine. Worldwide box office grosses vary for this film, with The Numbers reporting a total of approximately $40.7 million and Box Office Mojo noting a total of $49.8 million.
It may be easy to blame COVID-19 for "Luca's" commercial flop status. Its direct-to-streaming release on Disney+ makes it difficult to assess how many viewers actually tuned in to watch "Luca." However, the movies Pixar released at the height of the pandemic — "Soul" and "Onward" in 2020 — both earned much more at the worldwide box office than "Luca."  
Despite its critical success, as evidenced by its Rotten Tomatoes rating, not all reviewers believed that "Luca" had the creative chops to stand among its peers. Though RogerEbert.com praised it for its "visual splendor," it faulted the movie for its predictability and noted the been-there-done-that premise that can be traced back to Disney's "The Little Mermaid." While The Guardian gushed about the undeniable charm of "Luca," they wrote that it "lack[s] some of the dizzying inventiveness that marks out top-tier Pixar." The New York Times noted the familiar, at times derivative, thematic ground it treads, pitting the film against other deep-sea animated smash hits like "Moana" and "Finding Nemo."
Despite the fiscal failures of its source material, Disney+ released a spinoff sequel short titled "Ciao Alberto," chronicling the adventures of Luca's thrill-seeking best friend, Alberto (Jack Dylan Grazer), in November.