Warner Bros. Confirms What We All Suspected About Priyanka Chopra's Character In The Matrix Resurrections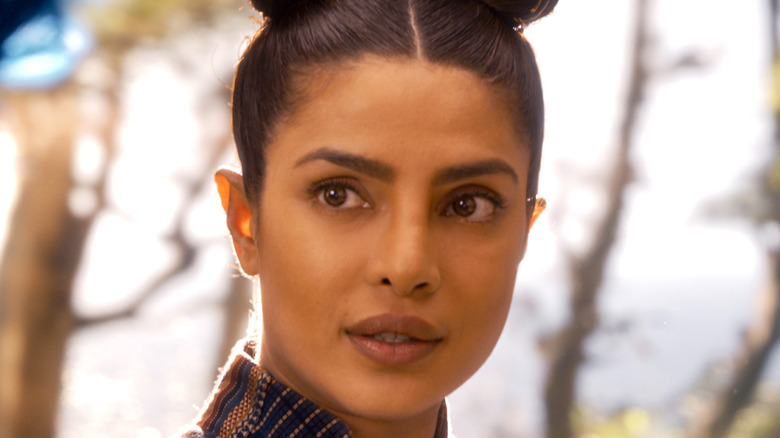 Courtesy of Warner Bros. Pictures
When audiences around the world are finally returned to "The Matrix" later this month, there will be quite a few familiar faces. However, in addition to the return of Neo (Keanu Reeves), Trinity (Carrie-Anne Moss), Niobe (Jada Pinkett Smith), Agent Johnson (Daniel Bernhardt), and Merovingian (Lambert Wilson), there are also a number of new actors and actresses joining the franchise for the very first time. Yahya Abdul-Mateen II, Christina Ricci, Jessica Henwick, Priyanka Chopra Jonas, Jonathan Groff, and Neil Patrick Harris will also appear in "The Matrix Resurrections" (via IMDb).
The first two official trailers for the upcoming film have teased plenty of new details and appear to suggest that Abdul-Mateen, Ricci, and Groff are playing slightly different versions of Morpheus, Trinity, and Agent Smith. In the original trilogy, these characters were portrayed solely by Laurence Fishburne, Carrie-Anne Moss, and Hugo Weaving. Meanwhile, Henwick and Harris appear to be playing entirely new characters. However, there have been plenty of questions about the character set to be played by Jonas. 
Now, after much speculation, Warner Bros. has finally revealed exactly who Jonas is playing in the upcoming film and it's a name that long-time fans of "The Matrix" franchise will surely recognize.
Priyanka Chopra Jonas is Sati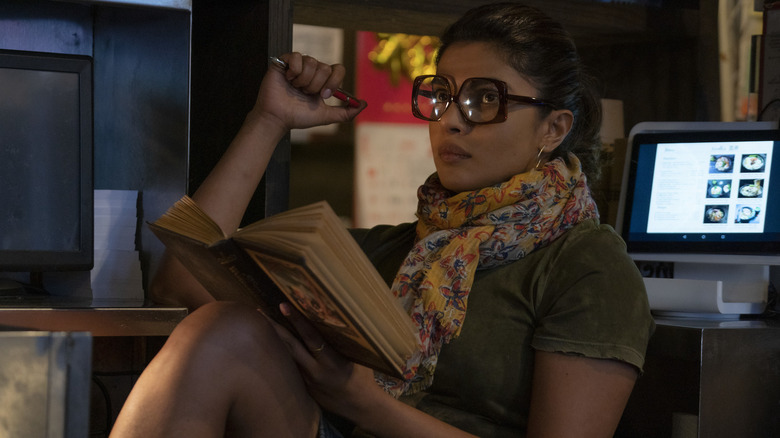 Murray Close/Warner Bros. Pictures
According to notes published by Warner Bros. in the press kit for "The Matrix Resurrections," Priyanka Chopra Jonas will play an adult version of Sati, the young girl previously played by Tanveer K. Atwal in "The Matrix Revolutions" (via IMDb). The Warner Bros. press kit further describes Sati as "a young woman with a wisdom that belies her years and an ability to see the truth, no matter how murky the waters." Though there had been previous speculation about Jonas's character, the reveal in the press kit is the first official confirmation of her role.
Sati was last seen alongside the Oracle (Mary Alice) and Seraph (Collin Chou) at the conclusion of the original "Matrix" trilogy (via IMDb). In the final scene of "The Matrix Revolutions," the trio of characters welcome the sunrise on a new version of the Matrix, created shortly after the climactic battle between Neo and Agent Smith. In some of the final lines of dialogue spoken in the third film, Sati asks the Oracle if they will ever see Neo again. The Oracle replies simply, "I suspect so, someday."
"The Matrix Resurrections" will be released in theaters and on HBO Max on December 22.