The Hilarious Reason Tom Holland Put On Weight For Uncharted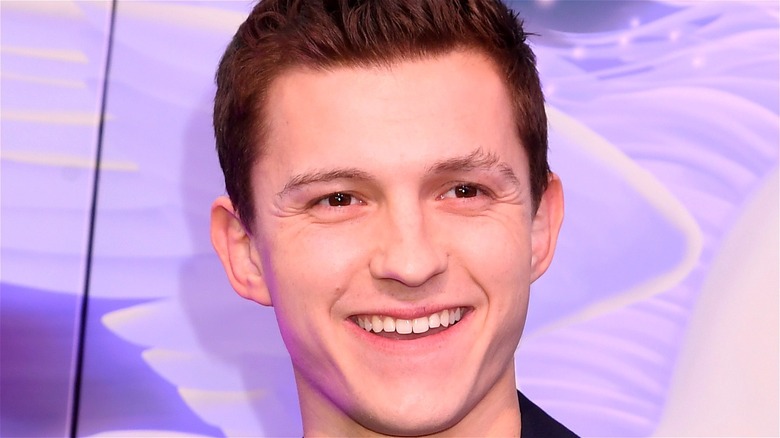 Dave J Hogan/Getty
It's not all that unusual for a film or television star to do a lot of training in order to bulk up for a particular role, especially when they're working within the action-adventure genre. We've seen the practice become especially common in the age of superhero movies, in which it behooves actors to try their best to replicate the action-figure physiques of their comic book counterparts. 
Tom Holland is presumably no stranger to this practice, having played a not-exactly-scrawny version of Spider-Man several times on the big screen. But, apparently, he felt he had to take it to the next level for his outing as Nathan Drake, the adventurer hero of the "Uncharted" video games who will soon make his live-action debut in the upcoming big-screen adaptation of the popular game series. Holland has already thrilled audiences with his take on the character, thanks to the first footage shared in the "Uncharted" trailer that was released in October.
Holland's desire to bulk up all had to do with a certain co-star of his in the new Sony movie film, and his desire not to be upstaged in the musculature department during the film.
Holland didn't want to look 'like a child' next to Mark Wahlberg
In an interview with Total Film (via Games Radar), Tom Holland noticed something wasn't quite right on his first day on the set of "Uncharted," when he met the man who will be playing Nathan Drake's faithful mentor Sully: Mark Wahlberg. As Holland put it, "When we went to set for the first time, I saw Mark Wahlberg, and Mark is massive. He is a unit ... I was in good shape, but I wasn't by any means big."
Fortunately for Holland, he had an opportunity to correct the disparity a bit, thanks to a halt in production due to the onset of the global COVID-19 pandemic in March 2020 (via Variety). During the hiatus, the actor said he focused on bulking up as much as possible. The reason for his bulking up is something he wasn't shy about sharing. Holland told Total Film that the "Uncharted" cast and crew went home for five months. During that time, he explained, "All I did was eat and train, eat and train, eat and train – to put a bit of timber on, to make me look not like a child next to Mark."
So, there you have it. If when you go see "Uncharted" in February 2022, you happen to notice that Holland looks a little bigger or more mature than you're used to, it wasn't by accident — and you have Mr. Wahlberg to thank for it.