The Real Reason Dwayne Johnson Initially Hated His Black Adam Costume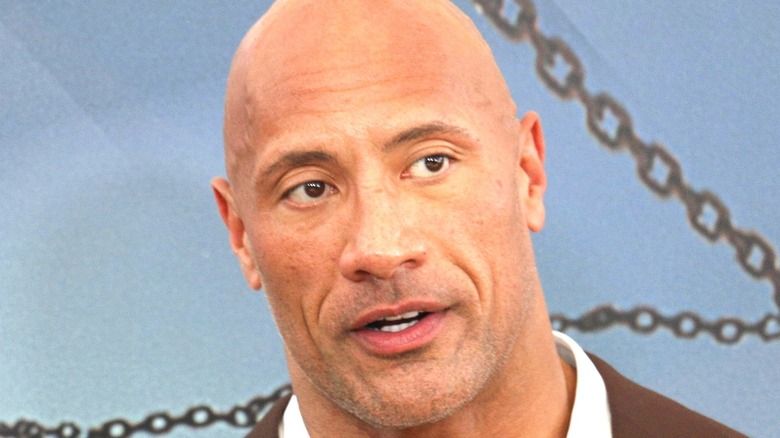 Tinseltown/Shutterstock
Dwayne "The Rock" Johnson is one of the most popular movie stars working in Hollywood at the moment. However, while he's lent his talents to some major franchises and blockbuster adventures over the course of his career, he's also one of the few major stars who resisted the allure of the Marvel and DC superhero universes for many years. Of course, it was only a matter of time before the former WWE superstar donned spandex and showed up to wield some superpowers on the big screen.
Indeed, Johnson is now set to play the titular character in DC's "Black Adam," the "Shazam!" spin-off about a villain-turned-antihero who embarks on a new adventure after being imprisoned for 5,000 years. Little is known about the film's plot at the time of this writing, but the movie is an origin story that will undoubtedly lead to Black Adam crossing paths with Shazam (Zachary Levi) sometime down the line.
DC Comics readers have only been treated to some brief "Black Adam" teaser footage so far, but both Johnson and his fans believe that the film's central antihero is the ideal role for him. That said, Johnson did encounter some problems while shooting the movie, especially when it came to his soon-to-be iconic costume.
Dwayne Johnson hated his original Black Adam costume
Dwayne Johnson was full of praise for the costume designers on "Black Adam," describing them as "the best costume-makers in the business" in a recent interview with Total Film. However, Johnson also admitted that it took him a little bit to fall in love with his outfit in the film. In fact, Johnson says he hated it at first.
"Everything was padded. So they immediately start tearing and cutting and ripping," Johnson revealed. "When I put that costume on the second time with no padding, just cut in a way where it was enhancing the work that I had put in — I felt... [like] I'm Black Adam."
Johnson went on to say that he came into "Black Adam" on the back of an intense workout regiment, one he did solely because he wanted to truly look the part for the movie. That also meant he needed a costume that complemented his naturally muscular physique. In other words, the A-lister really didn't need any padding to pull off his "Black Adam" look.
"Black Adam" is set to hit theaters on July 29, 2022.