Holiday Movies For People Who Hate The Holidays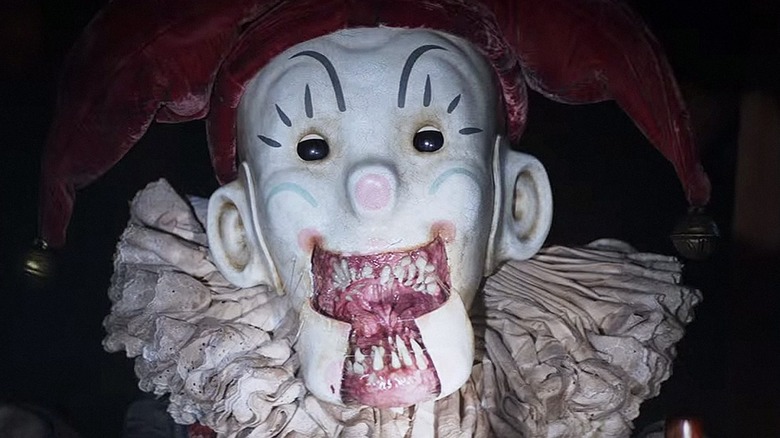 Universal Pictures
Not everyone loves holiday celebrations. Many holidays are stressful, but the winter holidays from Thanksgiving through the darkest part of the year ending with the New Year are especially challenging for some of us. Everyone who hates the holidays has a reason. (Some of us have more than one!) They range from seasonal depression to toxic family dynamics. Some of us spent too many years working retail and despise the crowds. Then there are those of us simply find the forced cheer nauseating — or introverts who resent the social expectations their friends and families place on their time and energy.
And then there are the movies. Some of us just can't stand the cheese that passes for entertainment, taking over screens each year starting around Thanksgiving. With streaming services, you don't have to watch holiday content anymore, but we all have a friend or family member who wants to get together and watch a movie fitting the holiday spirit. Don't despair — there are holiday movies that will appeal to even the most skeptical and jaded amongst us. So next time someone wants to watch a holiday movie with you, might we suggest something from the following list of Christmas adjacent films? If all else fails, you can entertain yourself by arguing about what constitutes a holiday movie.
Black Christmas (1974)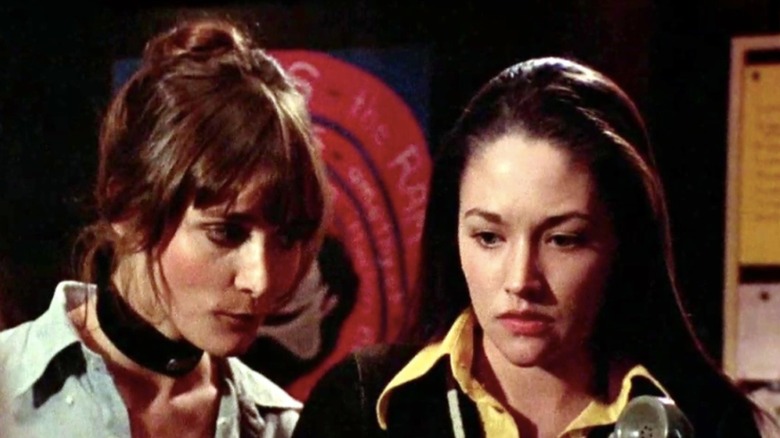 Film Funding Ltd. of Canada
Released in 1974, "Black Christmas" follows a group of sorority sisters celebrating the holiday together before leaving for winter break. The film begins with the girls receiving offensive phone calls, leading to them being hunted and killed by a deranged murderer named Billy. This film plays with POV, using sections filmed from the perspective of the murderer, as he climbs a trellis to enter the sorority house and as he watches his victims. This film leans into the fear created through anticipation, rather than the gore typically associated with slasher films. It moves at a slower pace than modern films, but has memorable characters and a feminist perspective.
"Black Christmas" has been remade twice, once in 2006 and again in 2019. The 2006 remake recast one of the original sorority sisters, Andrea Martin, as the housemother. The 2006 remake had more star power than the first film, casting actors whose faces are familiar from previous film and television roles. While this version of the film fleshes out the back story of Billy, it's the least feminist, and the goriest. The 2019 remake throws out the original story, keeping the setting and premise of sorority sisters being hunted at the start of winter break on their college campus while referencing the #MeToo movement by dealing with rape culture on college campuses.
Gremlins (1984)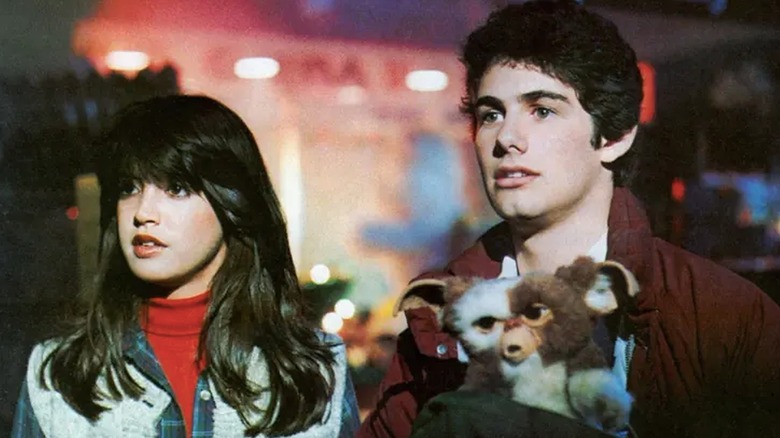 Warner Bros.
The 1984 hit "Gremlins" is a horror comedy that begins in a Chinatown where inventor Randal Peltzer (Hoyt Axton) buys an adorable fuzzy creature, called a Mogwai, for his son Billy (Zach Galligan). Mr. Peltzer is given three rules: keep it out of bright light, don't get it wet, and never feed it after midnight.
Predictably, all these rules are broken, creating the action of the film. When water is spilled on Gizmo by Pete Fontaine (played by Corey Feldman), Gizmo reproduces. These new Mogwai aren't mellow like Gizmo — they're mischievous, tricking Billy into feeding them after midnight and transforming into reptilian creatures known as gremlins. With dark humor and destructive mayhem, the gremlins trash the idyllic town of Kingston Falls.
Lynn (played by Phoebe Cates), Billy's coworker and love interest, is the character holiday haters identify with. Lynn reveals that she doesn't celebrate Christmas, telling Billy her father died attempting to crawl down the chimney pretending to be Santa Claus when Lynn was nine years old. "Gremlins" is a darkly funny, sometimes over the top film that literally trashes the spectacle of Christmas. Although it was criticized for gratuitous violence, it has become a Christmas classic even the holiday avoidant crowd can enjoy.
Scrooged (1988)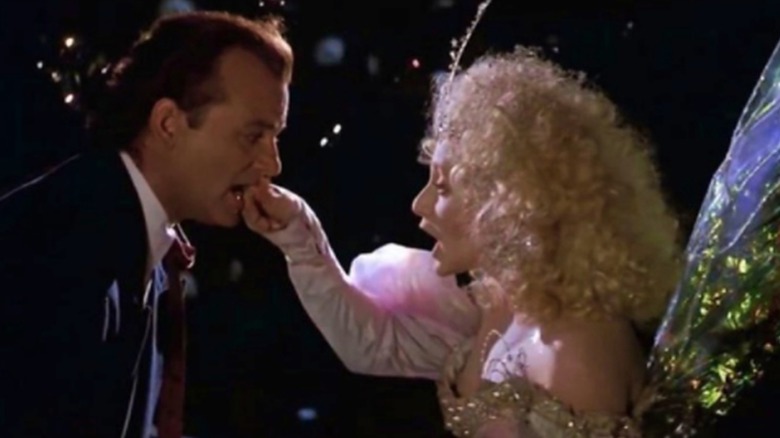 Mirage
"Scrooged" stars Bill Murray as Frank Cross, a cynical TV executive who embodies the miserly attitude of Scrooge from Charles Dickens' "A Christmas Carol." After he fires an employee on Christmas Eve, three ghosts visit Frank, forcing him to reflect on the mistakes he has made and giving him an opportunity to change his life. One might think this film being a retelling of the classic holiday story might disqualify it from a list of films for people who hate the holidays, but this couldn't be further from the truth. Scrooge is the ultimate bah humbug and the original holiday hater. How could those of us who hate the holidays not relate?
Bill Murray is as hilarious as one might expect, although "Scrooged" received its share of bad reviews, including a one-star review from Roger Ebert, who called it "one of the most disquieting, unsettling films to come along in quite some time." This is precisely why this film belongs on a list dedicated to those of us who have grown tired of having toxic positivity crammed down our throats each December. Frank Cross is our patron saint, reminding us that despite the holidays being horrible, we can still find humor in the season's absurdity.
Die Hard (1988)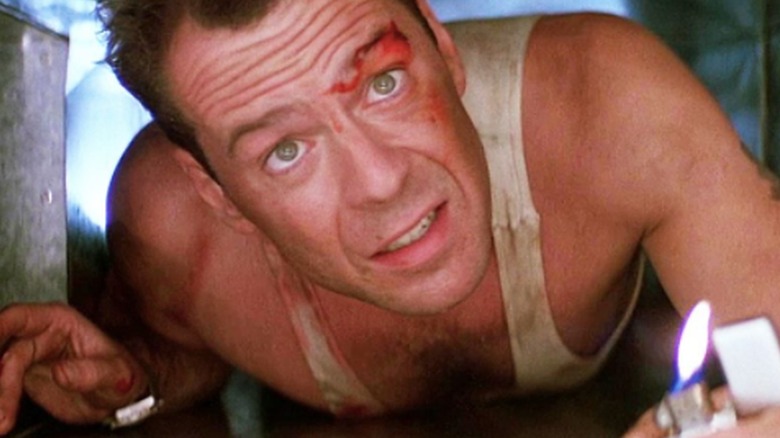 20th Century Fox
"Die Hard" has become the subject of many arguments about what makes up a holiday movie, but those of us who hate the holidays enjoy our contentious stance that "Die Hard" is a Christmas movie. The argument is hilarious because Christmas devotees invest so much energy into arguing why it isn't a seasonal movie, much like they keep trying to convince us we really should love Christmas.
For those who've been living under a rock since 1988, "Die Hard" was a surprise blockbuster, changing our expectations of action films and their heroes. It spawned a successful franchise, cementing Bruce Willis as a movie star. The plot centers on NY policeman John McClane, who flies out to Los Angeles to visit his estranged wife — starting at her company's Christmas party, held at their swanky offices in an unfinished high rise. Terrorists crash the party, and it falls to John to take on the bad guys, saving the hostages. Part of this film's charm is that it's an underdog story, and who doesn't enjoy rooting for an underdog — especially those of us who identify with McClane's sarcasm and cynicism?
National Lampoon's Christmas Vacation (1989)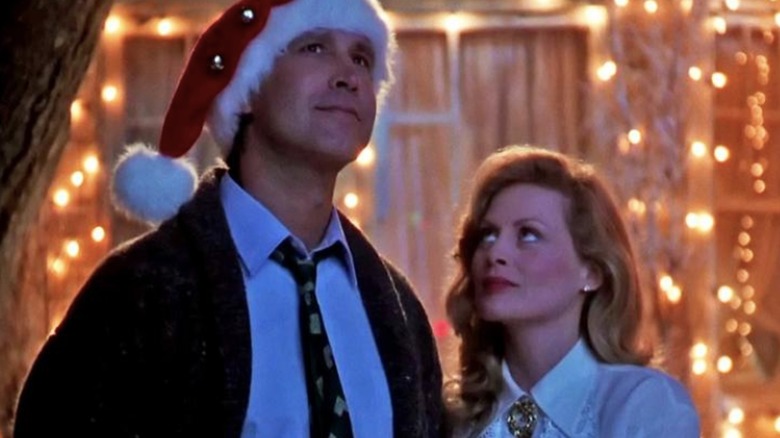 Warner Bros.
"Christmas Vacation" is the third installment in the "National Lampoon" series, focusing on the travails of the Griswold family. This holiday-themed movie finds its way onto our list by virtue of its over-the-top humor, much of which pokes fun at the absurdity of the traditions associated with Christmas. A film that recognizes how ostentatious Christmas celebrations have become appeals to viewers who hate the holidays, and "Christmas Vacation" gets much of its comedic fodder from the awkwardness of family members not getting along — and the arguments that ensue when everyone is stressed out from traveling and being cooped up together.
One fun aspect of watching older films is seeing younger actors who went on to become big stars. In "National Lampoon's Christmas Vacation," you can spot Johnny Galecki from "The Big Bang Theory" and "Roseanne" playing Russ, and Juliette Lewis in the role of Audrey Griswold. This one's always worth a watch if you feel like a Christmas classic that isn't sickly sweet.
Edward Scissorhands (1990)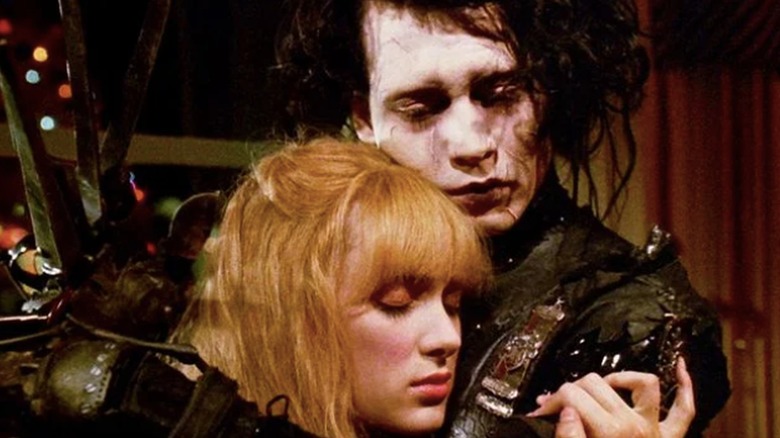 20th Century Fox
Tim Burton's "Edward Scissorhands" is a quirky modern fairytale with a gothic romance vibe and a terrific cast led by Johnny Depp in the title role and rounded out by Winona Ryder, Dianne Wiest, Anthony Michael Hall, Alan Arkin, and Vincent Price. It's a classic tale about a scientist who makes himself a son but dies before he can complete him — leaving gentle and artistic Edward with scissors for hands, alone in the crumbling gothic mansion where tenacious Avon saleslady Peg Boggs finds him and brings him home to the suburbs where she lives with her husband and two children.
Edward falls in love with Peg's teenage daughter Kim, but because of his unusual appearance, he's first treated as a local curiosity and then as an outcast. The movie references classics like "Pinocchio" and "Frankenstein," making viewers question who the monsters really are, and what defines our humanity. The story concludes during the holiday season, shortly after Edward creates a beautiful ice sculpture modeled after Kim, blanketing the backyard in snowflakes. "Edward Scissorhands" captures the nostalgic sweetness of holiday films, with none of the saccharine. If you love Tim Burton films and haven't seen this one yet, it can't be missed.
Batman Returns (1992)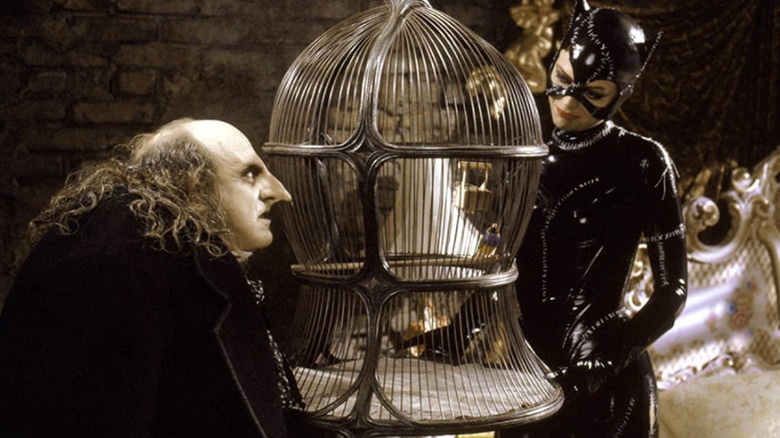 Warner Bros.
Following 1989's "Batman," "Batman Returns" is Tim Burton's second foray into the dark, crime-ridden world of Gotham City. Set in December leading up to Christmas, it boasts a star-studded cast that includes Michael Keaton, Michelle Pfeiffer, Danny DeVito, Christopher Walken; the story centers on dirty businessman Max Shreck, an underworld crime boss known as the Penguin, and the slinky Catwoman. An earlier entry in the Batman film franchise, this film has its own distinctive flavor and look.
The story begins with the lighting of the Christmas tree in Gotham City. Chaos erupts when the Penguin's cronies disrupt the ceremony, abducting Shreck and terrorizing the citizens. "Batman Returns" is critical of the greed and indulgence associated with Christmas, appealing to people who hate the holidays because of their negative feelings about consumerism, while Catwoman's creation from the murder of a timid and infantilized Selina Kyle, transforming her into a sexy and confident woman, carries a feminist edge for viewers who can't stomach another banal rom-com. If you love Burton's stylized filmmaking, this is a Christmas movie for you.
The Nightmare Before Christmas (1993)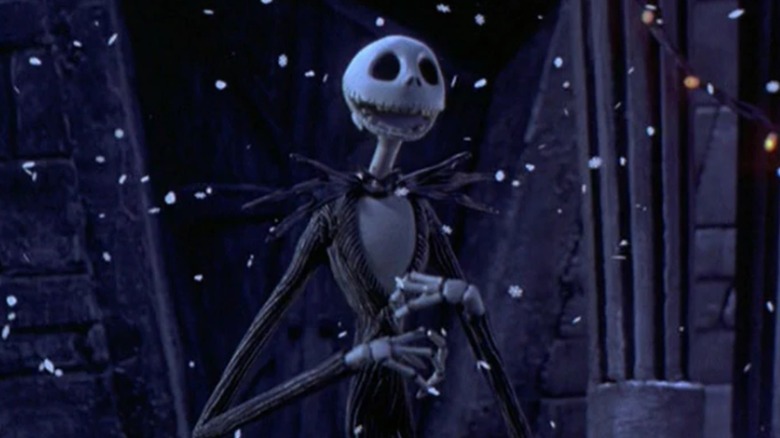 Disney
Some may argue over whether it's a Christmas movie or a Halloween movie, but either way, Disney's "The Nightmare Before Christmas" is a seasonal favorite, and there's no reason you can't start watching this stop-motion animated classic around Halloween and keep on watching until the new year rolls around. Appealing to children and adults alike, this film appeals to generations of movie lovers no matter how they might feel about Christmas. Another collaboration between creator Tim Burton and composer Danny Elfman, "Nightmare" was directed by Henry Selick, although Elfman has since reprised the story in a live interpretation.
"The Nightmare Before Christmas" tells the story of the Pumpkin King, Jack Skellington, who has become bored with his seasonal role of bringing everything spooky to the world outside Halloweentown. Jack just might be suffering from seasonal depression, or maybe he's just lost his spark. Driven by his discontent, he goes on an aimless walk and discovers Christmastown, becoming obsessed with usurping Santa Claus' role in the holiday. If you think Christmas would be vastly improved if it were more like Halloween, this movie's definitely for you.
Kiss Kiss Bang Bang (2005)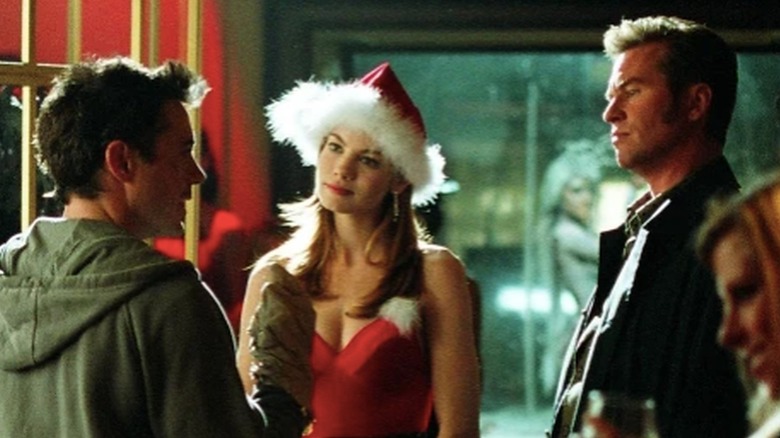 Warner Bros.
When thief Harry Lockhart (Robert Downey Jr.) accidentally auditions for a film role while evading police, he is awarded a screen test and sent to Hollywood. In Los Angeles, Harry is introduced to private detective Perry Van Shrike (Val Kilmer), who's assigned to help him research his role before his screen test. Later, at a party the men are attending, Harry runs into aspiring actor Harmony Lane (Michelle Monaghan), who was once his childhood crush. The three are soon drawn into a convoluted murder investigation that humorously highlights how everyone in Hollywood is connected by a separation of no more than six degrees. A satire that creates a comedy of errors out of mistaken identities and noir tropes, a darkly funny tangled web of lies, "Kiss Kiss Bang Bang" takes place in Los Angeles during the holidays, making it the perfect antidote to sappy Christmas rom-coms and cheesy family comedies. 
Krampus (2015)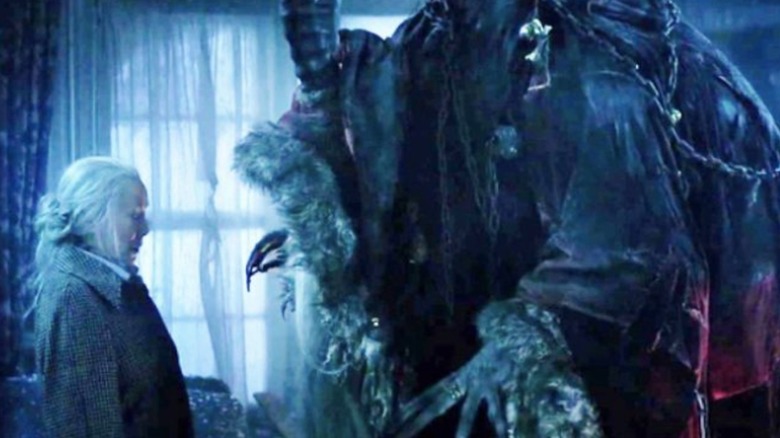 Universal Pictures
We've all heard warnings of how bad kids get coal in their stockings on Christmas, but 2015's "Krampus" takes things a step further, drawing its inspiration from the European folklore and pagan mythology surrounding the titular terrifying beast with cloven hooves sent to punish naughty children during Yuletide. "Krampus" opens with an angry mob fighting over gifts at the mall, a perfect reminder of a universally despised part of the holidays — shopping for gifts in the midst of overwhelming crowds. If you hate the holidays, this first scene signals that you're watching the right movie, and you won't be disappointed by what comes next. Starring Adam Scott, Toni Colette and David Koechner, it's as funny as it is creepy.
When the Engel family hosts Christmas, it begins with standard tension amongst extended family members when Linda and Howard bring grumpy Aunt Dorothy without a warning to hosts Sarah and Tom. Christmas Eve dinner quickly devolves into a fight between cousins after Stevie and Jordan steal Max's letter to Santa, reading it aloud at the table and humiliating him. After their fight, Max tears up his letter to Santa, throwing the pieces out the window; when the Engels awake Christmas morning, the power is out and a blizzard has blanketed their street in heavy snowfall. Oma Engel tells everyone of the year Krampus came to her German village when she was just a girl, terrorizing the villagers for losing their Christmas spirit. The action of "Krampus" is relentless, brutal and unsettling, but it is also darkly funny, appealing to people who find the forced cheer of the holidays hard to take.
Carol (2015)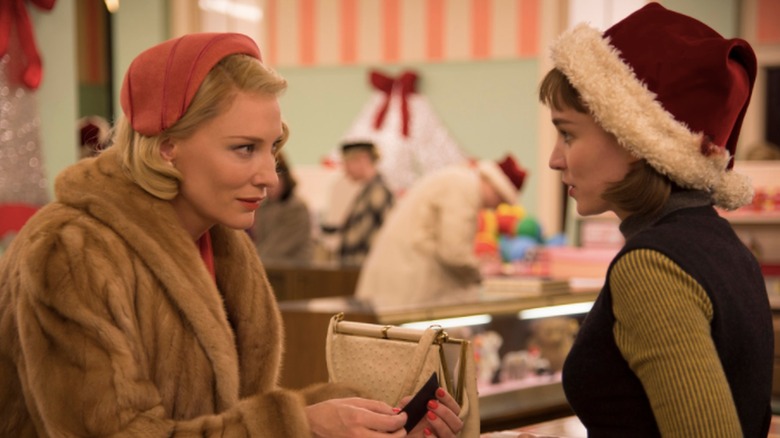 Weinstein Co.
"Carol" is a period drama set in the 1950s, directed by Todd Haynes and starring Cate Blanchett, Rooney Mara, Kyle Chandler, and Sarah Paulson. A queer love story, it begins in a New York department store when salesgirl Therese Belivet (Rooney Mara) helps Carol (Cate Blanchett) order a train set for her young daughter's Christmas present. Carol is in the middle of a messy divorce; her husband has discovered that she had an affair with a woman, and he's reeling. As Carol prepares to spend her first Christmas away from her daughter, her loneliness is palpable, underscoring a story that explores the loneliness and alienation people feel during the holidays when they're unable to spend it with loved ones — or, as in Therese's case, if they have no loved ones.
"Carol" is a refreshing break from commercial holiday fare, sure to appeal to those of us who prefer Christmas-adjacent films this time of year. The performances are excellent and the production is visually stunning, transporting viewers to the 1950s, a time of strictly enforced social conformity. Haynes explores the realities of women who attempted divorce during this era, risking the loss of custody of their children — and if they were queer, risking their sexual orientation being used against them during court proceedings. Above all, "Carol" is a moving film exploring the complexities of love and loneliness.
Last Christmas (2019)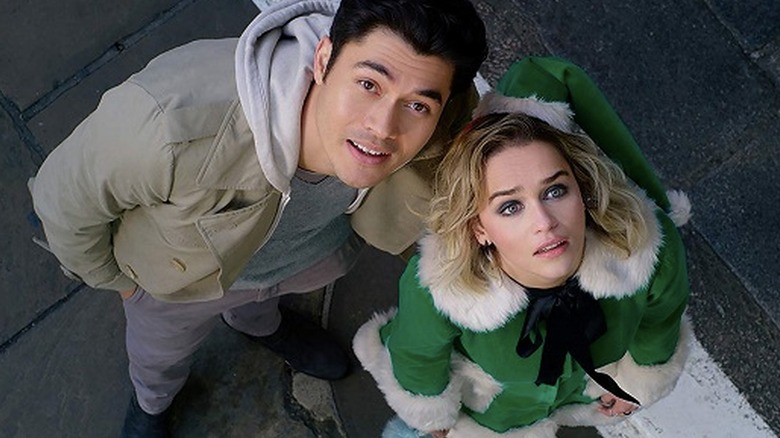 Universal Pictures
Just because you hate the holidays doesn't mean your heart has turned into a seasonally appropriate lump of coal. You can think the holidays are horrible and still want to watch a love story like "Last Christmas," which stars Emilia Clarke (of "Game of Thrones" fame) as Kate, a young Londoner who works in a year-round Christmas store where she helps customers while dressed as an elf. Kate has lost the Christmas spirit as she struggles to find her footing after a traumatic health scare that culminated in her having a heart transplant the year before. Once sunny and motivated, she's become a binge-drinking grump who's pushed away her friends and family.
Everything turns around for Kate when she meets Tom, played by Henry Golding. Tom is unlike anyone Kate has ever met: He's eccentric, keeping his cell phone in a kitchen cupboard above the stove, riding his bicycle everywhere, and volunteering at a homeless shelter. She initially teases him about his volunteer work, calling him a do-gooder, but she starts volunteering at the shelter herself, hoping to see him. "Last Christmas" received mixed reviews, but there's something endearingly vulnerable about this film. Emilia Clarke and Henry Golding have great chemistry, and the film has a surprising twist. Watching a person who has become disenchanted with life find her spark again just might be the cathartic experience you need to stop hating the holidays.
The Holidate (2020)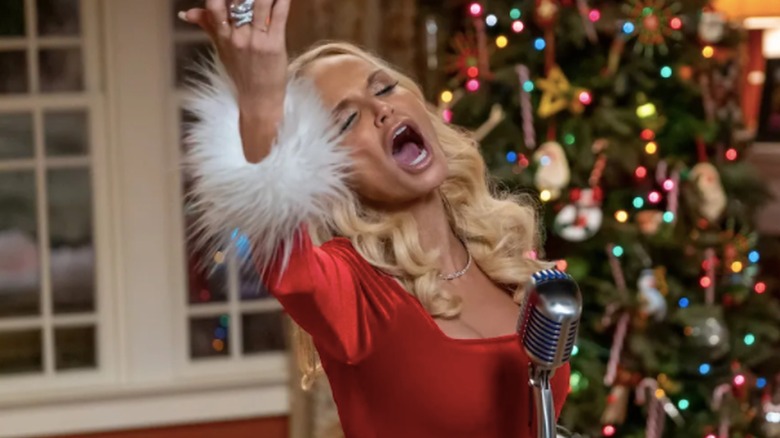 Netflix
It can feel alienating being the only one to show up at the family Christmas dinner without a date. It can frustrate you when you end up at the children's table for dinner — as Sloane (Emma Roberts) does in the opening scenes of Netflix's "Holidate." In a rom-com that pokes fun at rom-com tropes, Sloane is introduced to the concept of securing a holidate — someone to be your expectation-free plus-one to holiday functions. While returning Christmas gifts, Sloane and Jackson (Luke Bracey) meet in line. He has just experienced his own version of holiday hell and they bond over their shared hatred of dating during the holidays. Sloane tells Jackson about the holidate, an idea her kooky Aunt Susan (Kristin Chenoweth) told her about.
After an eventful New Year's Eve together, they agree to a platonic arrangement, and their holidate pact takes them through almost a year of holidays before things get complicated. Sometimes friends catch feelings, and we all know how essential this trope is for a romantic comedy. There's absolutely nothing wrong with having guilty pleasure movies to pick you up when you're feeling down, and this is one of them. Is this your traditional rom-com? Yes. Will you feel embarrassed about watching it? Maybe. But will you laugh? Yes, guaranteed. "Holidate" is a rom-com you might like even if you don't like rom-coms — and a movie to remind us that New Year's Eve isn't the end of our holiday woes.