The Ross And Rachel Theory That Will Have You Rewatching The Friends Pilot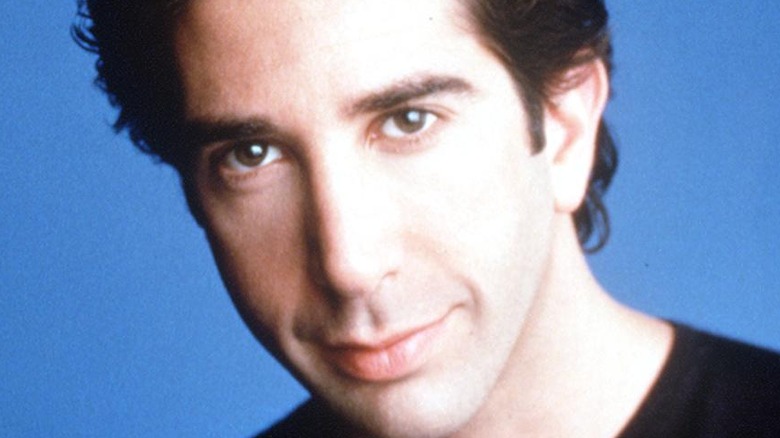 Getty Images/Getty Images
Ross Geller and Rachel Greene's relationship was an ongoing storyline on "Friends." The couple played by David Schwimmer and Jennifer Aniston knew each other since high school, but in the pilot episode of the NBC sitcom, their reintroduction got awkward when Ross accidentally opened his umbrella into Rachel as she leaned in to greet him at the gang's coffee shop hangout, Central Perk.
Both were having relationship woes—- a wedding dress-wearing Rachel had just skipped out on her groom, Barry, and Ross was in the throes of his first divorce. (There would be more.)
Ross and Rachel didn't officially get together until Season 2 in the episode, "The One with the Prom Video," per Parade. They famously split the following season when they went on a relationship "break" and Ross slept with another woman. The duo vowed not to date each other again, but more bad luck – or bad decisions?– would follow. In Season 4, Ross said Rachel's name during his wedding to Emily, effectively botching his second marriage. He later accidentally married Rachel during a drunken night in Vegas. The two got divorced, but a one-night stand a few seasons later produced a baby, Emma. But even that wasn't enough to get them back together or stop the bad luck from following them.
Fans think Ross and Rachel were cursed with bad luck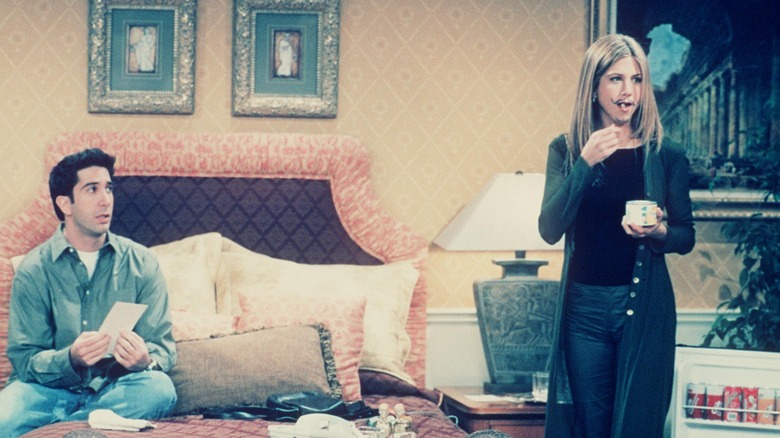 Getty Images/Getty Images
There are several threads on Reddit with a fan theory regarding Ross and Rachel. In one thread, the original poster posed the question that addressed that umbrella mishap that took place in the pilot episode. "Does anyone else think that Ross got bad luck in the first episode because he opened an umbrella inside?" the OP wrote.
And, unsurprisingly, several other Redditors agreed. "I've been thinking about that for years!" replied u/minisabo1999. "That's why the show goes on and everything happens imo. Cause of that damn umbrella."
Another "Friends" fan, u/Frens_Dont_Lie, went a step further and speculated that Ross' relationship with Rachel was so "rocky" because she was "near him" when he opened the umbrella.
"When Ross is in the coffee shop meeting Rachel, his umbrella opens up unexpectedly, inside," another Redditor, u/Smoothmotives, wrote. "This begins a 7 year bad luck streak with Rachel. Once the curse is lifted, Rachel tells Ross that he's going to be a father."
Other fans think Ross' bad luck had nothing to do with the umbrella, but that the scene was 'symbolic'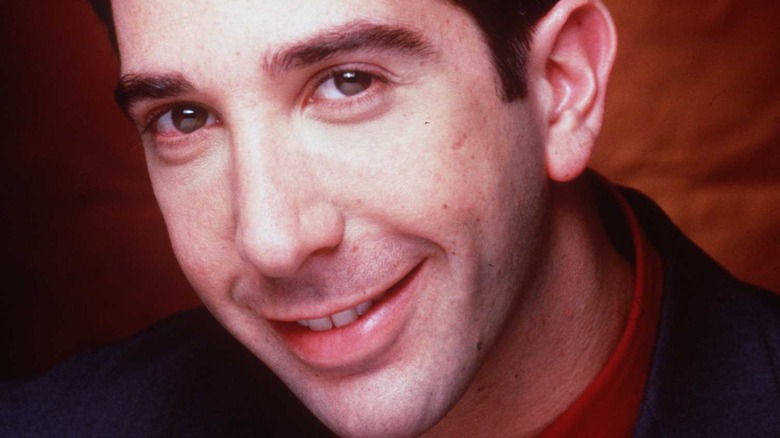 Getty Images/Getty Images
There are also some "Friends" fans who think the umbrella scene in the pilot episode was a sign of what was to come for Ross, but that he wasn't cursed with bad luck. "I think it was supposed to be symbolic of all the bad luck he would have," one Redditor wrote. "Yes, most of his 'bad luck' was a result of poor decisions on his part, but I think him opening the umbrella was foreshadowing."
Others noted that Ross was already having a pretty bad time before Rachel entered the Central Perk scene. For one, his wife, Carol, had just announced she was a lesbian –- while she was carrying Ross' child.
But Ross and Rachel did have an unlucky relationship -– and not just because they took that dreaded "break." It wasn't until the series finale that there was a hint that the two could possibly live happily ever after. In the finale, Rachel skipped a move to Paris when she realized she still loved Ross, and they rode off into the sunset together -– or to Central Perk.
So did the bad luck finally end? During the cast's HBO Max reunion in 2021, Jennifer Aniston said she thinks Ross and Rachel are still together nearly two decades after the series ended. "Let's say we got married. I think we ended up getting married and we had some kids," she said about the star-crossed characters, per The New York Times.