James Gunn Reveals Explosive First Trailer For Peacemaker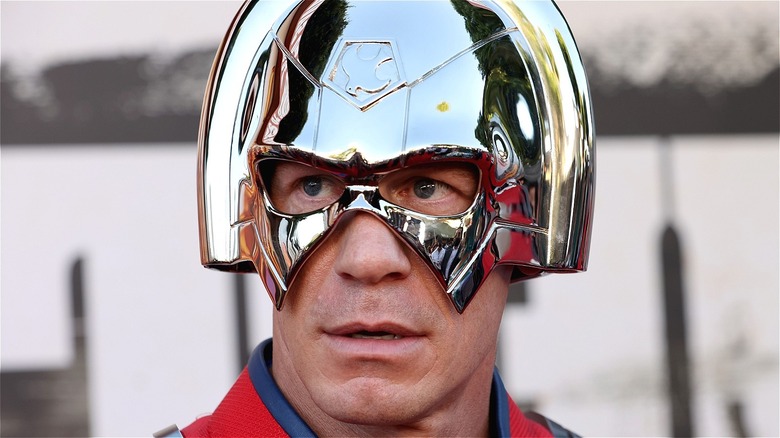 Kevin Winter/Getty
It was no easy task for James Gunn to present a brand new version of Task Force X in "The Suicide Squad," which sees that motley crew of villains go up against Starro the Conqueror in the (fictional) South American nation of Corto Maltese. Although characters like Harley Quinn (Margot Robbie), Captain Boomerang (Jai Courtney), and Amanda Waller (Viola Davis) return from the 2016 film, Gunn focuses on a whole range of new characters in the adventure. One of the newest recruits is Peacemaker, also known as Christopher Smith, who's played by John Cena. His unique costume — "it's not a toilet bowl, it's a beacon of freedom!" — and his unhinged approach to extreme violence quickly made him a standout character in the film.
Clearly, Warner Bros. executives were equally impressed with the character, giving James Gunn the greenlight to give Cena's gunslinger his own HBO Max series simply titled "Peacemaker." The show is set to arrive on the streaming service in January 2022, and it follows the post-credits scene from "The Suicide Squad" where Peacemaker is recuperating after the explosive events on Corto Maltese. He'll be joined by Steve Agee's Belle Reve warden, John Economos, as well as Jennifer Holland's NSA agent, Emilia Harcourt.
Of course there's a handful of other costumed crusaders in the series, and the first "Peacemaker" trailer gives DC fans a good look at the HBO Max series.
Peacemaker gets a new mission
The "Peacemaker" trailer reveals that Christopher Smith is tasked with a new mission to eliminate something — or someone — that threatens national security in some way. It's not exactly clear what it is, but Christopher Smith is clearly struggling with his usual violent tendencies. One scene in particular shows Peacemaker unable to pull the trigger on a family outside of a mansion — which completely goes against his "I don't care how many men, women and children I kill to get it" line in "The Suicide Squad." 
Clearly, James Gunn is taking the opportunity to put the character under the microscope to see what really makes him tick... and at the heart of that is Peacemaker's strained relationship with his father, Auggie Smith, played by none other than Robert Patrick.
But it's not all emotional story arcs and deconstructing Peacemaker's daddy issues — there's plenty of violent action and snarky one-liners scattered throughout the footage. It shows off Peacemaker's playful dynamic with Vigilante ("Game of Thrones" alum Freddie Stroma), a fellow weapons expert who's also put on the new team. Nhut Le's Judomaster briefly makes an appearance in some of the fight scenes, and it'll be interesting to see how he plays into the overall story. 
Basically, if you liked what James Gunn did with "The Suicide Squad," then you'll want to keep an eye out for "Peacemaker" when it arrives on HBO Max on January 13, 2022.