The Toughest Character In Yellowstone According To Taylor Sheridan
Since making its Paramount Network debut in the summer of 2018, the stark neo-Western drama "Yellowstone" has delivered white-knuckle thrills, head-spinning chills, and plenty of stoic Big Sky Country landscape gazing. The series follows a prominent Montana family as they seek to keep control of their coveted National Park-adjacent ranching lands by any means necessary. In doing so, they must fend off advances from greedy developers, shady politicians, and indigenous peoples who have called the land home long before John Dutton (Kevin Costner) and his family ever did.
As you might expect from that setup, series mastermind Taylor Sheridan has lovingly populated the "Yellowstone" narrative with an endless parade of tough guys doing tough-guy things. But even with all the hard-living cowboys, cold-blooded mercenaries, and opportunistic movers and shakers that call this particular stretch of Montana home, in the eyes of Sheridan himself, the toughest of all the "Yellowstone" tough guys isn't a guy at all. 
Sheridan believes Beth Dutton is the toughest of the motley Yellowstone lot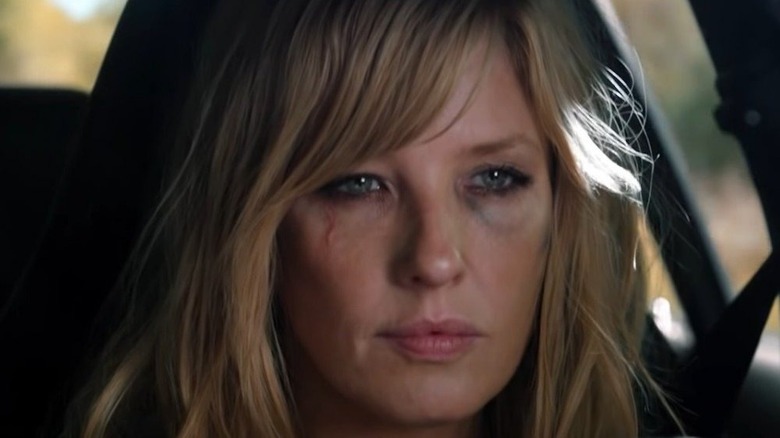 Paramount Network
Which "Yellowstone" character has Taylor Sheridan deemed tougher than the likes of Rip Wheeler (Cole Hauser), Kayce Dutton (Luke Grimes), and even poppa John himself, you ask? None other than the Dutton clan's fiery femme Beth (Kelly Reilly). The writer, director, and producer admitted as much to Deadline in a 2019 interview, stating in no uncertain terms, "You know, the toughest person on that show is Beth. There's no question of that."
If you've seen even a single episode of "Yellowstone," you know it's pretty hard to argue with Sheridan's assessment. After all, since entering the fray in the pilot episode, Beth has done nothing but verbally eviscerate, politically assassinate, and generally destroy anyone who has dared stand against her or her family. And given that Sheridan and the "Yellowstone" creative team have bloodied Beth both physically and emotionally throughout the series' run, she's also more than proven she can take a hit and keep hitting back.
As it is, Beth's tough-as-nails legacy continues to grow largely because she's one of the most ferocious and complex female characters in the current television landscape. It helps, of course, that she's played to gutsy, steel-willed perfection by Kelly Reilly. It's nice to know Taylor Sheridan clearly gets it.