Here's How Hawkeye Cast Its Lucky The Pizza Dog
Marvel Studios
Lucky the Pizza Dog was a fan favorite character even before "Hawkeye" was greenlit as a limited series for Disney+. A popular player during the Matt Fraction/David Aja run of Marvel's "Hawkeye," the one-eyed golden retriever quickly became renowned for his love of pizza and his loyalty to his mistress Kate Bishop. In Disney+'s "Hawkeye," Lucky quickly worms his way into the hearts of both Kate (Hailee Steinfeld) and Clint Barton (Jeremy Renner) and has already made himself a part of Team Hawkeye. As Kate's loyalty to Lucky is equally characteristic of the young archer, fans of both characters are likely excited to see how their relationship builds on the show.
As of yet, the dog hasn't actually been named Lucky on the show. However, in Episode 3, the dog did happily perk up when Kate referred to him as "Pizza Dog." Per Marvel.com, the dog who portrays Lucky aka Pizza Dog is really named Jolt. Here's how the producers of the program cast the clever canine.
Jolt had to audition for the part of Lucky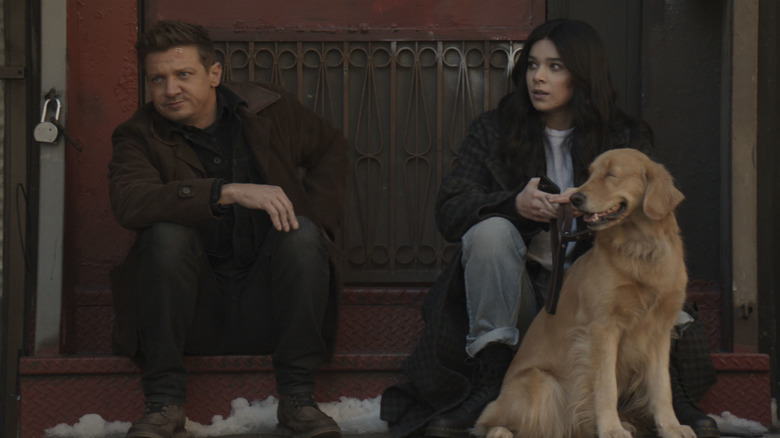 Marvel Studios
According to Trinh Tran, executive producer of "Hawkeye," they had to audition a number of dogs to find the right pup to play Lucky the Pizza Dog. The competition was — in a word — rough. "We had photos and we put the dogs on tape in terms of what they can do." Tran told Marvel.com. Jolt stood out in the crowd and fetched the plum part.
It does seem that Jolt does have one weakness as a performer according to his co-stars — an insatiable urge to chase squirrels. Which proved to be troublesome whenever Clint and Kate had a scene in a park or around trees. Still, Renner and Steinfeld have nothing but positive things to say about Jolt. 
"The dog couldn't be cuter. I ended up really liking the dog," Renner told Marvel.com. "I'm not sure if [Clint's] supposed to be [friendly] towards him. I was just sitting down and he's by me, he's looking at me cute. Hot breath coming on me. He was a wonderful contribution to the show. He's a good boy."
"It was so fun; I am such a dog lover," Steinfeld agreed. "The minute I knew Pizza Dog was as much a part of this show as he is, I was very excited."