Marvel Executive Producer Reveals The Surprising Inspiration Behind Hawkeye - Exclusive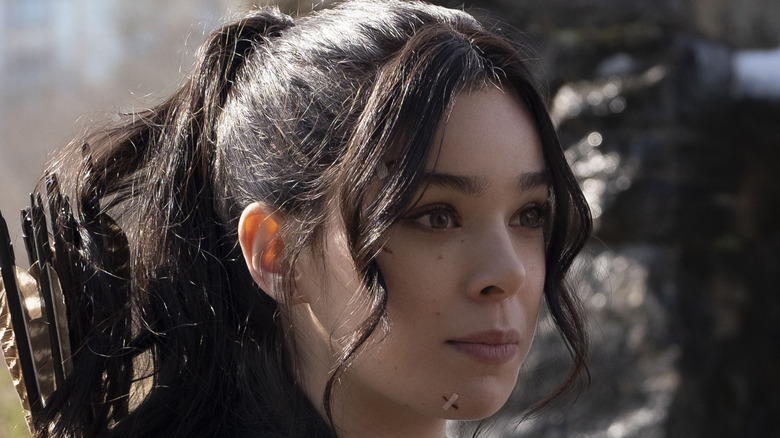 Marvel Studios/Disney+
The new Disney+ series "Hawkeye" delves into Clint Barton's story as we've never seen before. While Jeremy Renner's Hawkeye has been an Avenger since the very beginning, he never quite got the screen time he deserved, and we left theaters with more questions about Clint than we had answers. However, "Hawkeye" is fixing that by giving us the fully fleshed-out version of Clint that we've been dying to see.
We're also finally getting to see some fan favorite aspects of Clint and his world that come from the rich pages of his comics. There's a lot to love with the appearance of Clint's hearing aid, his adventures with Kate Bishop, and screen time for the always adorable pizza dog Lucky. Add all of that to the fact that the show takes place in New York City during the holidays, and we have the perfect setup for Hawkeye's TV debut. 
During an exclusive interview with Trinh Tran, the "Hawkeye" executive producer revealed which comics inspired Clint Barton's self-titled show and teased the additions that the team wanted to include that didn't make it. 
From comics to the small screen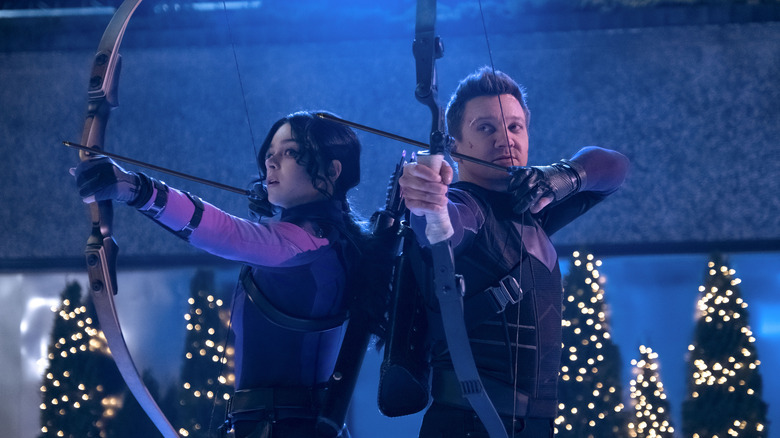 Marvel Studios/Disney+
On whether there were any particular issues of Hawkeye comics that they tried to emulate in the show, Tran explained, " I don't think there were specific scenes, but what I can say is, I just could not put the Fraction run down when I read it." She added, "I think all of Kate Bishop, in general, is just so much fun. And there were so many great moments that we just wanted to put everything in there. And obviously, we wanted to make sure it was organic in how it fits into the MCU in a way that felt natural, right? To all the characters, to Kate Bishop coming into Clint Barton's world."
There's a lot to love about the dynamic between our favorite grumpy Avenger and his spitfire protege. "I guess one of my favorite moments is the both of them, and they're holding that arrow together — it speaks so much without saying much at all, visually, if that makes sense," Tran noted. "And it's just the message of him opening up and allowing somebody new to come in because he feels that she has that skill, and has that ability, and trusts that she can be a part of this world. And I think that's so inspirational to everybody who's watching it." The show is certainly the perfect blend between hard-hitting and uplifting holiday fun. Kate and Clint's opposite demeanors only add to that well-rounded vibe.
The scenes that never were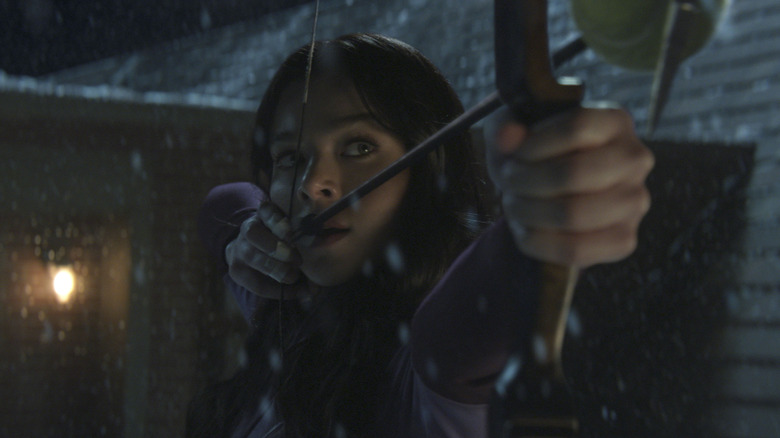 Marvel Studios/Disney+
Even with the longer timeframes in Marvel TV shows, there are always scenes and moments that end up on the chopping block. On whether or not the team wanted to include something that didn't make it, Tran couldn't reveal too much. She said, " There are some items that I can't say specifically until everybody has seen, that unfortunately, did not make the cut, only because there was just so much content that we have."
She added, "And sometimes, there are deleted scenes and deleted moments that didn't end up in the series. But hopefully, it'll be on a special content, a moment for everybody to watch, but I don't want to spoil it until everybody has seen it, yeah." Let's just hope we get some of that content in the form of deleted scenes — or a potential Season 2.
Fans can tune into new episodes of "Hawkeye" airing Wednesdays on Disney+.