Wonder Woman Reviews Released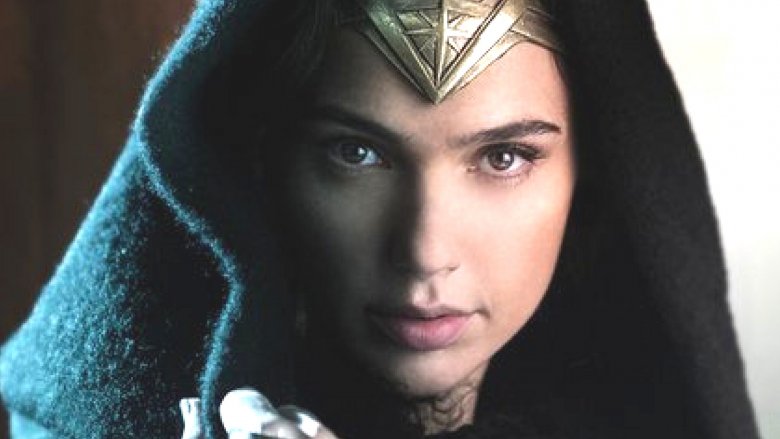 The reviews are officially in for Wonder Woman, and they are overwhelmingly positive. The movie currently sits at above a 90 percent on Rotten Tomatoes, with critics hailing the film for its levity and for the power of star Gal Gadot's performance.
Entertainment Weekly's Chris Nashawaty gave the film an A-, calling it the DC movie that viewers have been waiting for since The Dark Knight. "How deliciously ironic that in a genre where the boys seem to have all the fun, a female hero and a female director are the ones to show the fellas how it's done," he wrote, adding that the movie is able to sell its feminist message without ever bludgeoning the viewer with gender politics. He praised Gadot's Diana as being "both awesomely fierce and surprisingly funny," and also gave accolades to her supporting cast, including Chris Pine as Steve Trevor and Elena Anaya as Doctor Poison. 
However, Nashawaty criticized the film's special effects-heavy last half-hour, saying that the last bit turns into "an eye-rolling digital smackdown that mirrors every other late-period DC (and, to be fair, MarveL) movie smackdown." Still, he was definitely in Wonder Woman's corner overall, calling Gadot's performance "revelatory" and saying that what the movie gets right far outweighs what it gets wrong.
Variety's Andrew Barker also gave the film a mostly positive review, saying that Gadot's earnest performance was a welcome departure from the "demythified" takes on Batman and Superman recently featured in the DCEU. Barker wrote that Gadot's ability to sell Diana as someone who sees the flaws of human nature as a reason for outrage, rather than cynicism, sets the movie apart from recent DCEU entries, making it so that the movie, despite being set during World War I and having a plot revolving around chemical warfare, is the most "cheerful and kid-friendly" DCEU film thus far. 
Like Nashawaty, Barker saw problems in the movie's third act, which he said felt like "deadening CGI overkill." Although he noted that none of the film's villains really make an impression, he did say that Gadot has some good back-up in Pine and in Lucy Davis' Etta Candy, and wrote that, overall, despite the movie being a bit too long, it was definitely worth a trip to the theater.
The Hollywood Reporter's Sheri Linden also pointed out problems with the movie's length in her mostly positive review, in which she commended the movie for "its direct and relatively uncluttered trajectory" but gave it a few knocks for failing to transcend many common superhero movie tropes (including coming in below the two-hour mark and featuring a big, incoherent fight scene at the end). Linden called the film "intermittently spot-on," giving points to the chemistry between Gadot and Pine and calling Davis' performance "wonderful."
Not all of the reviews were positive, though. Rolling Stones' Peter Travers gave the film two-and-a-half out of four stars, saying that, while Gadot's performance was amazing, the movie didn't provide the necessary showcase for the hero. Travers criticized the film for taking too long to get to the action, instead going heavy on the origin story in a way which Travers said made it feel like the excitement is coming "in fits and starts." However, he still raved about Gadot, calling her Diana "unstoppable and spectacular to see in motion."
The Guardians' Steve Rose was even more critical, giving the film two out of five stars and saying that, despite an impressive performance from Gadot, Wonder Woman reduced Diana to a "weaponized Smurfette." Rose wrote that the movie was filled with "bludgeoning special effects" and a "messy, often wildly implausible plot" that made it seem more like camp than a big screen blockbuster. Unlike other reviewers, Rose wasn't charmed by Pine's performance, criticizing the film for having Steve boss Diana around "despite the fact that she's clearly his physical and intellectual superior." "Men might be unnecessary for pleasure, but they're still essential for big-budget action movies, it seems," he wrote.
Rose, like other reviewers, took issue with the film's third act, saying that the action sequences are "modish" and that it feels as if she fixed the war far too quickly. He also saw issues with the movie's use of trench warfare as "the backdrop to a sanitized, hyper-stylized fantasy," saying that it just goes to highlight how "weightless" the film's plot feels. Rose noted that the film is "great fun" when considering it as a work of "big-budget trash," but said that he was still hoping for more.
Wonder Woman, which also stars Connie Nielsen, Robin Wright, Danny Huston, and David Thewlis, is due out on Friday; while we wait, see all of the movies that will blow you away this summer.